Scholarship programs are offered by various institutions, and students apply for scholarships in such colleges or institutions. College management checks the applications with precision and then decides the applicants who are eligible for the scholarship program. The decision of the management has to be notified to the concerned authorities and students who are qualified for the scholarship program. This notification comes in a simple letter format and this letter is known as scholarship acceptance letter. You can also see College Acceptance Letters.
College Scholarship Acceptance Letter
Scholarship programs are important for those students who do not have enough financial support from home. College management needs to write a letter after granting scholarship program sample for such students.
Scholarship Award Acceptance Letter
Almost all institutions and colleges offer scholarship programs for various students. Such programs are intended for supporting a few students financially. This sample letter can be used by college management to inform scholarship acceptance to students.
Scholarship Application Acceptance Letter
This is a simple scholarship acceptance sample for the organizations or institutions that offer scholarship programs to the learners or students. This letter sample can be used for writing professional and precise scholarship acceptance letter.
Printable Scholarship Acceptance Letter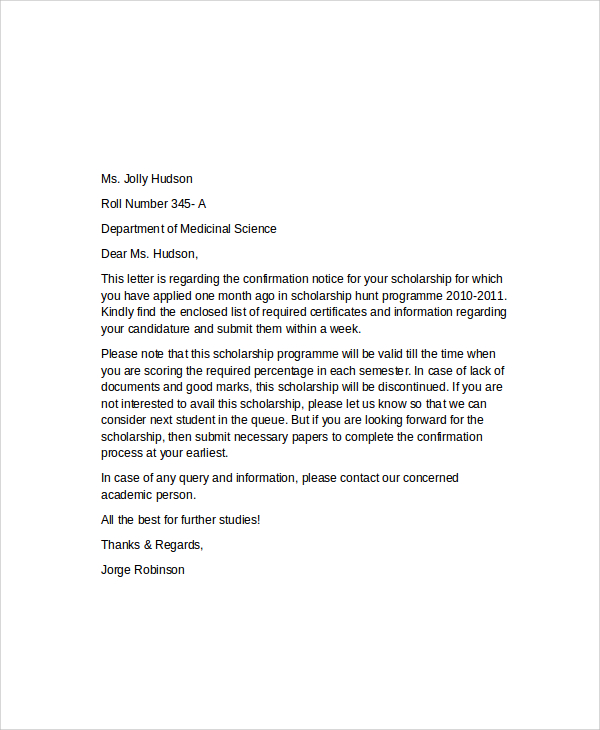 Sample Scholarship Offer Acceptance Letter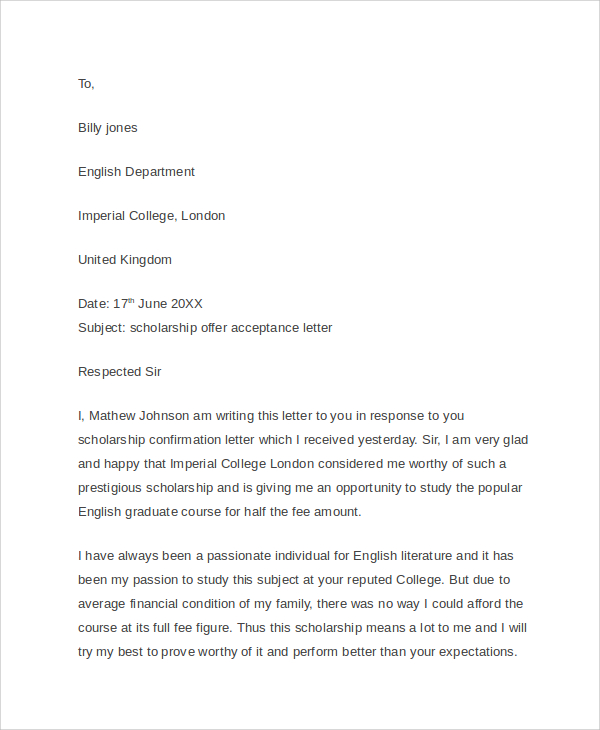 Sample Scholarship Thank You Letter
Uses and Purposes of Scholarship Acceptance Letters
Students write scholarship application letter to those institutions where scholarship programs are available. In return of letters from students, college management or institution administration also writes internship acceptance letters. Not all applications get approval for internship programs. Only a few lucky students can avail such facilities. Typically, in the case of internship application rejection, no notifications are served by the college or institution management. However, in the case of approval, it is a common norm or etiquette to send a letter that states acceptance of scholarship program for which the students had applied. This letter is basically a notification of scholarship application approval. You can also see Employment Acceptance Letters.
Who Needs to Write Scholarship Approval Letters?
Scholarship approval letters or acceptance letters are written by those who possess the right to approve or reject a scholarship program application. Generally, students apply for scholarship programs when seeking admission in various institutions. Some institutions have a different type of scholarship programs. Generally, this has been intended to help students financially when they come with financially weak backgrounds. When scholarship application has been accepted by institution or college, the management or authority has to create a letter of acceptance. It will notify the students whose applications for scholarship are approved. Writing this letter is simple and using online templates are suggested for convenience.
Benefits of Scholarship Acceptance Letter Samples
Using appreciation letter sample is the best way of writing appreciation letters. Different types or kinds of appreciation letters can be found. There are personal appreciation letters, while professional appreciation letters are also there. You shall find simple various online samples for such letters. Scholarship acceptance letter is also a kind of appreciation letter. It has been written for notifying students on the approval of their scholarship program application. College management can write such letters with ease by selecting online templates. Using templates is the easiest thing to do. Just download the letter, then read the letter carefully and make customization. Print it to use it.
When scholarship programs are offered by the college management, it is obvious that many students would apply for the scholarship program benefits. Only a few applications are accepted, and scholarship approval or Job Acceptance Letters are written for these selected candidates. To write a professional, precise and well-formatted scholarship acceptance letter, you can use the online templates or samples.
If you have any DMCA issues on this post, please contact us!