A business letter is a letter written by one company to another or between such companies and their clients, employees, and vice versa. The nature of a letter depends on the relationship shared by the two ends. These letters can serve for three general approaches: Sending a request for a quotation, sending a proposal, and sending co-profile. There can be plenty of different forms of the business letter. Some of the most common Sample Letters for business purposes include business introduction letter, business complaint letter, thank you business letter, and a business apology letter.
Sample Proper Business Letter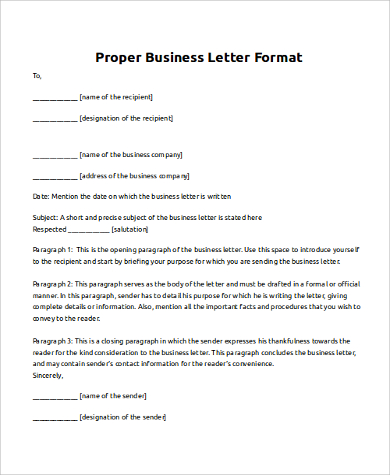 A Proper Business Letter should include appropriate font, salutation, spacing, closing and signature for business correspondence. Beginning is the contact information which includes return address of the letter writer, then mentioning the date on the letter written.
Next, the complete name, title, and address of the recipient have to be mentioned followed by salutation with a colon. Then comes the body of the letter which is suggested to keep short as business people are busy and do not have time to read long letters. Then the letter has to be closed with the signature.
Business Introduction Letter Example
The new businesses send this kind of letters to other business owners in the local area. It can also be written to a business owner or to a potential customer introducing their business. These are Formal Letters with a slight touch of informality.
Sample Business Complaint Letter in Word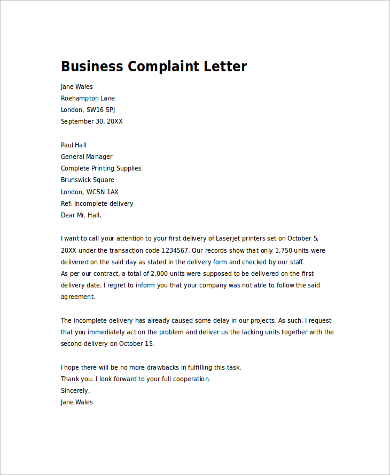 These are the type of business letters which are sent to an organization reporting your complaint on the services or the goods. An effective Complaint Letter should be concise, authoritative, factual, constructive and friendly. These complaint letters seek good cooperation and response, so it is better to avoid aggression.
Who is the Target Audience?
There are various types of business letters, and it is written by and sent to different people in the business. In a broader sense, business letters are written by employees to higher level supervisors and managers, management to shareholders, creditors to the management and so on.
To narrow down, the people making use of Business Letters are employees, sales representatives, market heads, production heads, operation managers, sales managers, creditors, debtors, distribution channel heads, shareholders, investors, and much more. Human resource departments also send and receive business letters. People who are getting promoted, transferred, or who are resigning or employees who wants a hike in salary all make use of different forms of business letters.
Editable Thank You Business Letter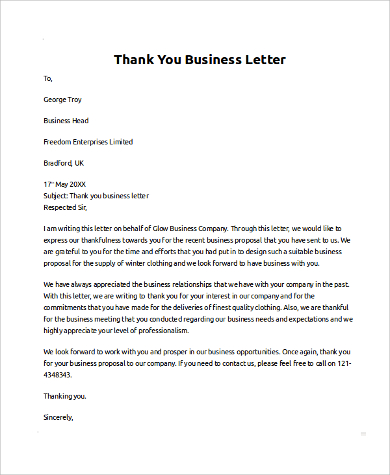 These letters are essential to express thanks to your employees and customers for their response. It helps to create a goodwill among the business associates and strengthens the business relation. Like any other business, letter Thank You Letter should also be concise and appreciable in the content it holds. It's a good business habit to start the letter by including a sentence structured around 'thank you'.
Printable Business Apology Letter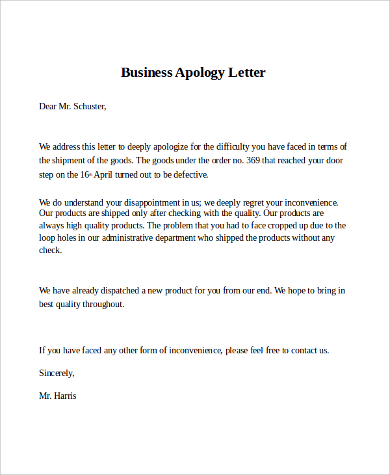 These forms of letters are usually written to clients when work or service gets delayed due to some reason. These letters show the act of seeking forgiveness, so the letter must be respectful and polite mannered with apologies for the mistake committed and the reason for such loss to avoid bitter consequences.
Business Cover Letter Format
What are the benefits of writing Business Letters?
Even in the field of sophisticated technologies, letters are still playing an important role in the field of business. From the small scale businesses to the large scale businesses entrepreneurs, management, stakeholders, and other authorities and bodies prefer business letters as it acts as a proof of any activity or initiatives taken in the company.
Business Letters convey proper information regarding business and have no scope to alter or produce spam-like emails. It establishes goodwill and healthy relationship in the business. It helps in proper arrangement and acquirement of records and references. The business letter helps in maintaining secrecy and prevents misinterpretations, misunderstandings, and distortions.
Professional Business Letter to Download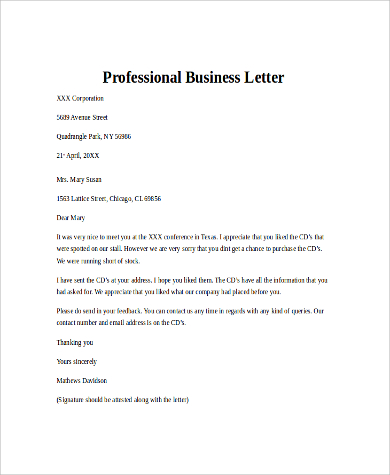 Free Business Letter Exercise Sample
To conclude, a business letter is of different types and plays an important role in the business especially in maintaining records and references. Various internal and external personalities in the business organizations make use of business letters in various situations. The Formal Business Letter Formats are almost same and are available on various websites and books. Even though email is commonly used for communications, business letter has not lost its importance and value.
If you have any DMCA issues on this post, please contact us.