How difficult is it to find a document within a pile of documents? It's very difficult. The level of difficulty increases without the presence of a letterhead on each document. Imagine rummaging through a pile of documents all without a letterhead just to look for a specific document. You'll only be able to find the document you are looking for if you start reading every content of each document. And that will take you forever. So this tells us that it's important to add letterhead sample in every document that we make, especially when it is used in business and business letterheads transactions.
FREE 17+ Letterhead Samples in MS Word
1. Letterhead Format In Word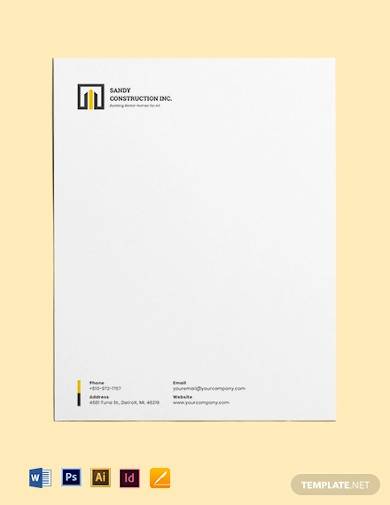 2. Letterhead Word Template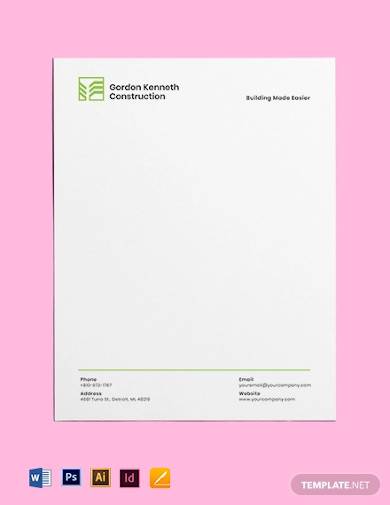 3. Simple Letterhead Format In Word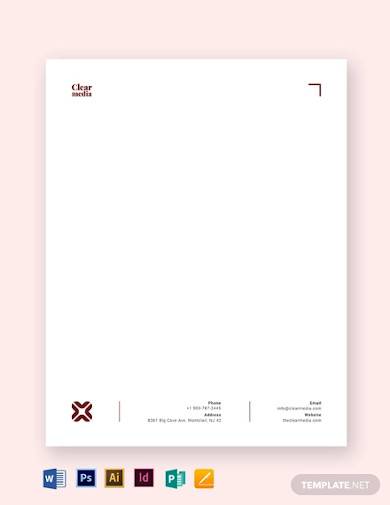 4. Letterhead Template Word Free Download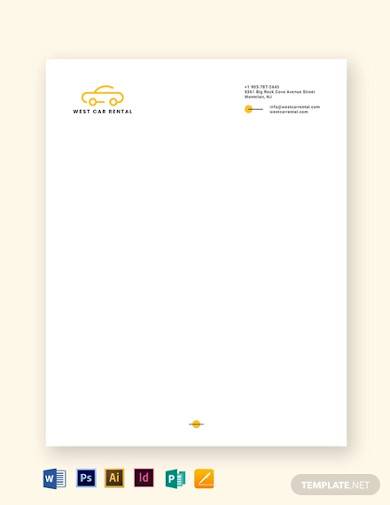 5. Letterhead Word Template Free Download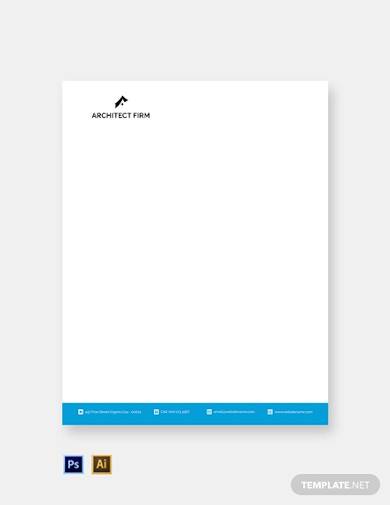 How do I edit a letterhead?
Editing a letterhead typically involves using a word processing or graphic design software, depending on the format of the letterhead. Here are general steps that you can follow:
1. Identify the Software: Determine the software used to create the letterhead. It could be a word processor like Microsoft Word or a graphic design tool like Adobe InDesign.
2. Open the File: Locate and open the file containing the letterhead. If it's a physical letterhead, you may need to scan it or recreate it digitally using software.
3. Text Editing: For word processors (e.g., Microsoft Word):
Click on the text you want to edit.
Make changes to the text, such as updating contact information or adding a new address.
For graphic design software (e.g., Adobe InDesign):
Locate the text layer on the document.
Use the text tool to edit the text as needed.
4. Image Editing: If your letterhead includes a logo or any other sample graphic elements, you may need to edit those. In graphic design software, locate and modify the image layer.
5. Save Changes: After making edits, save the document. If it's an existing file, you may want to save a new version to preserve the original.
6. Test Print: If the letterhead is intended for printing, it's advisable to do a test print to ensure that the changes appear as expected on paper.
7. Export or Save as PDF (Optional): If you need to share the letter electronically or for professional printing, consider exporting or saving the document as a PDF to maintain formatting consistency.
8. Review and Proofread: Before finalizing, carefully review the edited letterhead for accuracy, spelling, and formatting.
Remember, the specific steps may vary depending on the software you're using. If you encounter challenges, consult the help documentation for the software or seek assistance from someone familiar with the application.
6. Company Letterhead
7. Creative Letterhead Template
8. Letterhead Format word
9. Letterhead Format Word Download Free
10. Letterhead Format Word Free Download
11. Letterhead Format Word Download
12. Letter Head Format Download In Word
13. Letterhead Design In Word Free Download
14. Company Letterhead Template Word Free
15. MS Word Letterhead Template Free Download
16. Company Letterhead Template
17. A4 Letterhead Template Free Download
What Is a Letterhead?
A sample letterhead is positioned at the topmost part of a document or stationery. We often refer to it as a header just because it's on the topmost part of the sheet. A letter consists of important information that helps to identify what the document is all about. It's like the title of the sample document plus additional details. The details that you will commonly find in a letterhead includes the name, address, and contact details of a company or individual. For companies, a logo and a background pattern are added to the letterhead. It's similar to the information that you see in the address block of a letter sample or a cover letter for job application.
There is almost no limitation to the style or design used in a letterhead, as long as the proper format is used when adding it as a header. A professional letterhead can be made plain and simple, or it can be made professional and unique. It all depends on how creative one wants it to look like. Letterheads are printed using the offset or letterhead method. The preferred way of sample designing a letterhead is done using a Word processor. In the present, there are now a lot of options to use in designing letterheads. The only limit lies on one's creativity.
How to Make a Letterhead
It's important to invest time and even money in designing a letterhead for a business. With just a letterhead, people can easily remember the company and the product or services they offer. Most people remember better with designs or images, and you can use that to your advantage. Here are experts tips that will help you improve your letterhead designs.
1. Keep It Simple
Simple things work like magic. So if you can't decide on a good design for your letterhead, use a simple design instead. Your design should not compete with the details on the document, and it should not compete with the readers' attention. Check out letterhead samples for your reference.
2. Make Use of Design Hierarchy
A great way to design your personal letterhead is by following a design hierarchy. With the design hierarchy, you'll need to consider adding the important parts of the letterhead first in a prominent position, reduce the size of the least important parts, and put them in an area that is not so noticeable.
3. Represent Your Brand
How can you represent your company or business in your letterhead? Use your company's color scheme, font, and logo when designing your letterhead in PSD. This way, you can effectively represent your brand, and people will immediately identify it as your company's.
4. Use Special Effects
The addition of special effects to certain parts of your letterhead will make it look even more attractive and stylish. Just keep in mind that the special effects that you use can make or break your design.
5. Use the Appropriate Software
The right software will help you build a great letterhead design. Choose the software that you're comfortable using, and at the same time can provide you with the options that you need for sample designing. Other letterhead samples that you can use as reference include company letterhead  personal letterhead samples, and professional letterhead samples.
FAQs
1. How are letterheads used?
It's easy to determine where a specific document is from and what it contains if it has a letterhead on it. Aside from identification, letterheads are used to print documents and letters for the company's use. It is also used to write sample customized letters to customers, the media, other business associates.
2. What are the ideal dimensions of a letterhead?
The ideal letterhead dimensions depend on the country or company using it. For example, in North America, their letterheads measure 8.5 x 11 inches (215 x 280mm). Outside North America, business letterhead measurement is printed in A4 size of 8.27 x 11.69 inches (210mm x 297mm).
3. How many fonts should I use in a letterhead?
The best font to use in a letterhead is the font used in the company's history name or logo. One to two fonts is enough to make a neat and professional letterhead. Using more than two fonts will make your letterhead look crowded and untidy.
4. What is a letterhead for a person?
A personal letterhead typically includes an individual's name, contact information, and possibly a personal or professional logo. It adds a professional touch to personal correspondence or business-related documents.
5. How do you insert a letterhead?
To insert a letterhead in a document, open your word processing software, go to the header section, and upload the letterhead image. Adjust its size and position for a polished presentation.
6. How do you style a letterhead?
Style a letterhead by incorporating a clean and professional design. Include your name, logo, and contact information. Maintain a consistent color scheme and font, ensuring a polished and cohesive appearance.
In conclusion, how do you want to make your sample letterhead? If you haven't got a clue, you may check out the samples provided above. You will surely get inspiration and come up with wonderful ideas for a letterhead that will fit your company or business. Now's the best time to start looking for inspiration.