Despite the modern era of mobile phones, internet access, and social media galore, recruitment is still as simple as asking people to line-up for interviews. You'd think that with all the innovations of technology, the ye olde method of pen and paper is obsolete; however, job applications are still quite useful as a method of recruitment. With that said, when you require human resources on-site, providing construction application documents will give your applicants with convenience, and consistency on your part.
Construction Application Form Template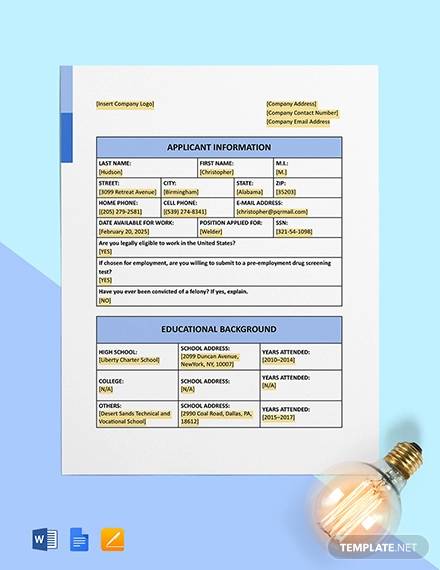 What are Construction Application Documents?
Whether it's for a construction permit, a job application, or other such purposes, the most common method is to apply for the position or the procurement of documents. Also, the government often uses multiple forms for the convenience of possible candidates. But what exactly are these documents? Well, to put it simply, application forms provide you with a layout that guides you on where to fill out specific information. These documents provide you with a distributable paper with a uniform outline so that the only varying aspects are your applicant's details.
Much like a business, construction—as an industry—also utilizes application documents. These purposes range from appealing for prime spots on a bid proposal, sealing an equipment agreement deal, or even when looking for an HR manager for your crew. With that said, it becomes evident that the format's simplicity also provides it uncanny versatility since no matter how you edit or tinker with the outline, the general concept remains understandable.
The Edifice of Application
Applying for any endeavor, be it construction-oriented or not, is no different from handling a job interview or job-searching. As a matter of fact, many construction companies utilize this concept to acquire materials, equipment, and human resources for major projects. However, not many people are acquainted with the so-called "culture" of application. As such, to fully understand this edifice, it's time to take a more in-depth look at how this concept resonates through the construction industry.
Barring a few particulars within each industry, there aren't many differences when it comes to how application and recruitment are handled. Both utilize application forms effectively, both must use interview checklists correctly, and both require a certain amount of constitutional heft to formulate effective agreements. Overall, there isn't much variation in how the construction industry does business and how the business industry constructs its projects—all it takes is comprehension for the edifice of application.
10+ Construction Application Samples
With a variety of layouts, multiple purposes, and a set direction for the outline, a construction application document isn't initially tricky; however, viable options make it overwhelming to an extent. Hence, here are a few sample templates you can use to assist you in writing your content.
1. Construction Application Sample
2. Construction Job Application
3. 
Residential Construction Application Form
4. Form of Application to Be Made for Construction
5. Residential New Construction and Addition Permit Application
6. Application for Construction Design and Release
7. Electric New Construction Application Residential
8. Construction Parking and Traffic Management Plan Application
9. Construction Pre-submittal Conference Information
10. Application for Disposal System Construction Permit
11. Application And Certificate for Construction Payment
How to Create Construction Application Documents
With such an effective method of gathering information, construction application documents are borderline data analyses. However, the input collected isn't precisely for research purposes; instead, it's to see who's most likely to fit your bill as a suitable partner, employee, or equipment provider. Even though it doesn't require much in terms of drafting, having a few helpful guidelines is still a benefit when making construction application documents.
1. Utilize the Header Well
In the same way a general letterhead provides information in a letter, a header is used in creating construction application documents as indicators of purpose. Think of it this way, if you were just given a form without a header and only information guides and brackets, you'd probably fill it out willy-nilly without wondering what you signed up for—which, apparently, is how the devil buys souls. With that said, the header of your form should indicate the company logo, its essential details, and the purpose of the form or what the form is for.
2. Provide Brackets for Information Input
The secret to any application document's convenience are the information input brackets. Through this bracket system, aspiring individuals can quickly write or encode the requested details on the sheet without much hassle. Though there are multiple variations to this concept, such as a simple line, multiple small brackets, or even a square to shade in, the general idea remains the same; provide people a place to indicate their information on the document.
3. Don't Go Overboard
Now, your initial thoughts might be, "how could anyone go overboard in creating an application document?" However, it's very easy to trip into the pitfall of cramming your information onto one page like a pack of vacuum-sealed veggies. To avoid this, you can use more than one sheet or try to fit everything on both sides of the paper. If you overcrowd your construction application document, it starts to become confusing to the person filling it out, and you make the convenience of a form null and void.
4. Be Consistent
One of the praises that are sung about construction application forms—or application documents in general—is the consistency in the layout. However, this isn't an innate factor and has to be integrated into your text. One technique you can use is to have a set structure for your documents that doesn't frequently change like the previously mentioned bracket system.
No one can deny the convenience that construction application documents provide; however, not all their benefits are "built-in," so to speak. To create one requires an established bracket system, well-placed indicators, and restraint when drafting your outline. Your goal in making your document, however, shouldn't be perfection but practicability. After all, the point of a construction application document is to make registering more manageable and not more meticulous.