Recommendation letters are basically letters that you write when you are vouching for someone to get employed, be admitted to a university, or get a scholarship. What you say in the letter aims to solidify the applicant's claims with regards to skills and qualifications. These letters are typically requested by the applicants as they are considered to be a basic requirement for certain application processes.
If you have been asked to write a recommendation letter and you feel a little lost about what you should include, then you have definitely landed in the correct article. We want to make it easier for you to come up with a well-written recommendation letter that will increase the chances of the applicant of getting closer to his/her dreams. Make sure to keep reading!
Letter of Recommendation Template Sample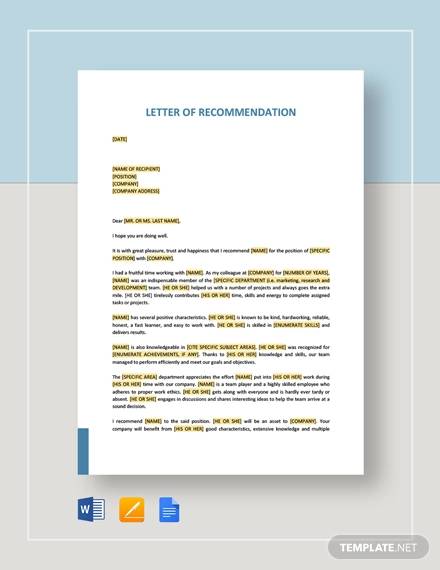 Sample Offer Letter of Recommendation Template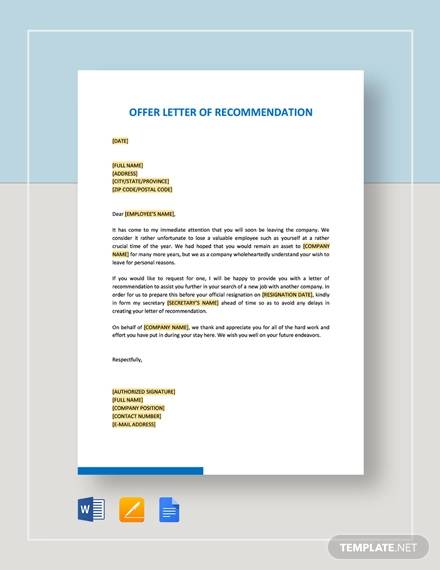 Refusal of Request for Letter of Recommendation Template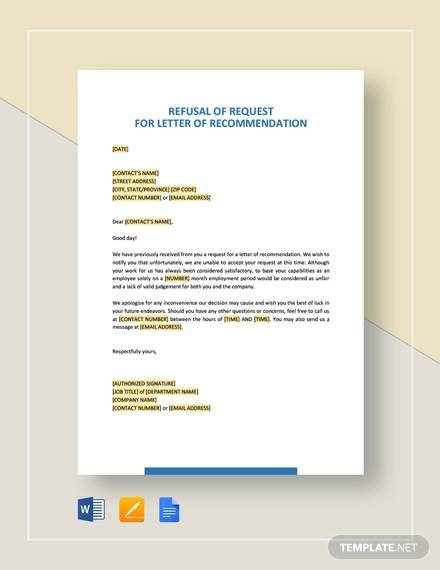 Verification of Employment and Letter of Recommendation Template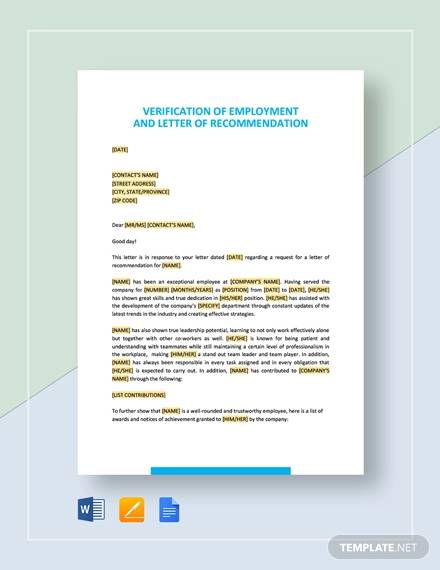 Confirmation of Employment and Letter of Recommendation Template Sample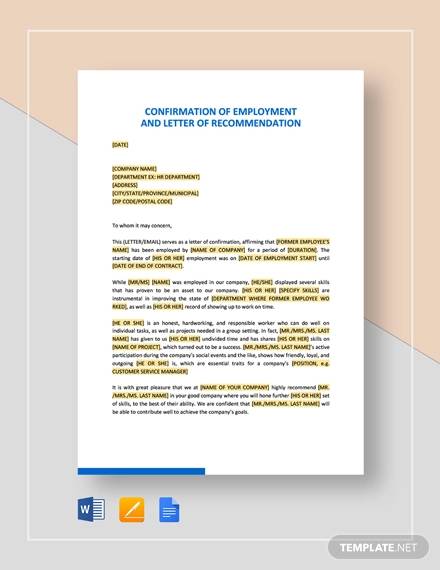 Restaurant Employee Personal Recommendation Letter Sample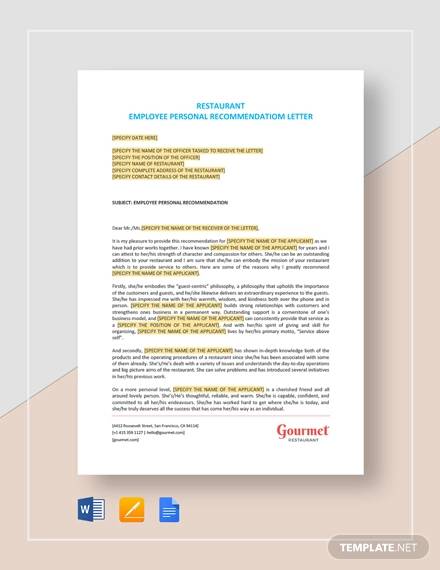 A Tactful Way to Decline to Write a Letter of Recommendation Template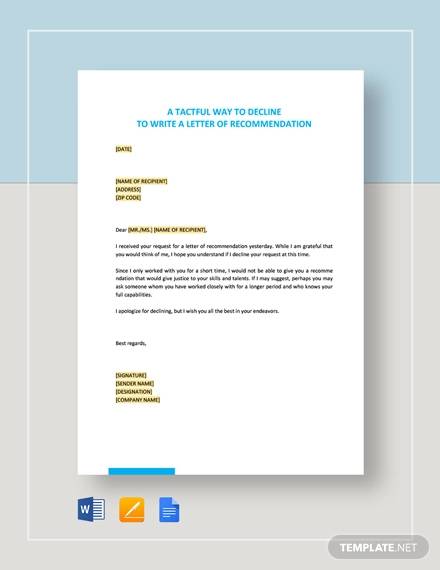 EXAMPLES: Recommendation Letters for Scholarships
Been asked to write a scholarship recommendation letter? You can refer to the samples that we have collected for you. These samples will give you a better insight about how these types of recommendation letters are written. Do not hesitate to download any or all of the samples.
Scholarship Recommendation Letter from Employer
Scholarship Application Recommendation Letter
Scholarship Recommendation Letter Example
Medical School Recommendation Letter Sample
Scholarship Recommendation from Coach
What Is the Purpose of a Recommendation Letter?
Letters of recommendation is a written testimony about the ability, skills, and qualifications and why these factors make them a great candidate for the job or scholarship.
Writing a recommendation letter can be a big responsibility. This is true because a ton of application processes that require their applicants to send a recommendation letter are pretty picky with their selection. They are considered to be very important, which means that they should be written with utmost care.
Let us break down the purpose of recommendation letters by category. This way, it will be easier for you to see how you can start writing that recommendation letter.
Academic Recommendation Letters
Scholarship and graduate school recommendation letters need to have content that will showcase that the applicant will be an excellent addition to the academic environment and that they will perform excellently in their courses. These letters are typically written by professors, guidance counselors, coaches, or tutors.
Employment Recommendation Letters
Just like scholarship recommendation letters, an employment recommendation letter should give a good testimony about the applicant being a good addition to the company's workforce and how his/her work experiences, skills, and qualifications are. Typically, these letters are written by former employers and work colleagues.
Tips for Writing Recommendation Letters
Some time in your life, you might be asked once or a few times to write a recommendation letter for a colleague or former employee who is about to take up higher studies or about to transfer to a new company.
You might be wondering what you should include in the recommendation letter you are about write. We want to give you tips to help you out with the writing process.
Begin your letter like any formal letter format. A recommendation letter is a formal means of communication with the company or the school. Just like any other formal letter, it follows the following format:

Write your contact details such as your address, mobile number, and email address. A personal letterhead can also be used if you have any. However, if you are going to send a recommendation via email, your contact details will reflect after your signature.
Leave two spaces and write down the date when you wrote the letter. For emailed recommendation letter, you need not include the date as the time stamp of the email can serve as the date.
Another two spaces after the date, the name contact information of the recipient should reflect. Ensure that you get the correct information and you are addressing the right person.
Just like any other letter, start it with the typical greeting such as "Dear [Recipient's Last Name]".

Make your opening statement sound as enthusiastic as possible. It should immediately let the recipient know that you the person you are writing about is a person that you know can fulfill tasks that are handed to him/her and finish each with grace.
Let the recipient know how you know the applicant. Briefly introduce yourself and let them know the kind of relationship that you have with the applicant. You should also state what makes you a qualified person to write the recommendation letter.
You have to be specific. Give out specific examples when the applicant has displayed the qualifications, skills, and experiences he/she possesses. The more specific you are with the examples you have, the better as these make your claims about the applicant more solid.
Never lie and exaggerate. Make sure you set the correct expectations and to never make claims that are false. You want to be as honest as possible and just write to the best of your ability.
Use action words. Use action words to describe the skills and qualifications of the applicant.
Be affirmative in closing your letter. Restate how much you believe in the candidate and let them know that you would be willing to answer any question they might have about the applicant.
Use a professional closing and sign the letter. Some of the most appropriate closing greetings to use for your letter are:

Sincerely
Regards
Yours truly
Best wishes
Leave a few spaces after the closing greeting and type your name. Affix your signature right on top of your typed name. For an email recommendation letter, your typed name is understood to be your signature. If you have an email signature, you may use it.
EXAMPLE: Recommendation Letters for Employment
When someone asks you to write a letter of recommendation for employment, you want to make sure that the content will impress the reader enough to ensure that the applicant gets considered for the job. Check out all of the samples letters of recommendation we have collected for you.
Employment Character Letter
Free Letter of Recommendation For Employee
Character Reference Letter for Employment
Recommendation Letter Content
What your recommendation letter will contain all depends on what the purpose of the recommendation letter is. Commonly, a recommendation letter will contain the following:
Potential
Achievements/Accomplishments
Motivation
Character
Each of these factors should be properly explained with specific examples. Some examples might include the projects where certain skills have been displayed. Citations like this help to strengthen the applicant's application.
Simple Guidelines for Writing the Recommendation Letter
Take it one paragraph at a time. Make an outline about what you will write for each paragraph. You have to make sure that you keep the recommendation letter to one page only. Break your letter down into parts.

Introduction
Applicant Success Story or why they will be an effective addition to the workforce or the academic environment
Closing or affirmation of your claims

Make sure the content is duly targeted for the purpose. Keep your focus on the type of letter you will be writing. This will also make it easier to figure out what you will be highlighting in the recommendation letter.
Familiarize the requirements of the application. Go through the job posting or research about the scholarship/university. The more you know about what the application is for, you will be able to tailor the recommendation letter accordingly with the purpose.
Set a meeting with the person you are recommending. Talk about where he/she sees himself/herself in the future and what his/her goals are. Ensuring that you have all the right information about that person will make the writing process a whole lot easier for you.
Quality check. Proofread your letter to make sure that you are ending up with a letter free from misspellings and grammatical errors. You should also get appropriate feedback from others just to be safe. Other people who have experience with writing recommendation letters are one of the best people to approach for this.
How to Decline a Recommendation Letter Request
There might be a time that will come when someone might send you a request letter about recommendation letters wherein you will be put in a situation where you might not be able to think about good things to say about this person or that you do not know him/her well enough to write a recommendation letter that will end up being impressive.
If you are ever faced with this situation, you can respectfully decline the recommendation letter request. It will be a better idea to directly say "no" than trying to make a letter that would end up being mediocre.
However, it is not advisable to say that you do not want to write the letter just because you do not like the person or that you cannot find the right words to say. Instead, you can say that you do not feel comfortable writing the letter and you feel that someone else is more qualified to write it.
We are hoping that you learned a thing or two about writing a recommendation letter. We hope that this article, as well as the samples that we have included, has given you a better perspective about writing a recommendation letter.