Real estate offer letters are useful for both the sellers and the purchasers of real estate property. Even real estate agents use them to be the middle man for any deal. A seller uses it to advertise the offer of selling his real estate property with all the terms and condition and other necessary details. On the other hand, purchasers or agents on the behalf of the purchase use such letters to address to the seller to express interest in purchasing the advertised property. You may also see sample offer letters
Free Formal Real Estate Offer Letter Template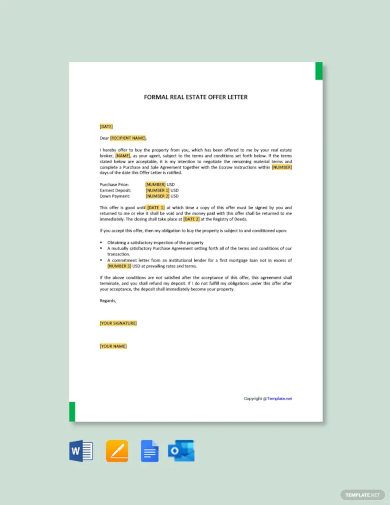 Real Estate Offer Rejection Letter Template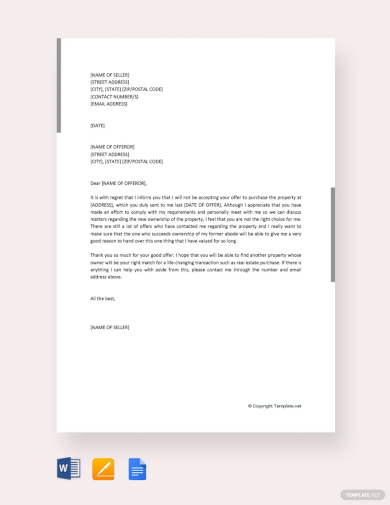 Formal Offer Letter For Real Estate Template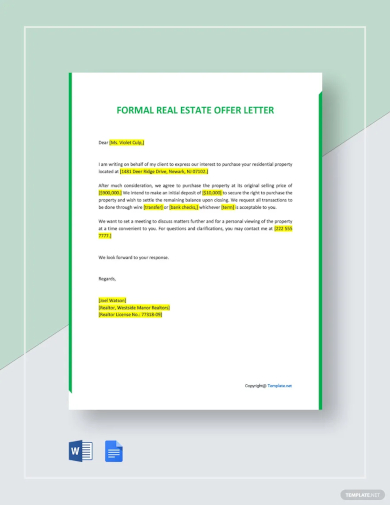 Free Decline Real Estate Offer Letter Template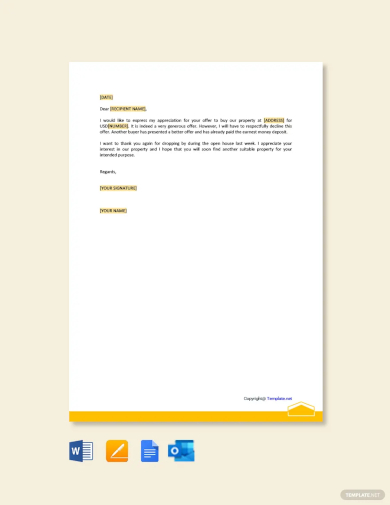 Sample Rental Offer Letter Template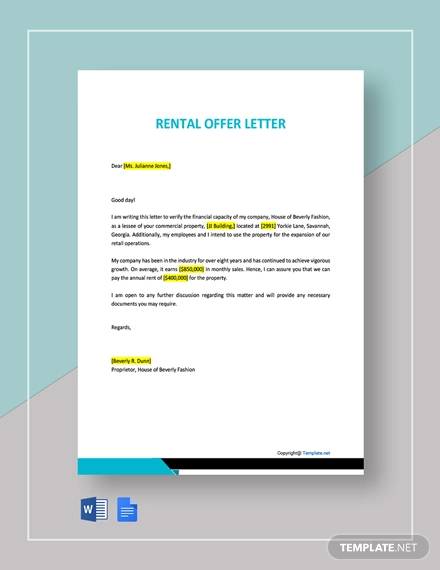 Free Real Estate Offer Letter Template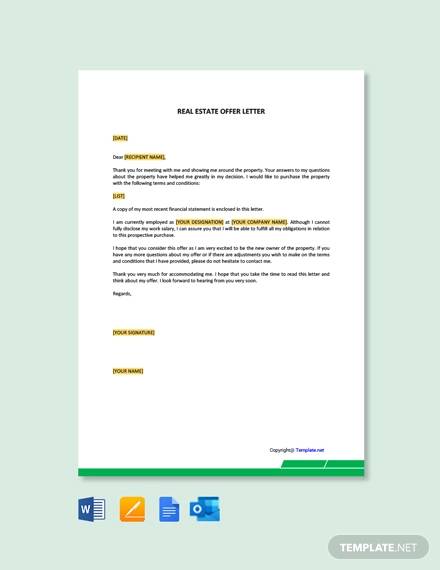 Simple Real Estate Offer Letter Template
Basic Commercial Real Estate Offer Letter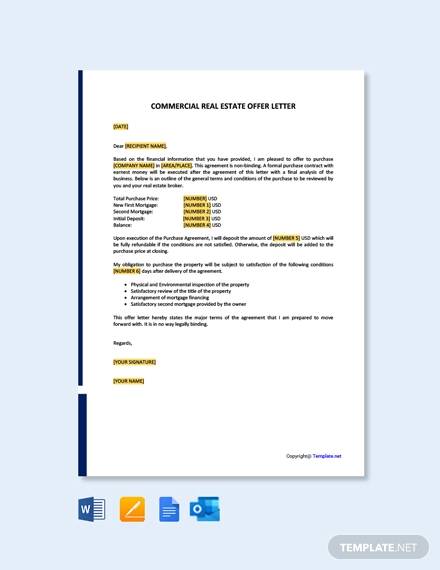 Real Estate Purchase Offer Letter Outline
This is a formal real estate purchase offer letter which is a form of the layout. It contains the details of the purchaser(s). It can originate directly from the purchaser or the agents. It is a formal declaration by the purchaser to accept the terms and conditions and also state his own terms and conditions in the provider space.You may also see letters of intent to purchase property
Real Estate Sales Offer Letter Template
This is a formal letter of intent to purchase or sell a real estate property. It can originate from the seller or buyer. This is a plain and simple offer letter with no form in it. The seller puts it out with all the terms and conditions that a purchaser has to agree and every little deal of the plot. The purchase sends it to the buyer to express his interest and negotiate some terms.
Sample Real Estate Agent Offer Letter Template
This is a formal real estate purchase offer letter from an agent to a would-be purchaser. It contains a form which the purchaser must fill and send to the vendor if he wishes to buy the real estate property. It can also act as a legal document in case of any dispute in future through this is not a contract form. The vendor will choose the best offer letter from all the received offer letters.You may also see proposal offer letters.
Usage
From a purchaser's or an agent's perspective, they act as a legal document for the initiation of the deal. It also helps them to show their character to the seller and establish a good relationship for the deal to go through. Through such letters, a purchaser quotes the best price, agrees to accept the terms and conditions and mentions his own conditions or requirement of clarification of some points for the deal to go through smoothly. From a seller perspective, it acts as an advertisement and also as a legal document if any condition is breached in future. You may also see offer letter template examples
Real Estate Offer Cover Letter Template
This is a formal and official real estate offer cover letter with acceptance contract. It has fifteen clauses and it originates from the potential buyer and goes to the seller directly. It clearly states the upcoming events and detailed conditions that the buyer and the seller have to agree for the deal to go through.
Formal Real Estate Offer Letter Template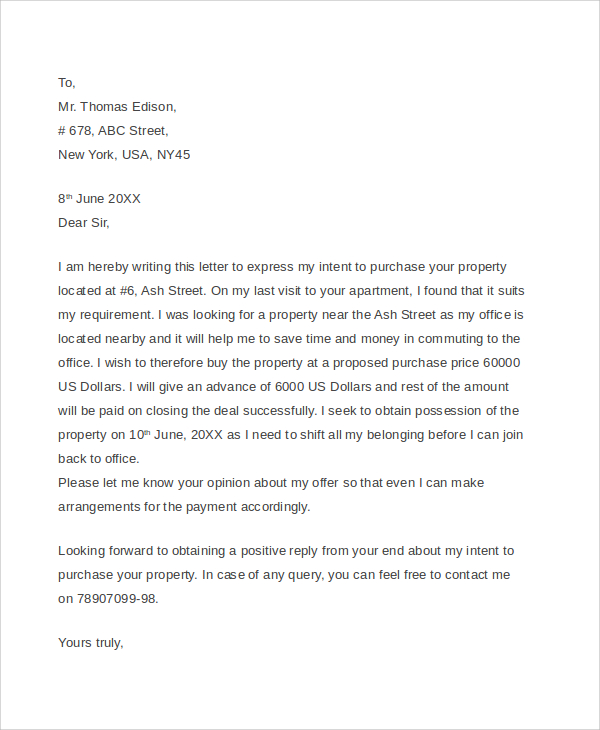 Targeted Audience
The target audience for such letters varies depending upon who is using the letter. If a seller uses a real estate offer letter, he is trying to reach other of the maximum number of potential purchasers. It can also be addressed to individual potential purchaser and real estate agents as well. On the other hand, real estate agents can use them to address to the seller as a representative of multiple purchasers. Even a purchaser can use it to address directly the seller and express interest in buying the advertised real estate.You may also see offer letter templates
Letter of Intent to Purchase Real Estate Template
Real Estate Congratulations Letter Template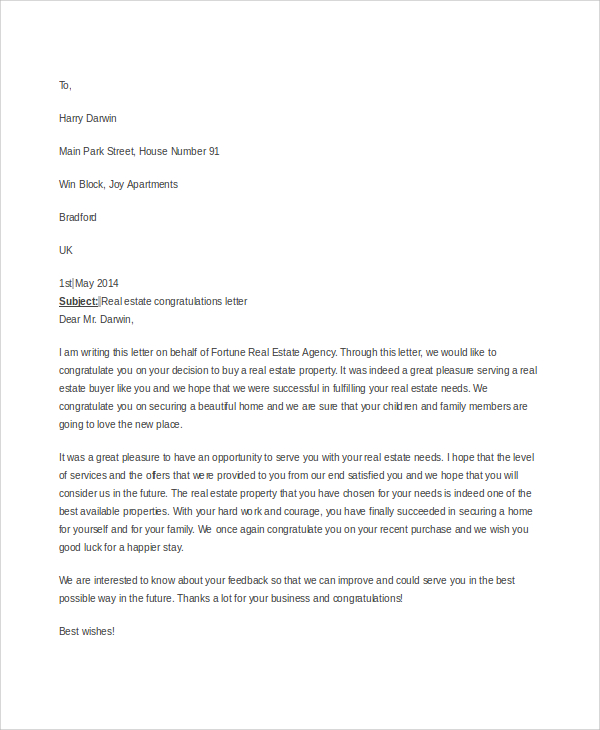 Benefits
It acts as an initial legal document for both the seller and purchaser. If an agent is dealing with the seller on behalf of the purchasers, it acts as a legit legal document for his commission when the deal goes through. Through such offer letters, the purchasers can know the complete details of the terms, conditions and property parameters. They can also state their own conditions for the deal to go through.You may also see job offer letters.
Real estate offer letter samples listed above have all the required provisions for advertising the sale of the real estate property from a seller. They also contain necessary provision and form for a purchase to express interest and make the best offer price with his conditions, if any.You may also see agent appointment letters
If you have any DMCA issues on this post, please contact us!