Expressing your feelings for your loved one is not an easy task as it requires a lot of efforts to make someone realize their importance in your life. In this era of technology, writing a love letter to your boyfriend seems quite outdated but still it is one of the most romantic things a girl can do for her dream man. Many girls find it difficult to express their feelings for their respective boyfriends; therefore here we are going to describe every possible type of Love Letters so that it can help girls to write some cute yet romantic things for their man.
Long Love Letters To Your Boyfriend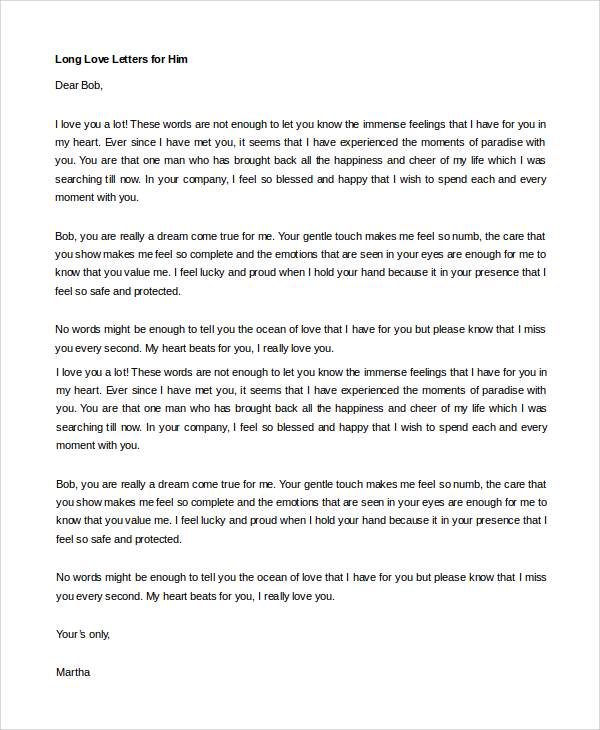 While writing a long love letter to boyfriend, you can write about each and every moment you both have spent together and how much those moments matters to you. You can tell him how much you love him and where he stands in your life. Use many romantic words and try to appreciate his efforts which he has made to make you happy.
Sweet Love Letters For Your Boyfriend
A sweet love letter to boyfriend expresses the love of a girl for her boyfriend in the sweetest and cutest possible way. She should thank him for how he makes her smile, feel special and most importantly make her realize that how important she is for him. Try to remember all the sweetest words present in the dictionary and write those words for him in the letter.
Love Letter To My Boyfriend Sample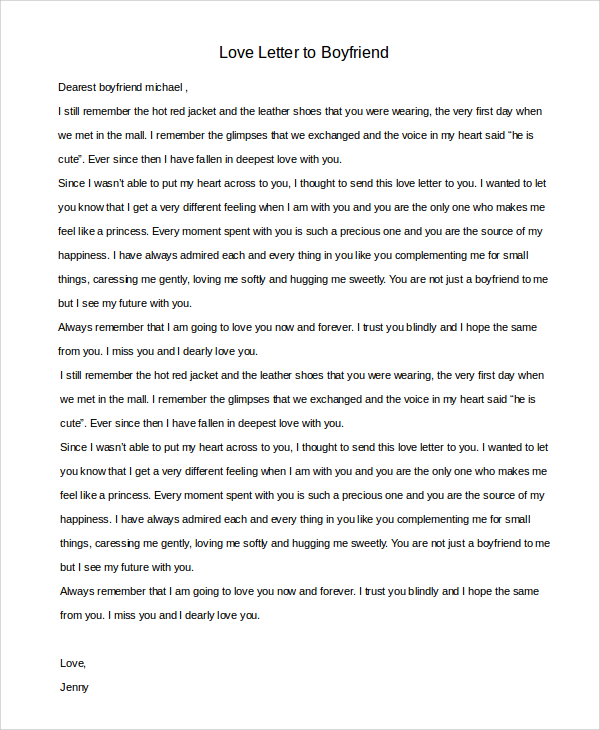 Whenever you are going to write a love letter to your boyfriend, start writing with the details of your first meeting and the things which attract you towards him the most. Then start describing your feelings for him and then just go with the flow and write whatever that comes to your mind.
Romantic Love Letters For Your Boyfriend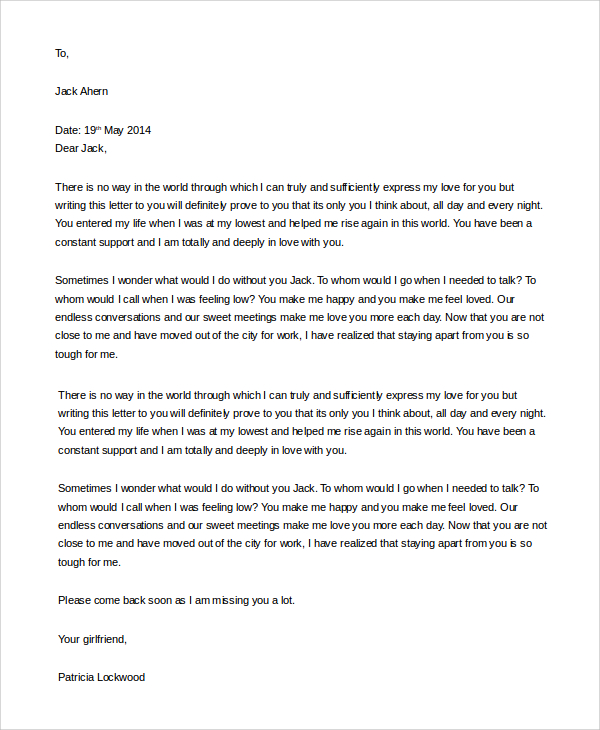 The word romantic itself describes everything. Romance is a deep feeling which cannot be expressed in words. Every couple has their version of romance and you should remember it while writing a love letter to your boyfriend. Just write the letter in your way, the way he likes it. Tell him how much you want him and love him in the most romantic and adorable way possible.
Love Letter To Boyfriend On His Birthday
The day he came in this world is a day of joy for you because your better half came in this world to make your life complete. Then try something different and write a love letter to him by thanking him for being in our life and making it unique. He will feel the love and want to thank you for your love and efforts.
Sample Perfect Love Letter To Boyfriend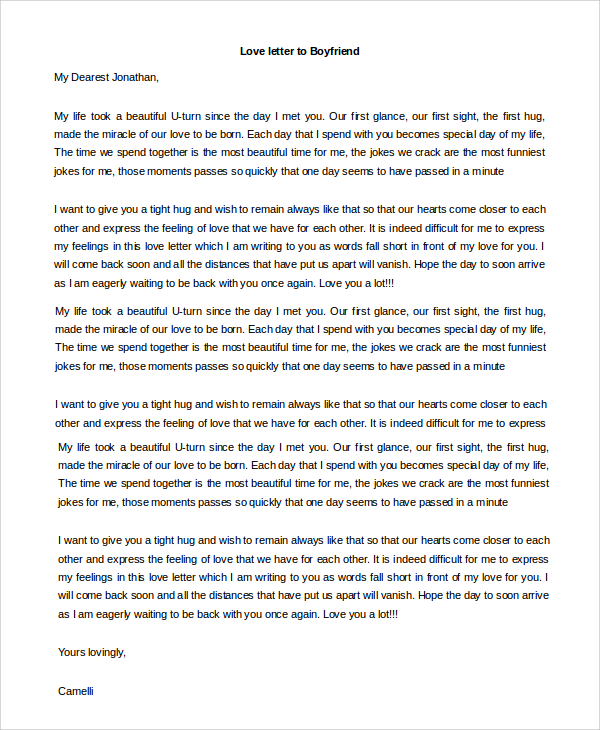 Sad Love Letter For Boyfriend Example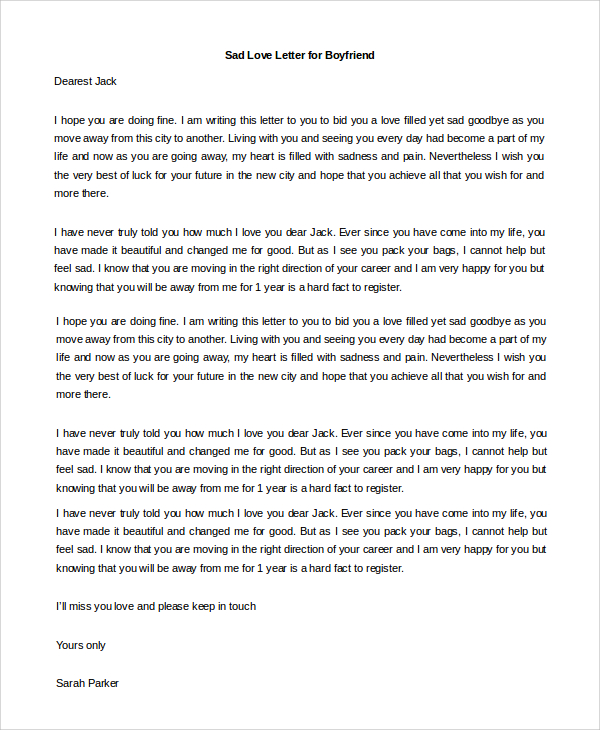 Why Are Love Letters Important?
The Love Letter Samples are the most adorable way of expressing the love for our partners. This will make your partner feel that you are making efforts for him and you value and adore your relationship a lot. The things which you cannot say on their face can be written in this letter with all love and affection.
This small effort will make a positive difference to your relationship and make it stronger. All the things which are mentioned above should be implemented while writing a love letter to your boyfriend or girlfriend so that it will become attractive and mesmerizing and will make your love stronger than ever.
What Content Should Be Included And Excluded In The Love Letter?
Always remember that love letters are written to make your partner feel special, so do not write any negative thing in the letter as it can destroy all the happiness you are trying to give to your partner. Do not include any bitter moment, fight, and mood spoiling thing in the letter.
Always include the cutest things you both have done together and the lovely times you have spent together. Always be humble, polite and generous while writing a love letter because you are going to make another memory of your relationship which he will remember and feel blessed for your love.
All the possible gestures of a love letter to boyfriend are mentioned here, and it will help you to make your effort worth remembering. Try to remember these things while writing a love letter to your boyfriend and execute these things in the letter. These Sample Romantic Love Letters will strengthen your bond and help your relationship last longer.
If you have any DMCA issues on this post, please contact us.