We've all had our share of sending and receiving invitations for a wide variety of purposes ranging from birthday parties to visa invitations. No matter the purpose of your invitations, it will always be a good idea to follow certain tips in order to make your invitations presentable, especially if they are considered as formal invitations.
We have Sample Letters that you can refer to in case you need to write formal invitation letters. We will also be giving you tips on how to write a general formal invitation and a few specific formal invitation letters. Scroll down and check out the samples we have!
Job Invitation Letter Template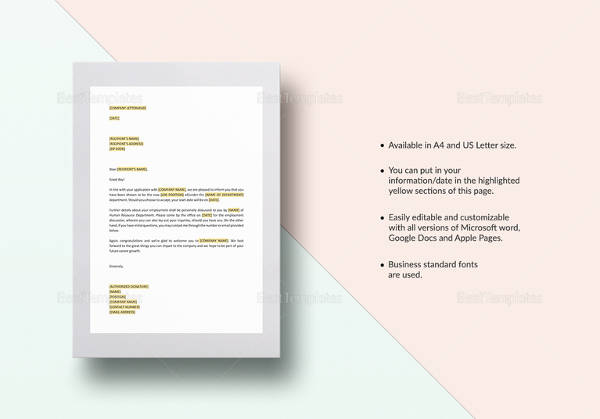 Retirement Party Invitation Guest Template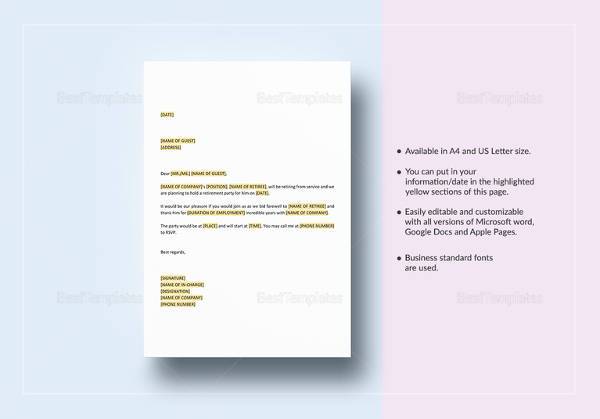 Retirement Party Invitation Letter Internal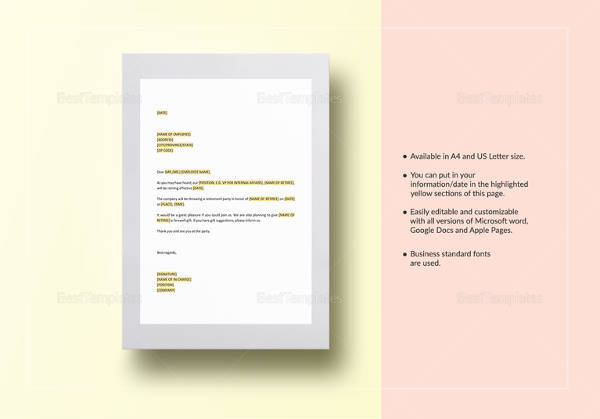 Formal Meeting Invitation Letters
Business Meeting Invitation Letter
Invitation Letter to Attend Meeting
Formal Meeting Invitation Letter Format
Business Invitation Letters
Business Invitation Letter for Visa
Dinner Invitation Letters
Formal Dinner Invitation Acceptance Letter
Dinner Party Invitation Letter
What Is a Formal Invitation Letter?
Formal Invitations are documents that aim to invite or formally request someone, a group of individuals, or a company/organization to a formal or business event. It is usually sent via email or printed on paper to be personally handed out.
What Is the Content of a Formal Invitation Letter?
Typically, invitation letters will contain details about
the host of the event,
the location/venue of the event, and
ways of how to respond to the invitation.
To give ample time for the invited guest to respond, invitation letters are given days or even weeks in advance prior to the event.
When to Use Formal Invitation Letters?
Formal invitations are typically used for events that involve the following events:
Graduations
Weddings
Business and dinners
Business meetings
Office parties and gatherings
Visa applications
It is also a means of inviting individuals for special meetings and events. These individuals can either be
guest speakers,
keynote speakers, or
facilitators.
Formal Invitation Letter Format
A formal invitation letter will typically follow a business letter format.
Sender Letterhead
This is pertinent information about the person/organization sending the invitation. This includes the name of the sender/organization and address. Usually, this is aligned to the right. In cases where a sender has an official letterhead, it can be used instead.
Date
This is placed a few lines after the sender's letterhead and is also aligned to the right.
Recipient Letterhead
This will contain information about the person/group of individual/organization being addressed such as name/names and address. Ensure that you spell the name of the recipient properly.
Opening Salutation/Greeting
Ensure that you use the proper title of the person you are addressing the letter to. "Dear Mr./Ms./Dr./Atty. [Surname]."
Body of the Letter
Your first few lines should already establish that the purpose of your letter is to invite the recipient as well as the venue and date of the event, and the dress code, if any. "You are cordially invited to Mr. Smith's birthday gala. The gala will be held at Oakridge Hotel on the 4th of May. Dress code is formal."
Your following paragraph should give a brief overview of what will happen during the event.
The last paragraph should include methods of how the recipient can respond to the invitation.
Closing Greeting
It can either be "Sincerely," or "Yours truly," or any other closing greeting deemed to be appropriate for a formal letter.
Name and Signature of the Sender
This is placed a few lines after the closing greeting. If sending via email, a typed name will serve as the signature.
You may also check out Sample Formal Letter Format for more ways of formatting your formal invitation letters.
Acceptance of Invitation Letters
Acceptance of Dinner Invitation Letter
Invitation Letters for Visa
Formal Invitation Letter for Visa Application
Invitation Letter for Business Visa
Formal Event Invitation Letters
Business Event Invitation Letter
Church Event Invitation Letter
Formal College Event Invitation Letter
What Is an Invitation Letter for Visa?
An invitation letter for a visa is a letter written by someone from abroad to the embassy. Writing a request may not always be necessary but it will help smoothen the task of processing the visa.
This letter is considered more personal, so stressing over how to write it is not that necessary. However, it still important to make it sound formal and to include accurate information about you and the person/people who will visit. Other information covered by this letter are
the purpose of the visit,
the places to be visited,
the duration of stay by the guest,
accommodation arrangements,
who will cover the transportation cost, and
who will cover expenses.
You may also include other details that you consider to be necessary or relevant to the visa application of the visitor/visitors. To know more information about these letters, you can go to Sample Invitation Letters for Visa.
Tips for Writing a Business Event Invitation Letter
Business event letters, as the name suggests, is a business letter and is therefore considered to be formal in nature. Usually, these letters are addressed to the manager or an authorized representative of the company to attend an important event. This will contain details about the event to help the recipient get a gist about what will happen.
In writing a business event letter, you may refer to these tips:
Use simple yet formal language to make your letter easy to comprehend.
Ensure that you know all the details about the event before writing the letter. Mention the most important details about the event, e.g., date and venue.
Explain the importance of the person's presence in the event.
You may check out more business letter templates at Business Invitation Letter Templates.
Wedding Invitation Letters
Formal Wedding Invitation Acceptance Letter
Party Invitation Letters
Party invitation letters are typically used to invite certain people for certain kinds of celebrations such as Christmas parties and birthday parties. This will cover the following:
Name of the sender
Date of the party
Venue where party will be held
Person or people invited to the party
More party invitation samples can be found in Holiday Party Invitation Templates.
Wedding Invitation Letters
Weddings can either be simple or grand. It all depends on the preference of the couple. To ensure that you have a good estimate of the number of people who will be attending, sending an invitation letter with details about how to respond is highly encouraged. Other details that a wedding letter invitation will include are
the date and time,
the venue of the entourage,
people involved during the entourage, and
the venue of the reception.
In case you have been invited to a wedding, you can give the wedded couple Wedding Postcards to show them that you are happy for the new chapter of their life.
The key takeaway from what has been discussed are the following:
Do not overthink what you are going to write in your letter. Instead, put more effort into making it sound formal and be appropriate for the purpose of the invitation.
Send your invitations in advance to ensure that you have a good headcount of who is coming, who declines, and the plus ones.
Review your letters several times before you send it to the recipients.
It's a good thing that our Sample Formal Invitation Letters are drafted to be used as a good reference. They show all of the details that you need to include to ensure that you will draft your very own letter as specific as you can. It will also help you save time as you do not need to make one from scratch. You can easily follow the format of the sample/s that you used.
Downloading these samples will never be a problem as they are accessible with just one click. You just need to click on the DOWNLOAD button that can be found beside the sample that you have chosen. Your chosen sample will either come in PDF or Word Document file format, both of which can be edited through various office applications found in different devices.
There are more samples you can peruse through at Sample Business Invitation Letters.