The Baby diaper shower is an important event in the life of the married couples and every known person gets invited to the celebration cum party. The following colorful diaper invitation samples provide you a wide range of choices for beautiful and creative invitation cards' design. Most of them are in diaper shape and there are separate designs for baby boy and baby girl diaper show event. The envelopes have silk ribbon and beautiful patterns. There are different varieties in design such as minimal design, chalkboard design, premium design, vintage design and colorful eye-catching ones with futuristic design. You can also see Naming Ceremony Invitations.
Baby Booty Shower Postcard Style Invitation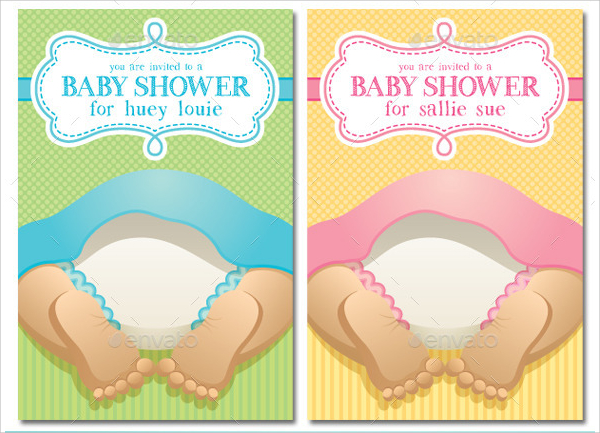 This is a colorful baby booty shower invitation postcard template with separate space for design and content. It has two color variations. The design is beautiful and goes well with the theme. This print-ready template is available with 300 dpi resolution.
Folded Diaper Invitation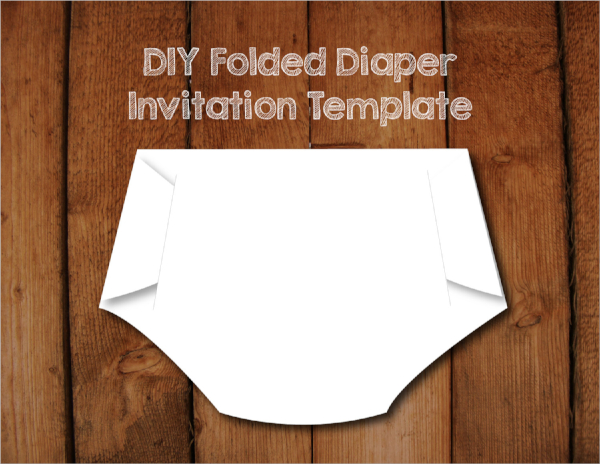 This is another do-it-yourself folded diaper shape invitation card template. It comes with all the instruction about how to do it yourself at home. It is quite innovative in look and a pattern containing paper would be better for such design.
Diaper Raffle Card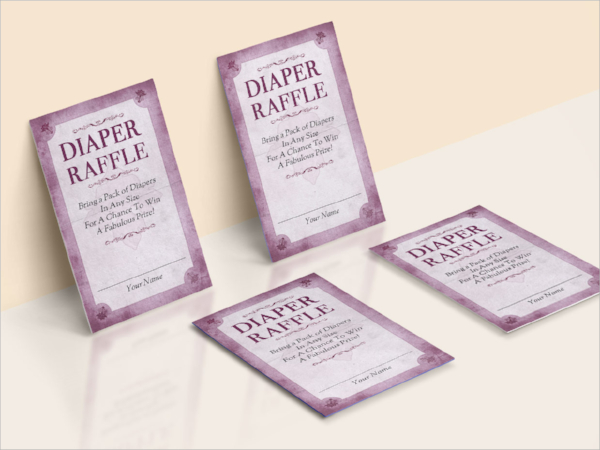 This is a premium diaper raffle invitation card template with beautiful thick borders. There are floral decorations along the border and multiple decorative dividers. Its size is 2.25 x 3.75 inches and comes with a PSD file with separated layers for every component.
Diaper Raffle Ticket Card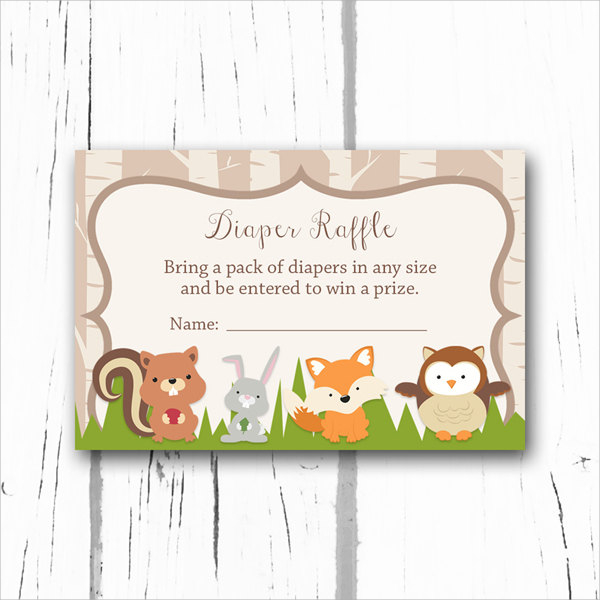 This is a fun-filled design for diaper raffle ticket card template. It has many funny creatures along the bottom border with multiple colors. The overall design is very appealing and it is fully editable. It is available in 3″ x 2″ size for ticket card and 8.5″x 11″ for posters.
Sample Crown Diaper Raffle Card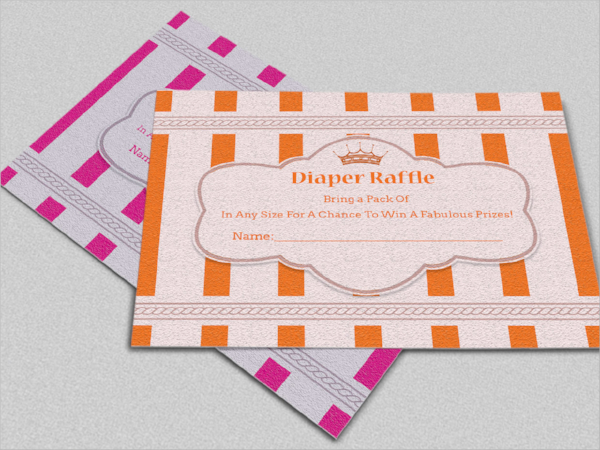 This is a grand design for diaper raffle invitation card. The pattern in the background is mind-blowing and it has several color options. The geometric shape within which the texts are residing has a great outlook. It is of size 4.25 x 3.25 inches and has a high resolution of colors.
Diaper Baby Shower Invitation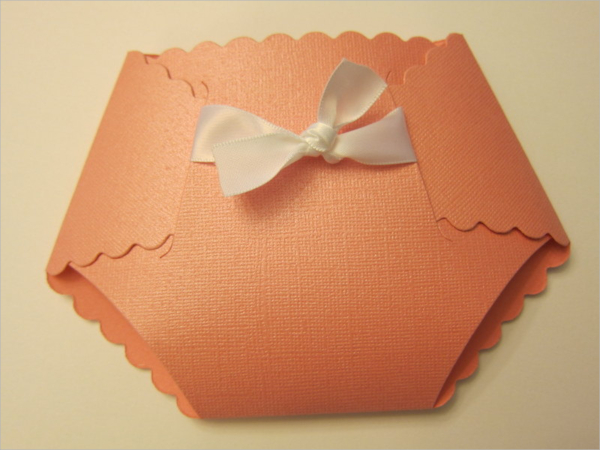 This is a premium diaper baby shower invitation card and it has a thick orange paper with texture. It forms the shape of a diaper and there is a ribbon to hold the structure well. The wavy borders look great and there is space for content on the other side of the cover.
Diaper Party Invititation

This is a chalkboard background diaper party invitation template with amazing design. It has beautiful icons and text highlighters to make everything fall into allotted spaces. It is of size 5 x 7 inches. The contents have a grungy effect. You can also see Chalkboard Invitations.
Baby Diaper Invitation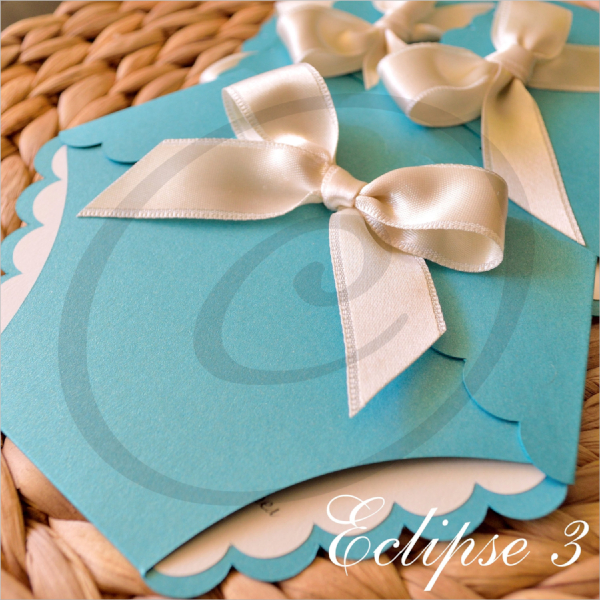 This is another premium invitation template for a baby diaper shower. It has a colorful thick paper with amazing patterns and beautiful ribbons on the cover. The shape of the card is like a diaper and there is space for text inside it.
Diaper Shaped Invitation Template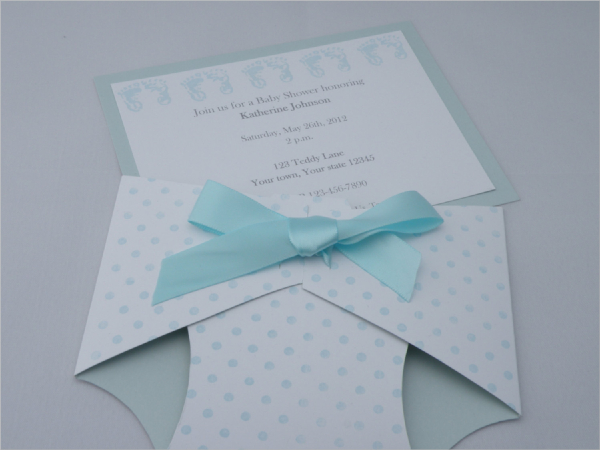 This is a light colored classic diaper shaped invitation card template. It has blue themed color and beautiful patterns on the envelope and on the card's borders. It has dimension 4.25 x 5.5 inches. It also has a blue silk ribbon on the top of the envelope to add more beauty to the overall design.
Boy Diaper Shower invitation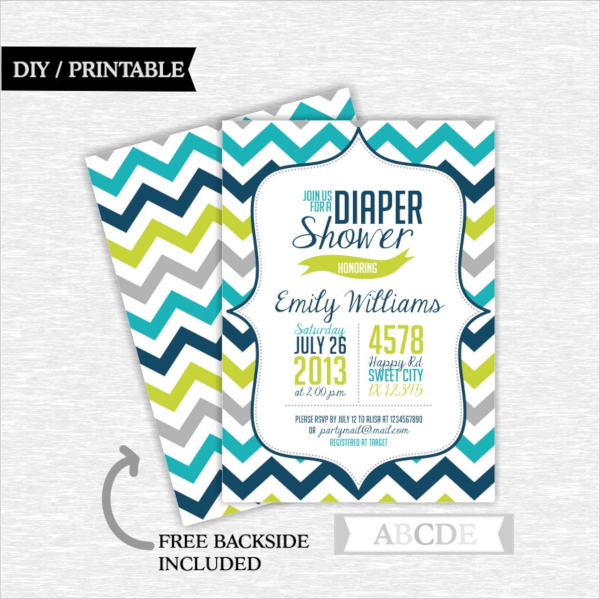 This is a very colorful boy diaper shower invitation card template. It is in print ready mode and it has a wonderful background pattern. The layouts are clean and well separated. The fonts are awesome and the color combination is eye-catching.
Sample Diaper Invitation Template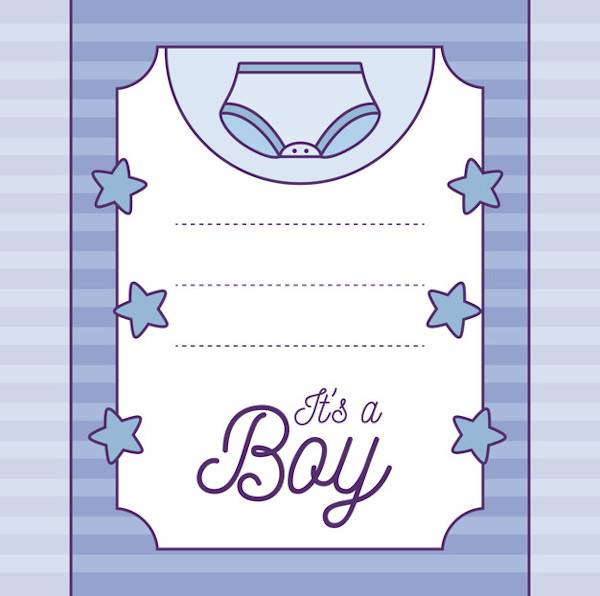 Download
The above diaper invitation samples are multipurpose and they are very creative in design and shape. They have stunning and eye-catching colors with a ribbon on the envelope. They can also be used for naming ceremony invitations, Housewarming Invitations, and many such events.