Managing real estate business isn't an easy task, especially if you own a lot of properties and hardly get time to visit their premises regularly. Many owners or landlords often get engaged in providing their properties on lease to some businesses or individuals in lieu of earning extra income or rent. One of the most common mistakes they make while renting out their properties is that they don't prepare a detailed Lease Termination Letter agreement document that can help them resolve future legal issues with ease.
Sometimes, tenants or lease holders break the contract and escape easily because the land owners don't have everything documented. The Letter for Breaking a Lease template assists you in preparing a detailed sheet of terms and conditions that applies to a particular lease agreement, in case the tenant or leaser break any clauses of the Lease Termination Agreement. The template can helps you generate a detailed lease breaking agreement among two parties, the lessee and the lessor, to ensure that the property holder remains safe in case of property related disputes or conflicts.
Apartment Residential Lease Termination Letter template
As the name suggests, the Apartment Residential Lease Termination Letter template helps you to send a termination notification to your landlord or property owner, before you plan to step out of the rented property. You can easily explain all the issues that you've faced while residing in the surroundings of the former residence to ensure that you never get trapped in false blames or repair works that your landlord may forcibly try to put on you.
One of the most common benefits of using these templates is that you can easily notify your landlord about leaving the premises and he/she gets ample time to find someone who can occupy the premises as soon as you leave. All you need to do is to refer to your lease agreement and get details about the timelines during which the landlord wishes to be notified before you leave the property. Next, download these templates, fill out your details and adept reasons, get them printed, and submit it to your landlord for signatures.
Apartment Lease Termination Agreement Letter template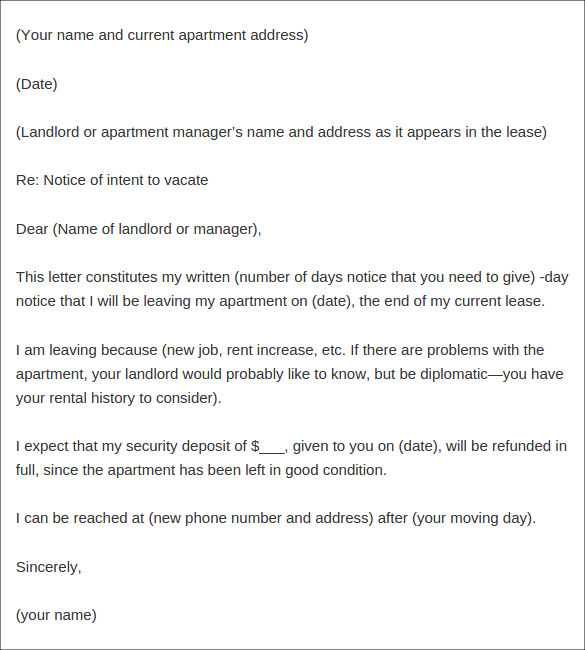 The Apartment Lease Termination Agreement Letter template comes handy while setting up a deal to rent out your property to any individual, firm, or business partners. The template can help you define a lot of terms and conditions, a to-do list, and plenty of necessary activities that are required to be performed in order to fulfill all the requirements of the lease breaking process. You can easily include all the conditions that a tenant requires to fulfill before leaving your apartment.
The template has separate sections for defining the timing and notification requirements for leaving to ensure that you get notice before your property becomes available for renting or leasing purposes again. The template can be of great help to the tenant as well because it helps you in sending a formal notice to your current apartment manager or owner, before you actually plan to return it. You can easily use these templates to define the reason for the apartment as well as indicate the dates and times you've communicated the issue to management.
Apartment Residential Lease Termination Letter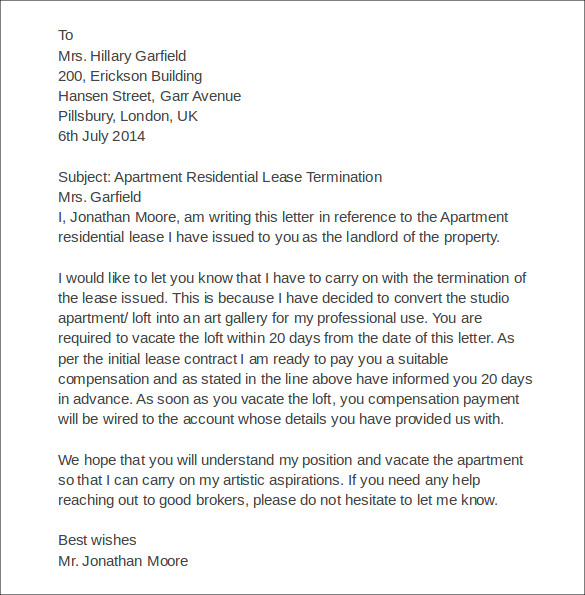 Apartment Tenancy Agreement Termination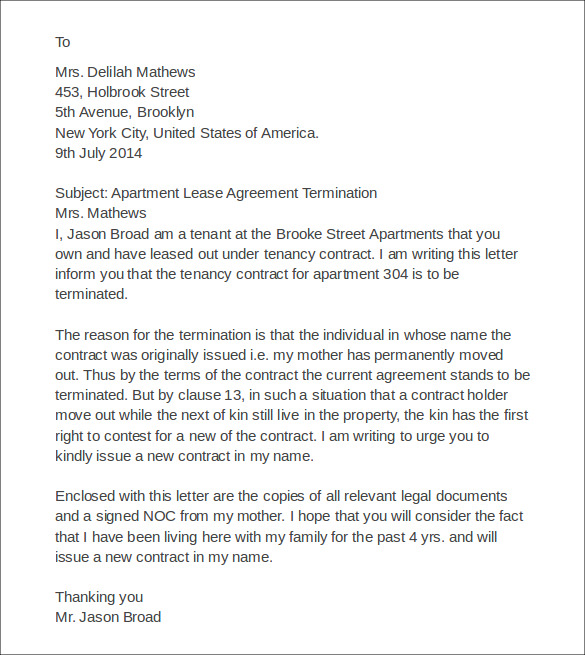 Apartment Rent Termination Letter
Terminate a Residential Lease under the SCRA

What All Does These Templates Includes?
The prime motive of these templates is to ensure that your final printed letter is clear in its intentions. Avoiding all the fancy writings and flowery introductions, all of these templates enable you to quote your thoughts in a crisp, concise and clear manner. The template helps you to just start the letter and mention the point you desire to make in a few lines to save yours as well as your landlord's time. Leaving a little room for the wrong interpretation, all of these templates are developed by professionals keeping the following points in mind: Date letter on which the letter was written Intended or expected movement date Clearly mentions that whether the lease over or being broken Concise mention of special circumstance surrounding the move Description about the forwarding address. You may also see Lease Renewal Letter.
It is important to consider that you must notify your landlords before leaving the property to ensure minimal hassle and least disturbance while moving to a new house. All of these templates include special mentioning about the situations, conditions, and terms that the leaser or the lessor agrees to carry out in order to validate the deal. You can easily download these templates and modify them as per your preferences to make a desired lease termination agreement.
If you have any DMCA issues on this post, please contact us!