If you are planning to shift to another place or you are planning to leave your current job, then you have to at least serve a 30 days' notice period. For this, it is necessary to inform the landlord or the employer about your shift to another sector. With sample 30 day notice letter, it becomes easy and convenient for you to go ahead with the eviction process. This letter can also be made by a landlord as a notice to let the tenant know the reasons for eviction. In case, you need to serve less than 30 days notice, you can refer to 2-week Notice Letter Sample as well.
Sample 30 Day Notice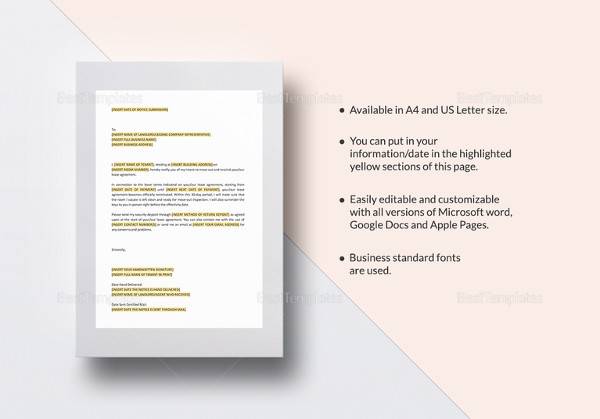 30 Day Notice to Landlord in Word
Eviction Notice Template
Notice to Vacate Template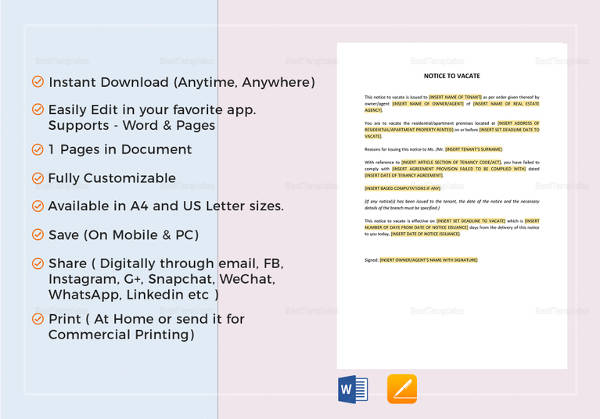 30 Day Eviction Notice Letter
This type of letter is drafted by the landlord when the tenant fails to fulfill the certain demand for the maintenance of the home. This type of letter is a prior intimation which is given to the tenant stating to evict the house within 30 days.
30 Days Notice to Vacate Letter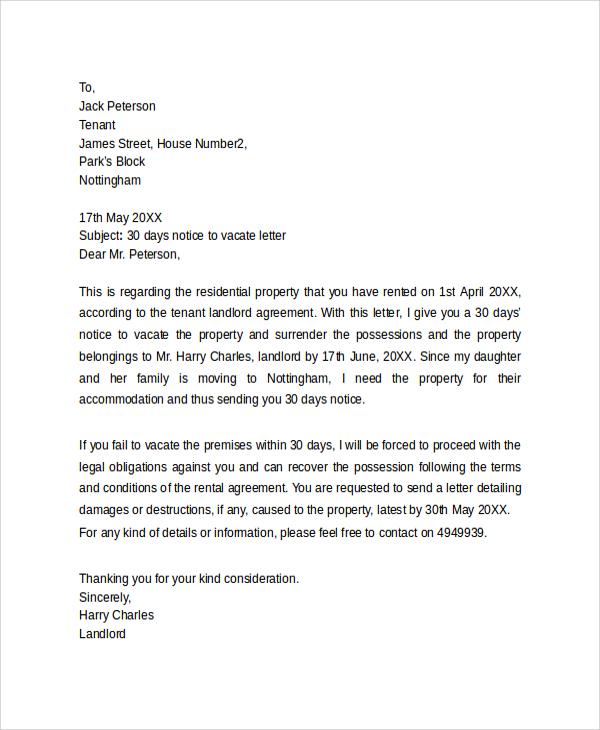 This is a letter which can either be drafted by the tenant or the landlord. It is simply information or you can say an intimation given by either of the parties to vacate the house. This is served as a legal purpose to make sure that a person does not lose his security deposit.
30 Day Lease Notice Letter
This type of letter is given by the person who manages the rental property to the tenant residing in the particular property. This type of letter is another important document which needs to be served as it holds a legal importance.
30 Day Cancellation Notice Letter
This type of letter is important when you want to terminate a particular subscription. It helps you to cancer or stop the service or a contract in which you are a part. Such type of letter is usually required by a company from the employee.
30 Day Notice Letter to End Lease and Tenancy
30 Day Notice Letter To Ask Tenants To Quit
30 Day Notice Letter of Termination of Tenancy
Request for cancellation of 30 Day Notice Letter
Uses & purposes of 30 days Notice Letter
A 30-day notice form serves as a legal notice or information by the people who either wants to vacant the place, leave the position or wants the person to leave the place. This type of letter is a prior initiation about the sifting process which takes place between the two parties. After serving this letter, a person is not entitled to hold any responsibility for that particular place or a job. This type of letter is a legal entity and hence needs to be drafted in a written format. You can use this notice, if you are a landlord and wants to terminate a tenancy or if you manage a rental property and want your tenant to move out.
What is the need of 30 days Notice Letter?
Whether you are planning to move out of an apartment or move to another company, giving a prior notice is important. If you are drafting it for the first time, then you can take a look at some of the best 30 day notice template that can prove to be a helpful source for you. This type of notice is also used by an employer to give it to the employee with whose performance the company is not happy. It is also used by the landlord to give to the tenant who needs to evict the house for some reasons. A tenant usually serves this type of notice period if he is not happy with the location, is facing some problems to stay at the house, or have a problem to stay with a roommate.You can also see Sample Notice Letters.
How to create/write a 30 day's Notice Letter?
Certainly, it is a legal document which needs to be carefully drafted. You can refer to sample 30 day notice letter to understand what all things needs to be added to the document. You can also take help of an attorney who can guide you well about the entire process. To create a 30 day's notice letter, you need to begin with a date on the left margin and start with a salutation like 'Dear' to whom you are addressing. You have to mention a subject bar in which you need to brief a little about the reason for this letter. In the main body mention the detailed information of the notice and end it with your sign and phone number.
Certainly, to move out of the apartment can be one thrilling time but make sure when you are shifting, you follow all the legal process properly and serving a 30-day notice is a part of it. Refer to some good Final Notice Letter Sample to avoid further problems like giving up on a security deposit.
If you have any DMCA issues on this post, please contact us!