What is a legal statement? Statements are documents that declare certain facts. They are widely used in different industries, like banking institutions or large corporations. A statement that declares allegations from a witness or is a sworn testimony by someone is referred to as a legal statement. Legal statements are different from other forms of statements because it is a document or a declaration that is honored and accepted by the law. This makes it similar to that of a legal contract.
Legal statements are being used in a lot of legal proceedings, especially in court hearings. They are often used as evidence to prove the innocence of the other or to prove something in court. Examples of legal statements are witness accounts and written confessions. You may also see method statement templates.
Legal Statement Template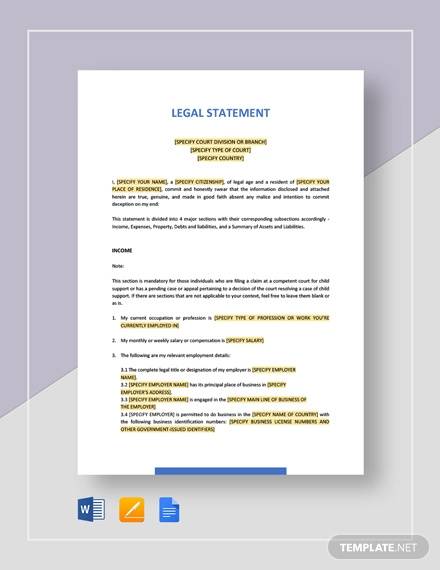 Sample Statement of Account
Sample Taxpayer-User's Sworn Statement
Confidential Mediation Position Statement Sample
Company Legal Statement Sample
Who Can Make a Statement?
When it comes to legal stuff, there are only a limited number of people who can handle them and who are allowed to handle them. In a legal statement, there are also a limited number of people who can write one and they are as follows:
The plaintiff – This is the person or individual who has filed a complaint. Also called the applicant.
The defendant – The person or individual who is the topic of the complaint or the one being complained about. Also called the respondent. You may also like purpose statement templates.
The victim of crime – Refers to the person or individual who was injured or has acquired damages in the incident.
The witness – This is the person or individual who was in the same place of the incident and who saw what actually happened in the said incident.
An expert having knowledge that is related or relevant to the case – This could be a lawyer or a legal adviser or anyone in authority who knows how to handle the case.
Aside from legal statements, there are other things that require legalities but only allow a limited number of people who can handle it. Some common examples are legal confidentiality agreements and legal bill of sale.
Uses of a Legal Statement
Having knowledge about the use of a certain topic is something that you can use to your advantage. So we have listed some of the uses of a legal statement that you might want to know.
1. A legal statement is used as a valid evidence in court proceedings. Sworn statements are pieces of evidence that are mostly used in court proceedings. Sworn statements are written by witnesses or other individuals who are involved in the case and know something about the case. With each sample statement, the witness or individual is asked to swear in front of the authorities that what they have declared is true and are based on what really happened.
2. A legal statement is used as a document that serves as proof that a business or company is doing things legally. Legal statements of companies are mostly posted online on their websites so that people will be able to easily find it and know how their business works and what their company is all about. The company directs or discloses to the public that this legal statement can be found in such locations and that they can check it anytime they want. You may also see statement of work templates.
3. A legal statement is used by businesses to disclose or declare the way they do business. A legitimate business always discloses how they do business with their customers. This is how old and new customers come to trust the business. The legal statement issued by a certain business helps customers understand how things are in the business and how they handle issues between the business and their customers. You may also like opening statement templates.
4. A legal statement is used as part of agreements and contracts and serves as documentation of the terms and conditions that have been agreed upon by two or more parties who are involved in it. There will always be a legal statement in every legal transaction such as contracts and agreements. The legal statements therein will serve as proof that the parties involved in the agreement or contract have read all the terms and conditions and has agreed to it.
Simple Legal Statement Sample
Legal Agreement Statement Services Sample
Legal Financial Statement Samples
Letter of Agreement for Legal Services Sample
Consolidated Legal Financial Statements Sample
Legal Memorandum Format Sample
What Information Do You Need in a Legal Statement That Is to Be Presented in Court?
The following is a list of the things or information that you need to know and look for in a legal statement that is to be presented in court.
1. The heading or the title that tells us what the complaint or case is all about. It is important that the title provides this information so that it will be easy to identify what the case is all about without having to read the whole statement. It also makes it easy to sort and file the document as they can easily tell where to put it based on the title. You may also see personal financial statements.
2. The name of the person who made the business complaint, including their complete name, age, address, and occupation. Other information aside from those that are mentioned may be required depending on the state or on the complaint being made.
3. The name of the people involved in the complaint or case, which also includes their complete name, age, address, and occupation. You may also like profit and loss statements.
4. The exact details that caused the complaint to be filed. It should be written in chronological order and in numbered sentences. The details should include the following:
the date and time when the incident being complained happened;
the place or location where the incident happened;
a description of the people involved or who where nearby when the incident happened; and
how the incident happened, who started it all, and what caused the argument, if there were any.
5. The name of the people in authority who witnessed the sworn oath of the plaintiff or the applicant
6. The state court where the complaint or case was filed
7. The date when the complaint or case was filed
You might also be interested in other related topics, like cash flow statements and business statement templates.
How to Write a Legal Statement
How can an ordinary person without any background in law or has never been to law school able to write a legal statement? Legal statements are not necessarily written by law students or people in authority all the time. Ordinary people who found themselves involved in a certain complaint or case are asked to write a legal statement as a witness to the case, as the plaintiff or as the defendant. Below are some useful steps that you can use to make a legal statement.
1. First, you need to know the subject of the legal statement you are writing or what it is all about. This will serve as the heading or the title of the legal statement. It is important that you have this heading or title written on top of your legal statement so that other entities who will be reading the statement will not have to read the entire document or be able to determine what it is all about.
2. Together with the heading or title, include the date when the legal statement is written and the place of issuance of the document. Other important information that should be included are the basic facts about the legal statement, the identities of all the parties or personalities who are involved and how they are connected to the case. You may also like confidentiality statements.
3. Write the facts of your statement in chronological order. Write each sentence of your statement in a numbered format, that way it would be easier to read and follow the order of events.
4. The facts in the statement should be written in a way that it describes the environment where a certain event has occurred. This helps clarify a lot of things about the environment of the said issue. You may also see income statements.
5. Use descriptive terms when referring to the people who are involved in the case. Avoid using the words he, she, the plaintiff or the defendant in your legal statement. It is appropriate that you use the person's name or another term that describes them. An example would be, "Miss Taylor was holding a glass of beer," or "The young lady was holding a glass of beer." You may also like vision statements.
6. Attach copies of the documents that can support the case being filed. These attachments will definitely support the writer's claims. Examples are newspaper articles, medical records, or police reports and other important papers related to the case.
7. As much as possible, make sure to gather all the signatures required for the legal statement. Having all the parties or entities involved in the case sign the document confirms their acknowledgment that they know about the case. You may also see witness statements.
8. Thoroughly review what you have written in your legal statement to make sure that everything makes sense and that your general statement is consistent all throughout.
9. Before submitting your work, always have it proofread. Check for any spelling errors or grammar errors. Keep in mind that this document may be presented in court and may be read to a lot of people. Spelling and grammar errors would be an embarrassment. You may also like examples of statement.
Other useful step-by-step tutorials that you may be interested in are how to write a statement of purpose and how to obtain permission to use copyrighted material.