Every smart event planner is privy to the fact of how crucial an event order form is to an event planning business. Regardless if you are a wedding planner, a caterer, a supplier, or a vendor, having an event order form allows clients to properly outline and specify what they want and need for their event.
It is important for an event planner and a client to clearly understand each other when planning an event. A single miscommunication can make or break an event that has long been planned for. Having an event order form guarantees that you and your client have a clear understanding of the work that you need to complete or the business transaction that you have agreed to.You may check out other Sample Forms available that you can use and modify to suit your needs.
Event Order Template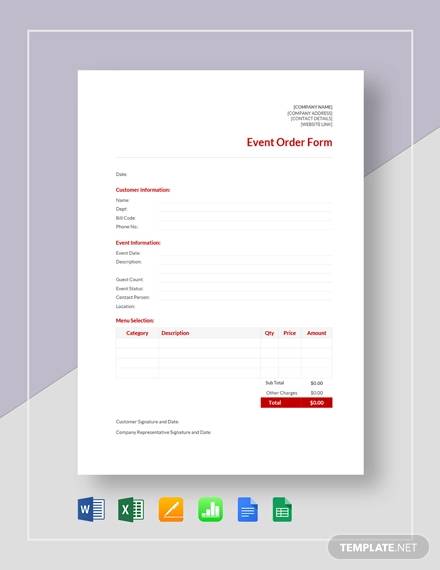 Banquet Event Order Form
Event Planning Order Form
Catering Event Order Form
Event Ticket Order Form
Event Equipment Order Form
An event purchase order is a document that is given by a client to an event planner or a vendor. An event purchase order allows the client to indicate his preferences pertaining to the type of service he requires, the quantity of materials needed, and the agreed prices for the event planning services. A purchase order in general is used to control the purchasing of products or services from outside suppliers.
Why Should You Use an Event Purchase Order?
Serves as a Binding Contract
Any type of purchase order creates a legal bind between a client and a seller. As soon as the seller, which in this case is the event planner, accepts the purchase order, an agreement between both parties is then sealed. Having a purchase order increases the level of control over the purchases that it makes. Since a purchase order clearly defines the buyer or the client's expectations and standard of quality, a seller can face disputes if the product or service that was delivered is unsatisfactory or was not what was expected.
We have other Sample Order Forms here such as Restraining Order Forms if you need to keep someone away from you.
SAMPLE PHOTOGRAPH ORDER FORM
Event Registration and Product Order Form
Special Event Order Form in PDF
Event Change Order Form
Allows Proper Budgeting and Forecasting
Having a purchase order in the event planning business allows coordinators to have a clear and organized management process and handling because it allows the management to see how much the company is spending and on what. This results to the ability to properly budget the cash flow and will allow the management to forecast financial expenditures and profit.
Sets Proper Expectations
Having a purchase order allows clients to clearly communicate their intentions to event planners or coordinators, which allows coordinators to communicate with clients about services that they offer and those that they do not so that clients can be given a heads-up if outside work is needed.
The purpose of a purchase order is to obtain materials that will be used for direct consumption or for stock, to obtain services, to cover the requirements of customers, to obtain materials needed in plants from an inside source, and to obtain services.
If you want to make certain changes in a work scenario, here are some Sample Change Order Forms to help you with that. Our forms are easily accessible and can be customized to fit your business needs without spending money and allowing you to save time.