An HR will have to pass through different processes in his work period. And the one step that each and every HR person will have to pass is the Employee appraisal process. Without a doubt, it's the trickiest part. Most of the disputes in an organisation happen in that step and it has to be handled carefully, yet systematically. Each of the appraisal meetings will require an employee appraisal Student Evaluation Form where the basic details of them, the employee will be collected and his performance will be scored. If the document could convey your staff, about his positives and areas to be improved, he will be satisfied with the approval as well. Let's see some of the one effective employee appraisal form that will make your job easier
Appraisal Form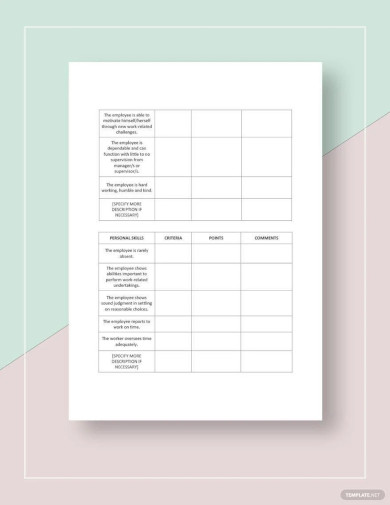 Appraisal Form Format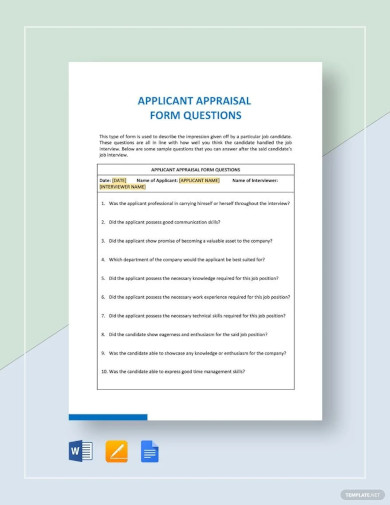 Employee Appraisal Form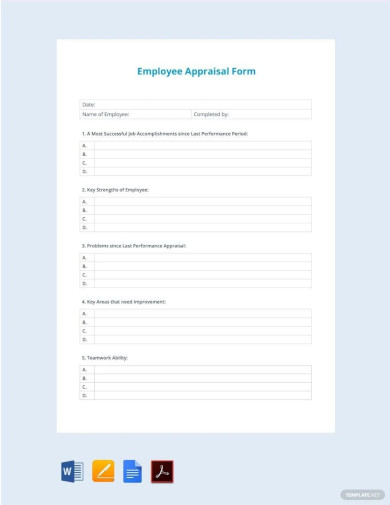 Appraisal Form Sample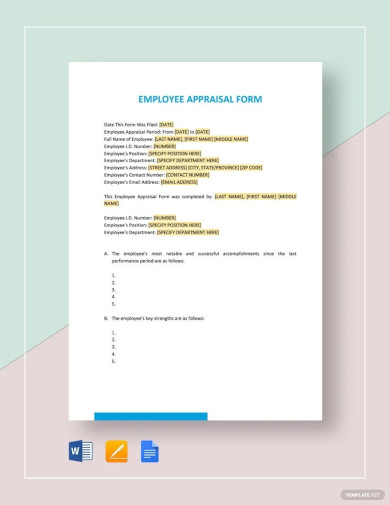 Performance Appraisal Form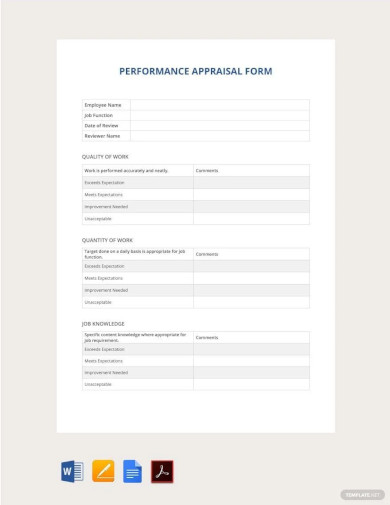 Sample Appraisal Form for Employees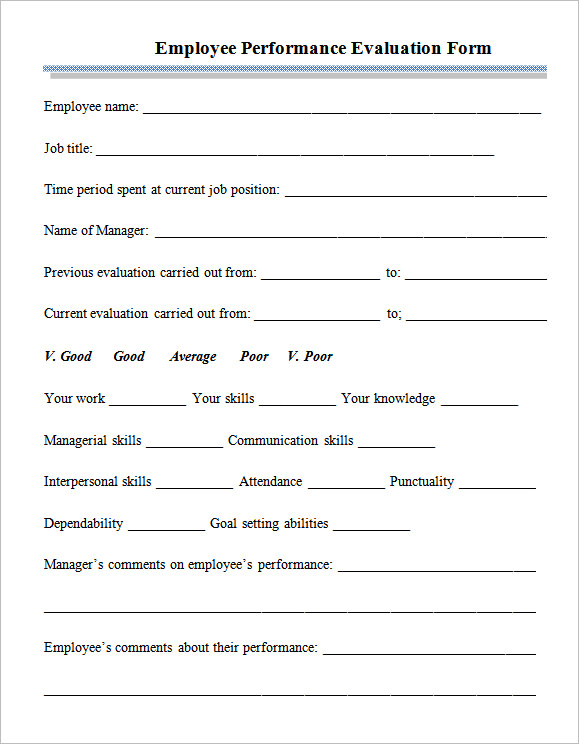 This form consists of the fields to fill out the basic employee details. The details are very relevant and is being organised in a nice way. This form can save the time being spent to fill unwanted fields. The performance parameters asked are also in a very crisp and short way. This will help save the time of the HR person too.
Performance Appraisal Form Download Free
Uses of a Sample-Worth the Effort if Download
The working procedures and the key performance indicators of each company vary with its area of expertise, domain and the type of management. Appraisal methods and forms are also not an exception. So in short, each company will have its own ways of appraising Employees Evaluation Form and each of the modes will have different forms also. Bringing these indicators altogether in a form is not s simple task. If we have a sample with us, the process will be somewhat easier. For these, there are a lot of downloadable forms available on the internet. These can be used as a good reference and sometimes a good base copy as well.
Who can use this?
Free downloadable forms are indeed helpful for those who work in human resource department. Even though it's completely depending on HR, These referral forms can be downloaded and saved by those who are on the management level too. The ultimate hike will be decided by the management and HR Altogether. So a referral form with the manager will be helpful while doing the process An employee Course Evaluation Form can have an idea about appraisals and methods if he refers some sample forms before his review process. So that he can fill the form without errors and can update his form with perfection. Impression matters, even at the filling of forms!
Save Time and Effort, with Some Money!
The benefit of a sample is not limited to one or two. Getting a basic idea about an appraisal form doesn't come handy without an example. When you use a sample form, you are on 2 things together. One; is getting basic details about what and how the form is. Another understands the dos and don'ts in the form. Also, some forms available in word format are easily editable and could be re-used by you. This will save a lot of your productive time and will help you to go through an error free process. This will overall give a positive impact to you and the firm.
A sample employee appraisal form might help you to save a lot of time and some extra bugs. These free downloadable forms will help to get you through a bug-free process and will finally make your performance a step ahead of what you are expected to deliver!
Performance Appraisal Format
How do you write a Good Performance Appraisal Form?
Clear Objectives: Clearly state the objectives and purpose of the appraisal.
Specific Metrics: Define specific performance metrics and key indicators relevant to the role.
Employee Self-Evaluation: Include a section for employees to self-evaluate, fostering self-awareness.
Constructive Feedback: Provide constructive and specific feedback on strengths and areas for improvement.
Goal Alignment: Align performance assessment with both individual and company goals.
Continuous Improvement: Encourage suggestions for ongoing improvement and professional development.
Training Needs: Identify training needs and opportunities for skill enhancement.
Fair Rating System: Use a fair and transparent rating system that reflects actual performance.
Open Communication: Promote open communication, allowing for employee input and questions.
Future Goals: Include a section for setting and discussing future goals and objectives.
By incorporating these elements, you can create a comprehensive and constructive performance appraisal form that facilitates meaningful discussions and contributes to employee growth and development.
Staff Performance Appraisal Form
Why use the Employee Performance Appraisal Form?
The employee performance appraisal form serves as a structured tool to systematically assess and document an individual's job performance. Its primary purpose is to provide a comprehensive overview of achievements, areas for improvement, and alignment with organizational goals. This process fosters transparent communication between employees and supervisors, identifies development opportunities, and supports informed decision-making on promotions, salary adjustments, and training initiatives. By facilitating a constructive dialogue, the appraisal form contributes to professional growth, job satisfaction, and organizational success by ensuring that individual efforts align with the broader objectives and expectations of the company.
Appraisal Form Examples
What is employee appraisal form?
An employee appraisal form is a structured document used to assess and evaluate an employee's performance, aligning with key performance indicators, providing feedback, and identifying areas for improvement or recognition.
What is the role of HR in performance appraisal?
HR plays a pivotal role in performance appraisal by designing appraisal systems, ensuring fairness, providing training, facilitating communication, and using appraisals for talent management and organizational development.
What is a good performance appraisal?
A good performance appraisal is comprehensive, fair, and constructive. It provides a balanced assessment of an employee's achievements, areas for improvement, and aligns with organizational goals, fostering professional growth.
How to fill HR appraisal form?
To fill an HR appraisal form, provide honest, specific details about your accomplishments, challenges, and goals. Reflect on your performance, showcase achievements, and discuss areas for improvement.
How often should performance appraisals be conducted?
Performance appraisals should be conducted annually to provide employees with feedback, set goals, and assess their achievements. Regular communication and feedback throughout the year can enhance the process.