There are various types of deals which happen between organization and also between employees of the company with their employers. A legal confidentiality agreement is signed where information should not be given out in scenarios like sale and purchase of real estate, employment terms and contracts, intellectual property and product pricing strategies. It helps in keeping information legal Confidential Disclosure Agreements.
Legal Confidentiality Agreement Template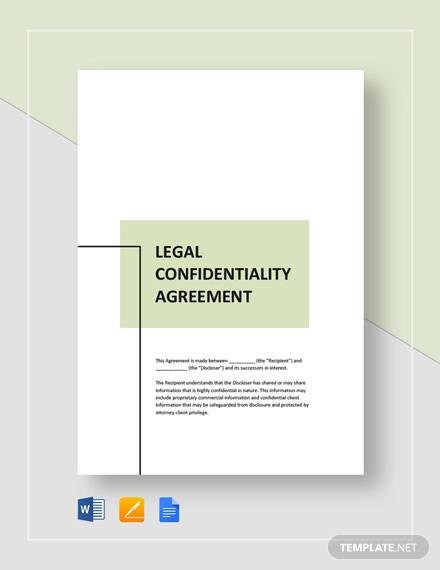 Legal Aid Confidentiality Agreement
Legal Aid is to help people who need legal help and they may not have the resources for the same. There will be issues between two parties and they do not reach an agreement. A legal aid may help them to resolve the issue. The discussions happening should be kept confidential and thus a legal aid confidentiality agreement is signed.
Legal Assistant Confidentiality Agreement
A legal assistant will help the lawyer to prepare the case to defend a party. The assistant does all the groundwork and studies the situation to help his superior. Since he is privy to information related to customers the assistant needs to sign a confidentiality agreement so that he does not leak the information.
Legal Intern Confidentiality Agreement
A legal intern is like a trainee and he helps the other colleagues. Due to the nature of his job he has access to information which needs to be kept private. The confidentiality agreement is thus signed by the legal intern and his employee thus establishing trust in him
Legal Document Confidentiality Agreement
This is an agreement signed by two parties who would like to keep the information confidential. This is also called as a Non Disclosure Agreement. The information could be about a new project launch or a product launch. This is signed by suppliers so they cannot divulge this information to other organization. In some places it is legally bound to have a confidentiality agreement.
Legal Employee Confidentiality Agreement
Legal Confidentiality & Non-Disclosure Agreement Form
Legal Foundation Confidentiality Agreement
Company Legal Confidentiality Agreement
Family Law Legal Confidentiality Agreement
Use and Purpose of Legal Confidentiality Agreement
Organizations would like to keep information about their new products, launches, go to market strategy and the details of the product a secret or else they will loose the competitiveness. They sign the legal agreement with the employees and vendors so that they do not talk about the same. Some acts like the HIPAA also needs the legal confidentiality agreement to be signed. It protects loss of confidential information.
How To Create/Write Legal Confidentiality Agreement
There are standard generic confidentiality agreements available on the internet.. One should download the same and customize the same for the use in one's own organization. There are multiple formats available and one can download the different agreements and compare them. Once you compare you can take the best one which suits your needs and customize the same. You may also see Generic Confidentiality Agreements
Legal Confidentiality Agreement is available with us on our website. You can download this from our website. It is available in word and pdf formats. We have a couple of these agreements and you can download that and compare it. You can take the best one you like and also customize as per the requirements. Please free to contact us for more formats of the agreement.