A confidential disclosure agreement, also known as a nondisclosure or secrecy agreement, is a legally binding agreement between two or more sides that outline information which the parties may share among one another for a certain purpose, and at the same time, want to secure that from a wider dissemination. All the sides agree not to reveal the confidential information to the public, covered under the agreement. A confidential disclosure agreement is typically executed when two parties consider a joint venture or collaboration and has to understand each other's technology and methods. You may also see Non-Disclosure Agreement Template.
Confidential Disclosure Agreement Template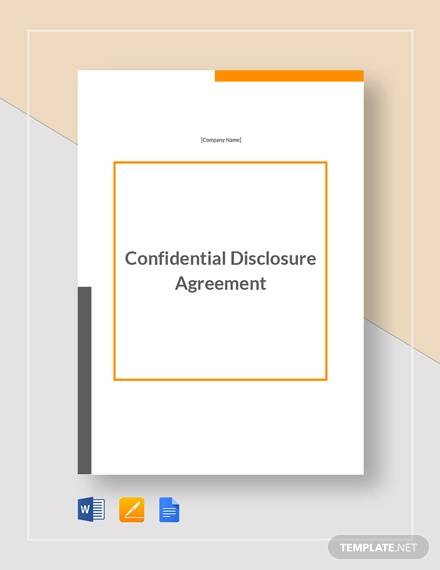 Non-Confidential Disclosure Agreement
It's the simplest form of confidential disclosure agreement; a unilateral agreement where one party pledges to keep information revealed by the other as confidential. The recipient of the information, besides the standard confidentiality obligations, should use appropriate security measures for safeguarding the information. Some non-confidential disclosure agreements may include the exact information which is considered confidential.
Mutual Confidential Disclosure Agreement
A mutual confidential disclosure agreement is one where confidential information would be disclosed, both by the company or organization, and the party with which it's entering into the contract. It's largely appropriate when two parties want to enter into a probable business opportunity. During such a transition period, both parties may be required to disclose confidential information.
Interview Confidential Disclosure Agreement
While it's always advisable to avoid revealing sensitive information during interviews, it's not always possible to evaluate candidates sans disclosing such information. If there's a chance of disclosing business secrets during an interview, the employer has to ensure that the candidate is legally barred from leaking confidential information to market competitors. The agreement will be in effect till the interview is over and maybe a few days after it.
HP Confidential Disclosure Agreement
A high priority (HP) confidential disclosure agreement is important for any inventor, or a party which needs protection for its confidential information. When the importance of the HP confidential disclosure agreement increases, the relative complexity of the agreement increases as well. The real purpose of the agreement is to build a relationship of trust between the two sides.
Sample Confidential Disclosure Agreement
Confidential Disclosure Agreement Free
Basic Confidential Disclosure Agreement
Printable Confidential Disclosure Agreement
Simple Confidential Disclosure Agreement
One Way Confidential Disclosure Agreement
Use and Purpose of Confidential Disclosure Agreement
Hiring an employee where the company wants to keep all information protected
Hiring an independent consultant or a contractor where the client intends to keep personal or business information private
During the acquisition of a company for securing the selling company's information, and also the details of purchase agreement.
Whenever two companies or businesses work together, like a joint venture, and mutually agree to hold some particular information in confidence
Benefits of a Confidential Disclosure Agreement
It protects sensitive information. Signatories promise not to disclose any information shared with them. The affected side may claim breach of contract if the information is leaked.
For new products or concept development, a confidential disclosure agreement help the investor retain patent rights. Public disclosure of a new invention, in many cases, can void patent rights. An exhaustive confidential disclosure agreement helps the original creator hold on to the product rights.
Confidential disclosure agreements clearly outline what information is secret and what is fair game. The agreement often serves as a paper which classifies confidential and exclusive information.
A confidential disclosure agreement is a great way for helping to protect a company's valuable intellectual property and trade secrets. It may be used to uphold the secrecy of developments in a company that are not meant for public knowledge. While writing a confidential disclosure agreement, the writer has to ensure that it's legally enforceable and appropriately used to avoid complications in the future.
If you have any DMCA issues on this post, please contact us!