Applying for a master's degree or any post-graduate course can be exciting and nerve-racking. Take a moment to chill and actually make a checklist of the requirements that you might be needing for the application. Apart from the graduate school resume, one of the requirements that you might find in your checklist would probably be a statement of purpose.
If it is your first time to encounter this phrase, a statement of purpose is one of the most important documents that you will be drafting during this journey. It will be the document that will give the admissions team or department a glimpse about who you are, your interest in the program you are applying for, and your career plans for the future. Basically, it is a detailed documentation of what your intent is for applying to the school's program.
Statement of Purpose Template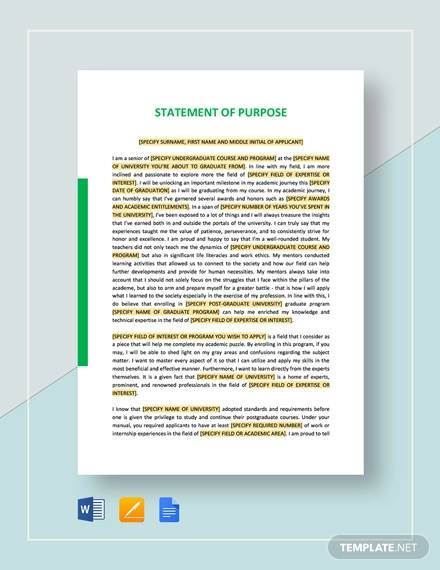 If you are having a bit of trouble coming up with your very own statement of purpose, we are here to help you out. We would like to share a few tips and guidelines about how you can come up with your very own statement of purpose just in time before the deadline for admission application comes up. Are you ready to start impressing the admissions team? Just keep reading!
Statement of Purpose vs. Cover Letter
You may be confused and ask if an application cover letter and a statement of purpose are the same thing. To quickly answer that, it is a definite no. Both documents are different; however, they do have similarities, which is probably what confuses a lot of people. So what is the difference between the two?
The purpose statement are drafted in order for you, the applicant, to properly and formally express your intent for applying to the program that you have chosen. This document is what the admissions committee uses in order to screen applicants on a more in-depth level. This is where you will be explaining what a valuable addition you will be to the school's community should you be given a spot in the said school.
This will also be a good opportunity for you to showcase what your strengths and weaknesses are, as well as be able to let the admissions committee know why you are the right person for the job or the internship. Your purpose statement will also be a good avenue for you to show your creativity but still being able to showcase a professional aspect of yourself.
A professional cover letter, on the other hand, serves as your written introduction to the admissions committee. Basically, your cover letter is where the reader will have a first impression of you despite not going through your resume just yet. A cover letter is only one page long, so it is a simple and brief way for you to pique the interest of the admissions committee and encourage them to check out more about you by going through your portfolio and other application documents.
You have to put in mind that academic institutions get a ton of applications on a daily basis. The role of your cover letter is to make sure that you stand out from the rest of the job applications. For whatever type of applications you might be applying for, it will be a good idea for you to include a cover letter.
Whether you are writing a statement of purpose or a cover letter, you have to make sure that you are writing an original one. Referring to a few samples would be a good idea and you can actually find inspiration for what you can include in your statement of purpose or cover letter. Do not copy from the sample statements word for word and put a little bit of effort when you start writing your own.
Writing the Statement of Purpose
Writing a statement of purpose may not be one of the easiest application documents to write, but by following the tips we will be giving you, you are sure to end up with a well-written one. Just ensure that you focus on the main content and give the right amount of details, you will surely end up with an exciting one.
Jot Down Important Points
Create a good opening statement. Give the institution's committee an impression that you are excited about applying for them. Make sure you write one that will definitely grab their attention. Include important details that helped you come up with a decision to pursue further studies.
Give them an idea of what your expertise in the field is. This will help to make your statement of purpose more solid and it can also help the admissions team assess if you will be a good fit with the institution's environment or otherwise. You may also like financial statement analysis.
Discuss with them what you want to study and give an explanation as to why you want to study that. You need to be specific when it comes to this area. You should also let them know why you chose to apply to the institution. You can also like sample mission statements.
Discuss with them what your future plans are. Let them know where you see yourself after graduate school and how you can apply what you learned in your future career.
Answer specific questions that the institution wants you to answer.
Put It All Together
Impress the reader with your knowledge in the field you are applying for. You can start interesting topics as a question so that you can pique the interest of the reader.
Be as detailed as you can. Put as much detail as you can as your statement of purpose can be two to three pages long. Do not be afraid to use language that might seem like jargon to some. Remember, you want to let the readers know that you are knowledgeable in the field you are applying for.
Let them know what your achievements are. Do not brag about it but be forward about these. Remember, it's your time to shine! You can also like statement analysis.
Let them know that you are excited to be working with the professors and your co-graduate students as well. This will give them an impression that you are enthusiastic about applying to the institution.
If there have been lapses such as years where you did not have a job or if it took you a long time to apply for a graduate course, you can definitely explain this in your statement example.
Be concise and brief. Keep it between 500 to 1,000 words or about two to three pages.
Review the Statement
Read the statement over and over again. Watch out for any misspellings and grammatical errors.
Have someone else read your work and ask for suggestions.
Make all the necessary edits and revisions.
Double-check all of the requirement documents before you submit all your requirements.