High school teachers like to equip their students to be ready for college life. One of the activities they assign students to do is to write a personal statement similar to the ones where universities and colleges ask their applicants to do as one of their requirements. Writing personal statements in high school is a great exercise for students to properly write so when the time comes they go to college, they will not struggle on writing them. This article will guide you on how to write a personal statement for high school and even for college applications.
10+ High School Statement Samples
1. High School Statement Template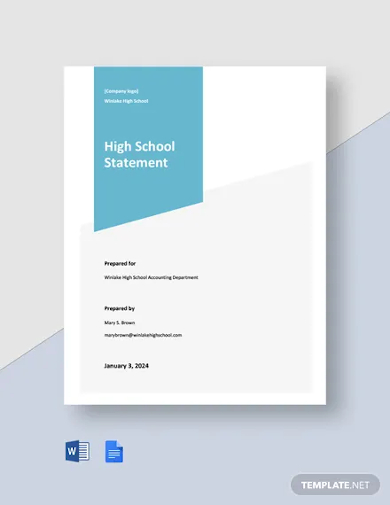 2. High School Mission Statement Template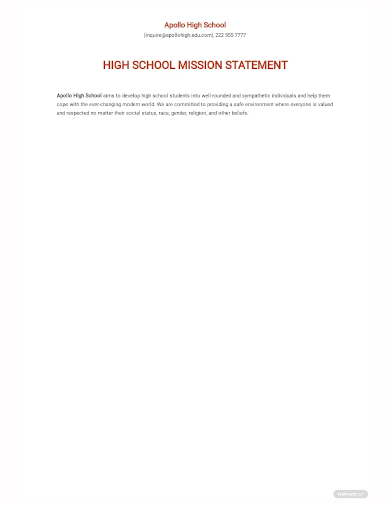 3. High School Student Mission Statement Template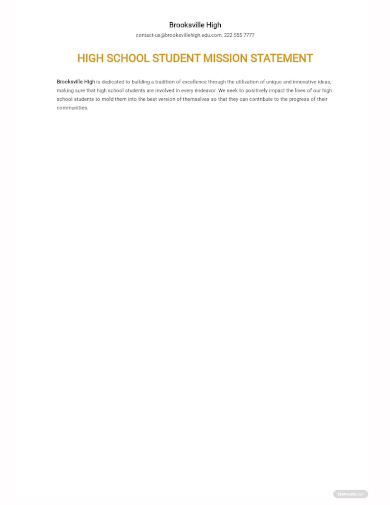 4. High School Completion Purpose Statement
5. High School Educational Purpose Statement
6. High School Identity Statement
7. High School Mission Statement
8. High School Vision Statement
9. High School Completion Identity Statement
10. High School Application Statement
11. High School Understanding Statement
What is a Personal Statement?
Personal statements are similar to essays where schools, especially in college or university application requirements, ask you to explain an event that changed your life, someone who is important to you, or other causes of personal improvement.
How to Write a Personal Statement in High School
1. Decide on What Topic to Write
For some people, writing about themselves can be difficult. Choosing a topic to focus on can be challenging especially if the assignment gives you the freedom to talk about it. As with most cases of personal statements, you're responsible to choose your own topic. If you're having some problems regarding that, brainstorm and list down your favorite things that you like to write about. Try writing about it without thinking of editing it. If you found yourself writing freely and without any trouble, then you found the topic you love to write about!
However, if this method doesn't suit you, don't panic yet. You can look on the internet to search for writing prompts to guide you on which topic to write. Some question examples they will give are:
What were the defining moments in your life?
What have you chosen to spend time on?
Whom or what are you inspired by?
What are you proud of?
Choose which topics you like and try writing your answers to those questions.
2. Write a Draft of Your Topic
So you've chosen your topic and wrote a little about it. Of course, continue writing it and let the words flow from your brain to your writing. Don't worry about the structure or organization of your writing; the draft is where you get to write what you want to say.
To know if you've chosen the best topic, you find it easy to write about it, helps you write interesting stories and facts about yourself, and it feels like your writing reveals something important about you. If you feel something similar, then you found the right topic. Stick to it until you finished your writing.
3. Formally Write the Personal Statement
Once you're done writing your draft, it's time to structure and organize your statement. Divide your writing into parts; introduction, main body, and conclusion. In your introduction, write first a predictable introduction to help you get through writing into your main body. You can go back to this section and edit once you're done with the whole thing.
The body is where you tell the story. The personal statement should introduce the subject, how it developed, its importance to you, and show how it changed you as a result. For your conclusion, this is where you write the main message of your statement. Show the importance of change in your personal life and how it made you a better person.
4. Edit Your Work
So you're done writing the personal statement; you're almost done! Now you need to revise your work. Check your language; don't use flowery or grandiose language, keep your writing crisp, simple, and down to earth. You may want to impress your reader with your wide vocabulary, but they will be more impressed with your straight-to-the-point style of writing. Make sure to keep within the required length; don't go way too far or way too short of a word count. Never forget to check for spelling and grammar mistakes. Revise if you spot those.
FAQs
How long is a personal statement?
A personal statement's length depends on the instructions given to you. However, the average length of a personal statement is about 4,000 characters.
How do you show not tell in a personal statement?
When writing a personal statement, you want your statement to be more interesting to read. To do this, you need to be a good storyteller. If you want your writing to show much more than tell, here are some tips on how to do it: Use the five senses to describe situations or things, use the psychological method rule of three to make your writing more interesting.
What should not be included in a personal statement?
When writing a personal statement, make sure the tone won't sound so negative. Furthermore, you need to focus on the topic that was given to you to write about. Avoid writing other topics that are not important to your statement. Also, avoid exaggerating or lying in your statement.
For your personal statement to sound good, don't wait at the last minute to write it. You need some time to complete it. It's okay if you don't finish it in a day. Expect that you will make a lot of revisions before deciding on a final personal statement that you're confident enough to submit. Ask help from someone else to guide you in your writing and review your work as well. If you're ready to write your own personal statement and need some sample statements you can refer to, download our free sample templates provided above.