How do you define a place that is conducive to learning and is a good place to work in? Well, we all call it as a well-maintained office. This can be achieved by having a regular office maintenance schedule. Of course, employees working in an office may be too busy to do the cleaning themselves but they are still expected to keep their area clean and well-maintained at all times. This leaves common areas like the comfort rooms, the pantry, or the hallway with no one to maintain them. This is when outsourcing for maintenance services comes into action, and thus the establishment of regular office maintenance schedule to keep the workplace conducive to learning and working. You may also like maintenance checklist samples.
Office Maintenance Schedule Template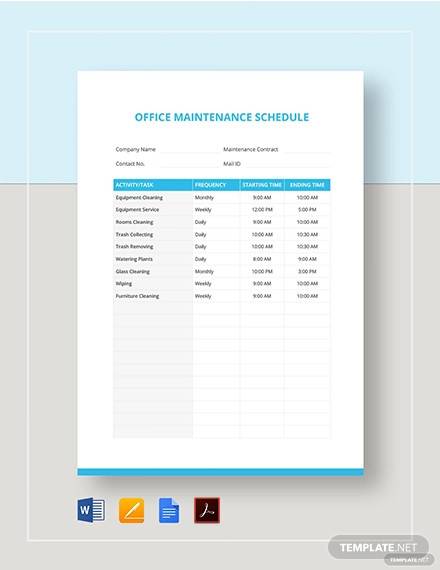 Office Schedule Template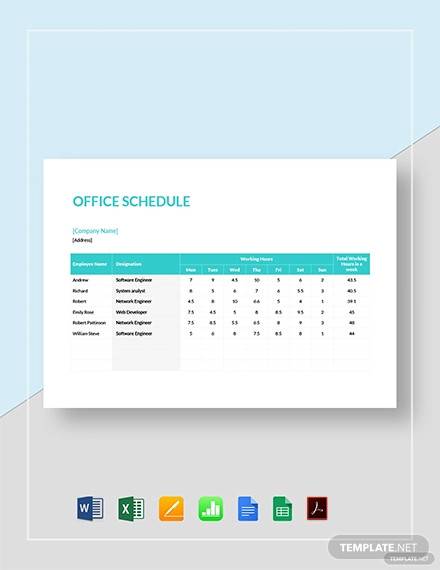 Office Cleaning Schedule Template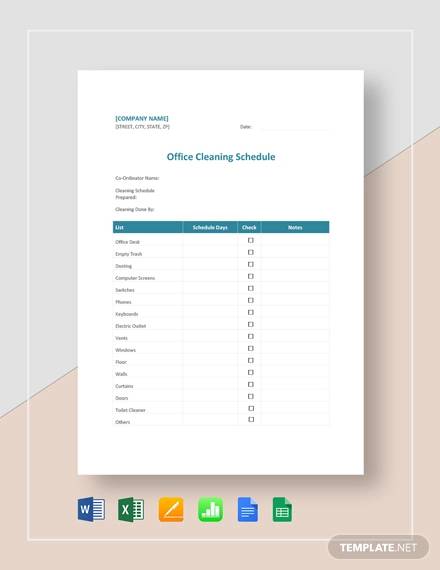 What is meant by an office maintenance schedule? An office maintenance schedule simply means keeping the office or the workplace clean, orderly, and safe regularly. The cleaning and repairing services done in the workplace takes place based on a planned or plotted schedule. The schedule is created to ensure that even when work is taking place, the employees and their tasks are not affected by the ongoing maintenance. You may also see sample monthly schedule templates.
Office Maintenance Schedule
Sample Routine Office Maintenance Schedule & Checklist
Office Maintenance Schedule Sample for Town
Office Equipment Maintenance Schedule Template
Office Building Planned Maintenance Schedule
Uses of Office Maintenance Schedules and Templates
Knowing the uses of certain things allows you to take advantage of them. Take for example office maintenance schedule samples and templates. If you know what sort of things it is used for, you will definitely be thrilled at how helpful it is.
Office maintenance printable schedule samples and templates are used as a guide to creating one's own maintenance schedule for their workplace. The sample makes it easy for anyone to decide on which maintenance activities to include on their schedule.
It allows the office manager to keep track of the people who are assigned to do the maintenance tasks in specific areas of the office during specific periods of time. This helps them point out which personnel to talk to if they have any concerns about the maintenance done in a specific area and time.
It provides a complete list or outline of important maintenance activities to ensure that the office is clean, orderly, and safe.
Equipment maintenance is part of the office maintenance activities that need to be done in every workplace so that the equipment is sure to be in good working condition whenever they are needed. You may also see game schedule samples.
The samples not only contain a complete list of the needed office maintenance activities, but they also provide a description and specific reasons why such maintenance activities are required.
The use of any office maintenance schedule prevents the possibility of having overlapping maintenance schedules or repeat maintenance schedules in a given period of time. These instances are time-consuming, costly, and unnecessary. You may also see holiday schedule samples.
Office maintenance schedule samples can also be used as one's own office maintenance template provided that the list of activities are appropriate to their needs in the workplace.
The use of these printable schedule samples and templates helps one keep track of the office maintenance activities that have been done and those that are yet to be done.
Office maintenance schedule samples and templates allow one to check and schedule maintenance services right away when there are cleaning and repairs that should be done immediately that could possibly do harm to a lot of employees. You may also see test schedule samples.
Office maintenance schedule templates are used when one needs to make their own office maintenance schedule from scratch. It makes the whole process easy and convenient as some guidelines and pointers may be provided in those templates.
The samples and the templates often provide instructions on how to go about planning and making one's own office maintenance schedule, as well as how to do each office maintenance schedule properly.
Office maintenance schedule samples and templates can be used for one's daily, weekly, or monthly office maintenance needs. You may also like interview schedule samples and templates.
You may also want to check out other schedule-related topics on our websites, such as employee shift schedule samples and templates and appointment schedule samples and templates.
The Importance of Regular Maintenance Checks for Your Office Equipment
A clean and orderly office makes conducive plays for working that can only be achieved by doing regular office maintenance. Employees will be more motivated to work in a place that looks good and cool to the eyes. Aside from that, having a clean surrounding will help them focus on their jobs and less on how disturbingly dirty and disorganized their surroundings are. You may also see sample maintenance request forms.
Regular office maintenance is important because it helps keep an office of any establishment or business clean and orderly.
Office maintenance schedule is also much like safety plan implemented in the workplace. It is because regular office maintenance helps keep the office safe by ensuring that the needed repairs are performed before any harm is done.
Office maintenance schedules that are done regularly helps prevent the occurrence of unwanted physical harm or injury to the working employees. You may also see snack schedule samples.
Employees are more than happy to work in a well-maintained work environment and this happiness will make them more productive and motivated.
Having regular office maintenance schedule helps ensure the continuity of work that is being done in the office by having all of their equipment in good shape and in fully functional condition.
Other maintenance-related articles available on our website are maintenance contract samples and templates and sample maintenance technician resumes.
Office Cleaning Schedule Template
Weekly Office Cleaning/ Maintenance Schedule Template
Sample Office Cleaning Schedule Template in Doc
Blank Office Maintenance Schedule Template
Office Maintenance Services Schedule Template
How to Implement Office Maintenance Policies
A workplace, especially that in an office setting, must always be clean and neat. It should always be ready to welcome guests and employees alike. Thus, it should always be presentable. While third-party maintenance services can keep an office clean and orderly, it still is a must that an office maintenance policy is set and implemented. Here are steps on how you can have it done.
Take time to identify the roles and tasks of each staff or employee in the office. This will help you decide on an effective way to implement the policy as well as persuade them to follow it. You may also like vacation schedule templates.
Then set the necessary parameters or those parameters that are applicable to your office settings. These parameters could be about the use of certain facilities, like the sink, the pantry, or the hallway. It could also be about the use of certain equipment for work-related things, the computer, printer, projector, etc.
Put signs or reminders on walls, doors, or bulletin boards to let employees or your staff know about how such things or facilities should be handled. You may also see panel schedule templates.
Assign specific office maintenance tasks to a number of people so that they can help in maintaining the workplace. These people are usually the receptionist, supervisors, or managers within the company in addition to the maintenance staff of the company or organization.
Make sure to document all the office maintenance activities that should be done, including how often they should be checked, who should do them, what equipment or which facility needs repair and reports related to the maintenance done. You may also see event schedule samples.
Take note of the frequency that an office maintenance should be done. A specific date and time should be set for each task, which should always be followed.
Do frequent monitoring or checks, either announced or unannounced. This is how you evaluate if the policy you have implemented is being followed or not and if there are any improvements that have been met by the implementation of such policy. You may also see sample employee schedules.
The success of the implementation of your office policies depends on how well you have explained it to the people who are involved, as well as how often you do the evaluations and make changes as necessary. You can check out our website to be able to get more maintenance schedule samples and templates. We have there home maintenance schedule samples and templates and vehicle maintenance schedule samples and templates available. Check them out now!
Simple Tips to Keep Your Office Clean
With a number of people working together and using different things all the same time, cleaning an office just seems like a never-ending story. It is similar to that of a house with little children or toddlers hanging around. But it is actually possible and it has been done. Keeping an office clean is not awfully a difficult feat because of these simple cleaning tips. You may also see staff schedule templates.
1. Check the office regularly.
Doing a thorough inspection and evaluation of the office facilities and equipment helps prevent potential problems from actually becoming real problems. Identify the early signs of a problem before it turns into one.
2. Make each employee responsible for their own workstation.
This is how you will know who is doing their part of the responsibility and who are not doing anything. Even with maintenance people to clean and take care of the office, it is still best that the person who used such things or equipment be responsible for taking care of them. This way things can be used longer and stay in good shape. You may also see meeting schedule samples.
3. Do repairs on time and when necessary.
Never ever ignore or even think about overlooking repairs. Broken and damaged equipment may be hazardous and may cause harm to your employees. It may also disrupt the operation of the entire workplace.
4. Think twice about DIY maintenance.
While it is really cheap to perform DIYs, it's not always a good thing to use for everything particularly with doing maintenance. Office maintenance services offered by third-party companies are professionals trained to do maintenance activities. As professionals, they can do the job right without worrying about any mishaps or preventable accidents. DIY maintenance may just come out a disaster if done in the office setting. You may also see sample cleaning schedules.