Maintaining a flawlessly planned day can take some time – no matter how hard you try to maximize the most of your time at work, problems will happen that will throw your schedule off. You may overlook your priorities, spend too much time on irrelevant things, or be unsure of what to do next. As a result, you may miss important targets and experience a loss of confidence and drive. This is where time blocking and a good time blocking planner may help. You'll be able to define and achieve your goals by following your time block schedule using a planner. It will also educate you how to schedule your objectives and stop wasting time on unimportant things.
10+ 24 Hours Schedule Samples
The most typical sort of time blocking sheet is a daily schedule template, which divides each of your workdays into specified time blocks that you can then write out with your responsibilities. Each of the provided templates has a to-do list and an area for adding notes and comments, as determining your priorities is critical for determining what to allocate time for first. This daily planner template is divided into 1-hour intervals and spans the entire day. Simply set the month and day, then list the chores you'll complete throughout each hour. Your to-do list might assist you in deciding what to prioritize.
1. 24 Hours Schedule Template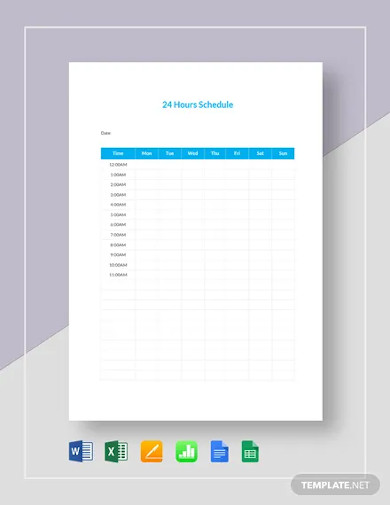 2. Weekly 24 Hour Schedule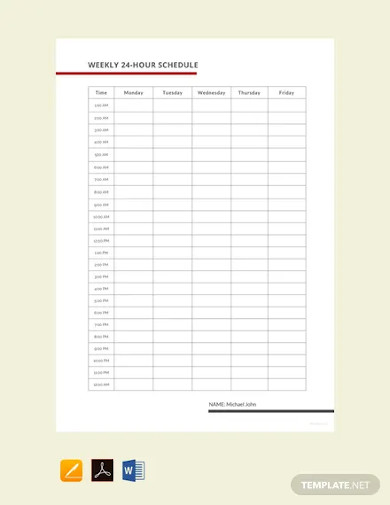 3. 24 Hour Rotating Schedule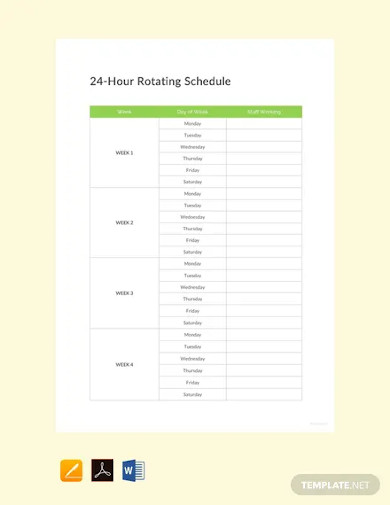 4. 24 Hour Weekly Activity Schedule
5. 24 Hour Self-Preservation Schedule
6. 24-Hour Retreat Schedule
7. 24 Hour Staff Schedule
8. 24-Hour First Friday Holy Schedule
9. 24-Hour Work Schedule
10. 24 Hour Schedule Example
11. 24 Hour Audiovision Schedule
Hours Schedule
In today's corporate climate, knowing how to manage your time and how to reach your goals is critical to your daily routine. When it comes to managing your lives and careers, it's a serious issue. A schedule template will not only allow you to manage your time, but it will also assist you structure your work schedules in a logical manner. Worksheets such as time management worksheets will assist you in effectively managing your family and work time.
To attain your goal, time management necessitates a great deal of organization and planning (s). When you have a lot to do but are having problems balancing work and life, a simple to-do list can assist you in efficiently planning and managing both. A to-do list will assist you in arranging your day and achieving your objective. Regardless matter how big or small your goal is, if you arrange your day with your to-do list according to your time, you will be able to accomplish it.
Setting larger goals, prioritizing your work and duties, avoiding procrastination, and getting more done with your time are all benefits of time management. It can also assist you in analyzing your present time utilization and maximizing your productivity. Time management is essential for achieving a better work-life balance. Based on how you manage your time, you can reach your objectives.
FAQs
A 24-hour schedule is best for what and who?
Standard work hours normally cover the first half of the day; however, covering the second half of the 24-hour day, i.e. night time, makes this time management sheet acceptable for freelance night owls as well. This daily time tracking spreadsheet is also useful if you need to work late to meet a deadline or collaborate with a team that is in a different time zone than you.
What are the tasks involved in time blocking?
In a nutshell, time blocking is a time management approach that entails making a to-do list, selecting how much time you'll spend on each job on your list, and scheduling these chores on your calendar, i.e. blocking time for your tasks.
You may customize the template by selecting from a range of styles and layouts, then filling in the details before printing and hanging it anywhere. You can utilize the schedule template to create and customize your own design, which you can then use to appropriately organize and time your daily tasks.