Making a weekly schedule can sometimes be a big chore for managers and subordinates alike; you need time to create one and input the tasks that everybody needs to do every week; but nobody should underestimate its importance, it helps employees remember the job they need to do and avoid repetitive of doing tasks that have been completed or omitting important tasks just because everyone has forgotten to do it. Making a weekly schedule doesn't have to be a time-consuming and dull chore; read the article to know how to make a weekly employee schedule in three easy and quick steps!
10+ Weekly Employee Schedule Samples
1. Weekly Employee Schedule Sample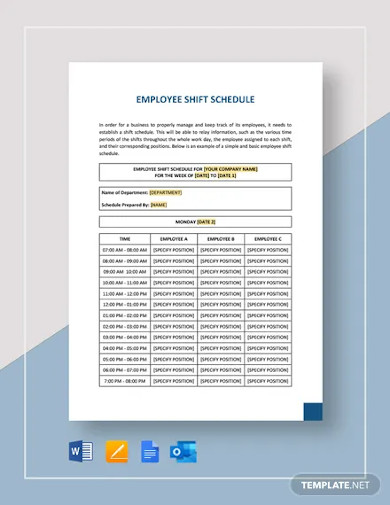 2. Weekly Employee Shift Schedule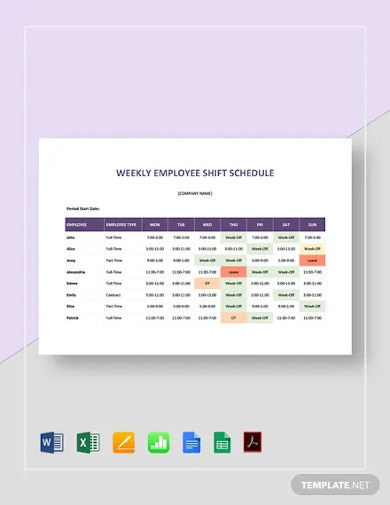 3. Weekly Employee Shift Schedule Sample
4. Weekly Employee Schedule Report
5. Weekly Employee Work Schedule
6. Editable Weekly Employee Schedule
7. Weekly Employee Pay Schedule
8. Standard Weekly Employee Schedule
9. Printable Weekly Employee Schedule
10. Bi-Weekly Employee Schedule
11. General Weekly Employee Schedule
Importance Of An Employee Schedule Template
Creating a standard weekly employee schedule template is essential for your business to organize the work schedules of your employees and the tasks they are assigned to do. It is a reflection of the needs of your company and the employees who work there. Furthermore, the schedule keeps track of any changes of different jobs of every employee working on a particular schedule.
Essential Items To Include In Your Employee Schedule Template
1. Build Shifts Around Your Employees
You can provide the opportunity to let your employees choose their own schedule. You can ask them their preferred shifting schedule and base your drafting of work schedule on their preference. It is a great way for all your employees to balance their work and personal schedule and helps them keep engage in their work.
Honor each of their shift preference and their time-off requests. Don't let your employees feel like their personal lives don't matter; if they feel like they don't have the opportunity to handle their schedule to take care of themselves, they're more likely to start looking for a different job that will fit their schedule better.
2. Details to Include in the Schedule
Your employee schedule should include the following information:
A week worth of days
Employee names
The date of each day
Business hours
Business or manager contact information
A way to show work hours
3. Make the Schedule
Once you obtained the following details above, it's time to format your schedule. Put the employee names, dates, business hours of the company, and the company's contact information on the back part schedule. So the only information on the calendar is the work hours and the employees assigned on that shift. To make it more organized, format the schedule as a table, use color codes or images of employees assigned on the shift schedule. This will make it easy for the employees to figure out on what day and hours they will be working and what job they are assigned to do.
FAQs
 

What is the best rotating shift schedule?

A clockwise shift rotation is one of the best rotating shift rotations. Ideally, this rotational schedule should include no more than three-night shifts in a block, with 3 days of recuperation after the night shift work.
What is a Pitman schedule?
The Pitman schedule is a fixed shift schedule that has 4 employees as a team to do two twelve-hour shifts to provide 24/7 coverage of the business. It consists of a 2-week cycle where each team works two consecutive shifts, followed by two days off duty, then work for three consecutive shifts, followed by two days off duty, work for two consecutive shifts, and then followed by three days off duty.
What are the different types of work schedule?
The different types of work schedules are full-time, part-time, fixed, flextime, rotating shifts, compressed workweek, split shift, freelance, on-call, overtime, seasonal, irregular shirt, Dupon shift, and Pitman shift.
Once you're done creating the weekly schedule, distribute it as soon as possible. This will give you plenty of time to make changes before the shifts go into effect since your employees can inform you if they are not available on particular shifts. This would avoid employees doing the classic no-call, no-show, and scrambling for a last-minute substitution. This will also help employees work around their schedule both at work and personal. Make sure to make a mandatory policy for employees to find their own substitute who can cover for them if they can't work during their shifts. Provide a set of guidelines for this process to be organized. To help you save time creating a schedule every week, you can download our sample templates above to use as your custom-made schedule with the format already done so the only thing you need to input is the work schedule!