Student schedules are simple yet very effective tools for student use for any activities that they may have. More than one student schedule samples in PDF and Word are available for free download here. These samples can be used as one's own student schedule template, or they can use it as reference if the prefer to make on their own. Check them out now!
Student Schedule Template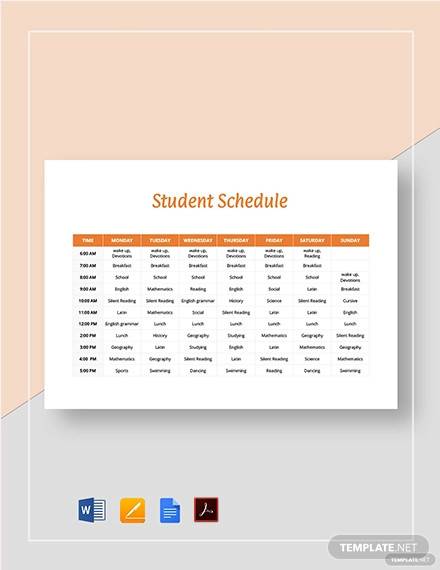 These days you never tell if students are busy or not. Why? It's because you often see them in malls, they hang out in different places, and it seems as if they did nothing in school because they look so relax. You might be wondering if they even learn. Well, they do and they have a lot of free time for themselves because they are able to manage their time effectively with a use of a student schedule.
Sample University Student Schedule
Student Study Timetable Schedule
Student Assignment Schedule
Student Class Schedule
Student Conference Schedule
Sample Student Schedule
Student Weekly Class Schedule Template
What Is a Student Schedule?
Student schedules are easy to use scheduling tools or templates that enables students to plan out an entire day, week, or month. It helps them keep their schedules and appointments organized so that they can learn to manage their time effectively.
Student schedules can be used to write or list down a variety of things, tasks, or activities that students need to attend to regularly. It could be about school-related stuff, like making homework, studying for the term exams, making projects at a friend's house, etc.
It cold also be stuff that are not related to anything about school, like going to the beach with the family, getting groceries, hanging out with cousins, or playing volleyball on Saturday. There are no limits to what a student can write on their student schedule. All it cares about is that they be able to manage their schedule with its use.
Aside from student schedules, there are also other samples and templates that students can use either separately or they can put them all in one sheet. They are test schedule samples, student planner samples and templates, and student checklist samples and templates.
What Are the Types of Schedules?
There are basically two types of schedules being used today and they are publicly available schedules and internal schedules. Each schedule type is briefly discussed below.
Publicly Available Schedules
A publicly available schedule is called such because it is intended for the public's use. The schedules help the people plan ahead on what they should do on the given schedules. They serve as a form of notification or warning about the dates and times when there will be planned service interruptions or disruptions in the usual activities of the people. Examples of publicly available schedules are the following:
Notice of road repair schedule with its start date and time and end date and time
Announcement of power outage schedules
Schedule of the time, dates, and places where there will be water shortage
Schedule of road blocks or road rerouting for events, like parades and Mardi Gras
Schedule of sports events, tournaments, and television shows
Transportation schedules such as train, bus, and airplane schedules
Business operating hours
Internal Schedules
Internal schedules are the complete opposite of publicly available schedules because they are only provided a number or to a group of people who are directly involved. Often, they are kept secret from people outside a company or organization, or from outsiders. Examples of internal schedules are the following:
The work and shift schedules of every employee in a company or organization
The times and dates of visitor arrivals
The working schedule of executives and high-ranking officials
Other schedule templates we have available on our website are staff schedule template, construction schedule templates, and interview schedule templates.
Student Course Schedule
New Student Orientation Sample Schedule
Student Work Schedule
College Student Time Management Schedule
Student Schedule for Japanese Language Course
Student Weekly Schedule
Daily Student Schedule
How to Make a Schedule Template in Excel
Schedule templates can be made in a variety of ways. This is the reason why other file formats such as PDF templates, Word templates, and Excel templates exist. Oftentimes, schedule templates are made manually with the use of a pen, paper, and ruler. It's easy to make a schedule template using any of the ways you prefer as long as you know how to make them. That is why we will be helping you with making a schedule template in Excel. Easy to follow steps are provided below.
It is important that before you start doing something, you should make a plan, an outline, or a draft. Planning about what you need to do will help you save time and allow you to create more ideas along the way.
Write everything that you need for your schedule in your draft or outline. Put every detail that you think is important and will help you with managing your time.
Arrange the details or contents of your work so that it will be easy for you to understand what you have written and lets you transfer it to the Excel document you will be making.
After that, prepare the equipment you will need, such as a computer or laptop. After it is completely turned on, proceed to launch the Excel application you have on your desktop. For older versions, it will get you directly to the Excel spreadsheet. For those newer versions of the application, you will be asked to choose a template from their list. Choose the blank template.
Change the page layout of your sheet, like the margin and orientation. Although you will still see all the columns and rows after making these changes, you will be provided with a line that indicates up to where the letter size paper in portrait orientation is on the sheet.
Get your outline or draft and transfer its contents one by one on your spreadsheet you are working on. Make sure that you have entered all the necessary details to your schedule template.
Next, change the font size, font style, and font color of your template based on your liking. You can make it as plain or as colorful as you want.
Check your work again to see if there is anything you have forgotten or overlooked.
If you are satisfied, save your work by clicking the File button or the floppy disk icon. Another window will appear, which allows you to choose where you want to save your work and what file name you would like to give it. You then click on the Save button.
If you want to have a hard copy of your schedule template, go ahead and print your work by using the shortcut keys Ctrl+P, or by clicking on the print button on the toolbar.
Now that you know the steps on how you can make a schedule template in Excel, you will now be able to easily make an assortment of schedule templates for different uses with different designs. To get more inspiration or ideas for your next project, you can use printable schedule templates, home maintenance schedule samples, and toddler schedule samples and templates as reference.
Tips in Using Schedule Templates Effectively
Using a schedule template is an easy task, no doubt about it. And because it is easy to use, it has also become the reason why a lot of people are not able to use it effectively. Let's say that they have become so overconfident that they can do it, but they merely even touch it. So that you can get the best out of using a schedule template, here are some tips that will surely help you use it effectively.
If you are using a schedule template to write down all of your schedules and even tasks, then you might as well want to bring it everywhere you go. What can you bring everywhere without the hassle? You can use your smart phone or a handy notebook where you write your schedule template.
Make it a habit to check or consult your schedule template regularly. It is also good if you put a mark or some sort of indication that such has been done.
Adhere to the schedule that you have made for yourself. Now this is what we call discipline. No matter how prepared you are or how extravagant, wonderful, or expensive your schedule template is, it won't help you unless you try to help yourself.
Try making your schedule template fit in a single sheet so that you can see the entire spread with just a glance when you open it.
Always update the schedules you have written if there are any changes to your actual schedule. Forgetting to do so will defeat the purpose of using a schedule template.
Schedule your appointments ahead of time and avoid appointments on short notice, unless it is an emergency or a very important matter. Short notice appointments will ruin your entire schedule more than you can ever imagine and it will leave you with double the things that you need to do.
Allow yourself some time to get accustomed to using a schedule template. Nobody is a pro with doing things on their first try. In time, you will get a hang of using it and then you will see what a wonderful tool a schedule template is.
It's quite a wonderful feeling to be able to use something that actually works for you. And for sure, you will like how things will work out if you follow the tips we have provided above. Other related topics we have available are vacation schedule templates, weekly work schedule templates, and panel schedule templates.