Everyone deserves a time-off every once in a while. But just like any vacation, it may cost you from the hotel accommodations, travel fares, food, and other expenses. And as reported by Bankrate's study, Americans spend an average of $1,979 for summer vacations annually. If you think the money is enough to pull off a successful vacation, that is where you are wrong. Vacations also cost you time. How sure are you that you are spending your time on vacation productively? Aside from being productive by visiting and doing many summer activities, do you still have enough time to relax as well? Balance your vacation planner with vacation schedule templates.
Vacation Schedule Template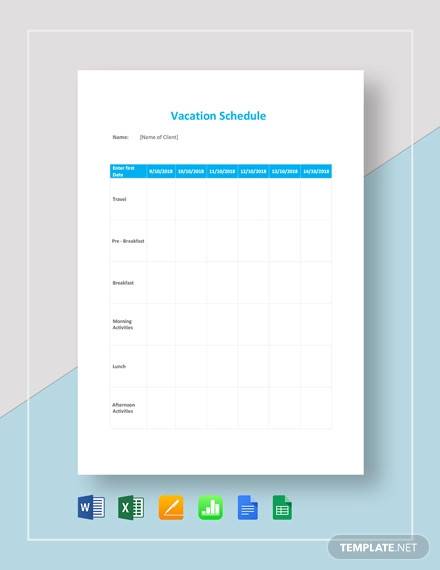 Employee Vacation Schedule Template
Holiday Vacation Schedule Template
Office Vacation Schedule Template
Yearly Vacation Schedule Template
Student Vacation Schedule Template
Faculty Vacation Schedule Template
State Vacation Schedule Template
Vacation Calendar Schedule Template
Sample Vacation Schedule Template
How to Make a Vacation Schedule
Vacation schedules go hand in hand with vacation planning. Without a schedule plan, how you wish your vacation would turn out might not go efficiently. And if you have last-minute changes to the plan, note the changes to your schedule, so you no longer get confused. The best part is you can always personalize your vacation schedule with our sample templates. If you need ideas on how to perfect the schedule, we got you covered. You can make a standard vacation schedule in just four steps. 
Step 1: Identify the Schedule's Purpose
Indeed, you are making a vacation schedule, but it may be too broad. What is it for? Is the schedule's purpose for office, school, or perhaps, family vacation? Specify it. It would not be right to assume every schedule works for every application. By finalizing the vacation schedule, the rest of the steps will come off easily.
Step 2: Lay Out the Activities
Next, list down all the activities you need to plot in the vacation. You can list them all from when you wake up, go to the airport, and so forth. Be sure you cannot forget every detail because everything you do on the trip will take time. And after you have listed each activity, arrange them in the right order. Of course, a scheduled plan should be sequenced. Otherwise, it would be pointless to check out at the hotel before even checking in.
Step 3: Associate Every Activity with Time and Date
So are you done sequencing the activities? The next step is to include the time and date. Every activity should have an estimated schedule, and that is what makes the vacation schedule useful. For example, you denote that breakfast will take 20 minutes or that chilling at the beach takes an hour. Also, be sure to be practical in estimating time. For example, do not assume that a flight will only take a few minutes.
Step 4: Make an Easy-to-Follow Schedule
Have you associated the activities with the schedule? Great! Polish the whole form next. The key is to ensure the schedule is easy to follow. You can add some notes or additional instructions to help you not get confused in depending on that sheet. Maybe there are some inconsistencies in how you calculated time estimations. Or maybe, errors happened in jotting down the wrong dates for the vacation. Thus, correct everything before using that schedule.
FAQs
What is the purpose of a vacation schedule?
Vacation schedules are notably used for productivity purposes. Since you will list down what to do according to when and how long each activity would take, you ensure that nothing compromises your plan at all costs. And those on vacation and still have work to do simultaneously would need a well-managed holiday schedule.
Who creates a vacation schedule?
Generally, people who are going to take a vacation will prepare the vacation schedule. But in some cases, the management or organization would prepare them for every employee. That way, employees need not make vacation calendars themselves; they only follow what is written in the schedule. And it can be scheduled hourly, daily, weekly, monthly, or yearly.
What is an employee vacation schedule?
Employee vacation schedules are the official roadmap specially designed for tracking paid leave vacations or holidays of employees. Expect the said schedule to note the allowable holidays, vacation request regulations, and other time-off leave terms or policies.
Are you looking for the best vacation schedule template without hectic customization features and high costs? Voila!  Sample templates enable you to fill every vacation detail you want to add easily. More so, you can change the format for better layout, design, and presentation. And all it takes is just a few seconds to download. Get classified, pre-formatted, and stunning vacation schedule templates now!