Employee and workflow management among the staff is a bit of a headache for managers. They need to prepare timetables, schedules, and employee lists for effective management and workflow. Preparing a custom employee schedule can take few days or weeks. It will affect the productivity. So, instead of making a custom design use our ready-made sample Employee Schedule Templates. They provide easy customization and input fields. You can prepare weekly, daily, and monthly workflow employee schedule within a couple of minutes.
Employee Schedule Template Sample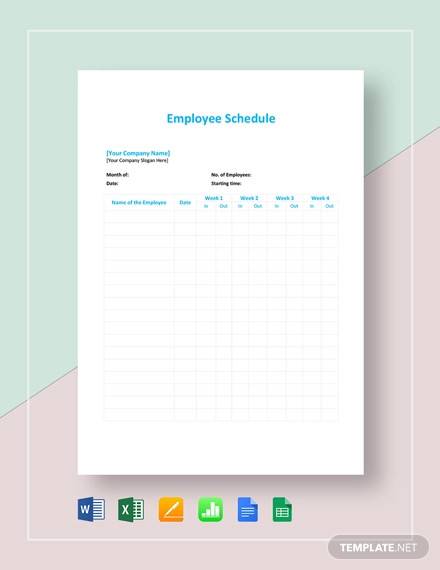 Monthly Employee Schedule Template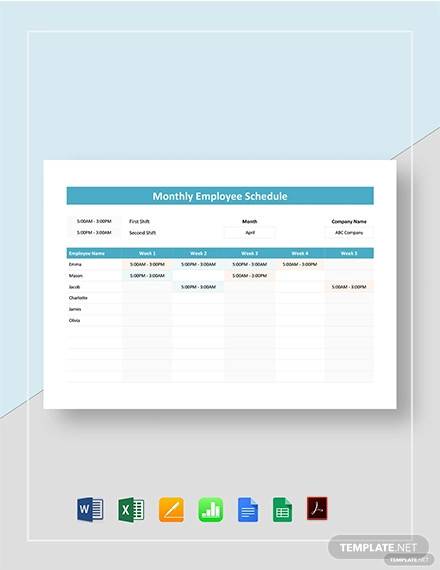 Employee Training Schedule Template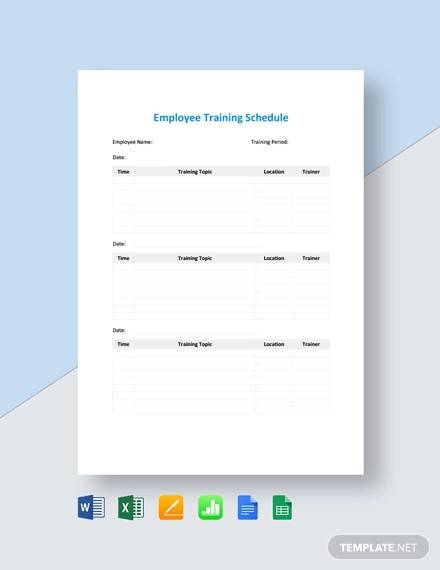 Employee Work Schedule Template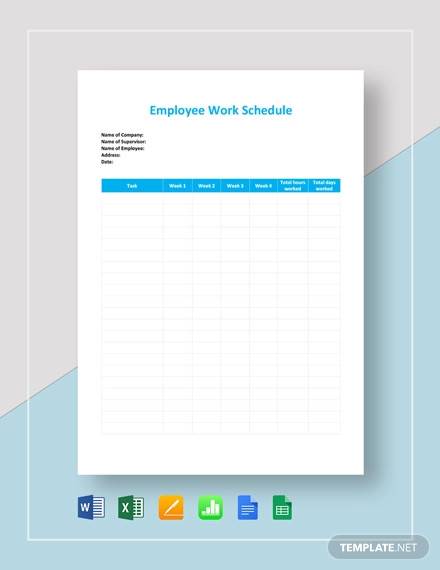 Restaurant Employee Staff Schedule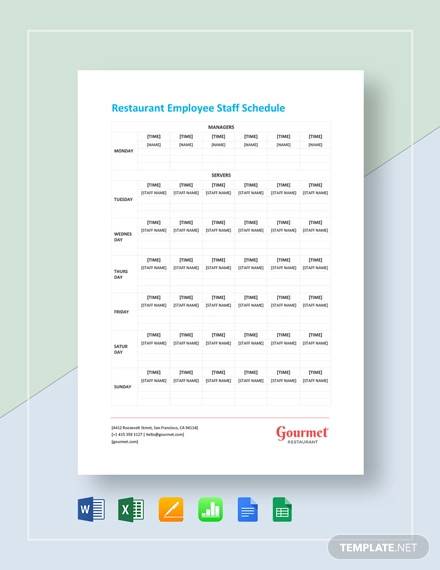 Restaurant Employee Work Schedule Template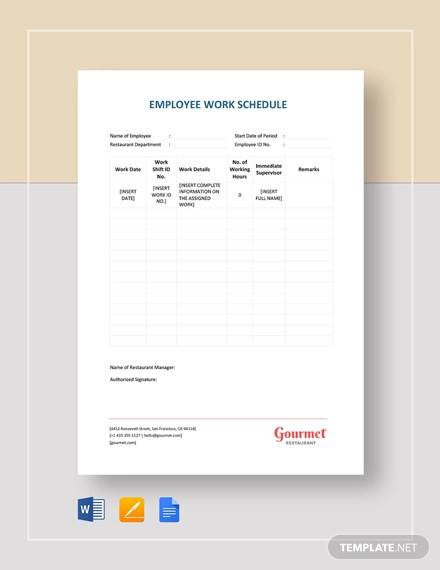 Employee Monthly Schedule
Now, monthly work scheduling becomes easier with the help of monthly employee schedule template. Use this staff Rota template and prepare an effective work schedule for efficient work management. You can fill the input fields directly in the PDF document or can take a print out for hand customization. You can also include spaces for Supervisors and Department Head signature.
Employee Weekly Schedule
Employee weekly schedule is an MS-word template design. Download the zip folder and get access to ms-word file. Open it and perform customization. You can also take out print and do hand written work for making a custom work schedule. This template supports 100% customization.
Restaurant Employee Schedule
Restaurant employee schedule template is an MS-word document template. Either take out a print or fill it using the desktop. You can customize everything including table columns, table size, text etc. It contains separate rows for AM and PM staff. Note down necessary tasks and manage the workflow easily.
Employee Training Schedule
Make custom employee training programs using employee training schedule template. This template is a basic framework with pre written schedule. Write date, location, topic, and trainer/person name in the tables and plot the training program.
Employee Shift Work Schedule
Employee Hourly Work Schedule
Alternate Employee Schedule
What are the Benefits of Using a Employee Schedule Samples?
Employee scheduling is used as a tool by business authorities to enhance business productivity. It helps businesses in maintaining specific employee records, efficient workload management, compensation management, and for managing attendance. It also helps in analyzing an individual employee's productivity. You can also see Employee Work Schedule Templates
Business needs ready-made tools and materials to save time and enhance productivity. Use our sample class schedule templates and use the production/designing time for the rest tasks. Is it not a time-saving tool? Do comment on our collection, we will love to hear few words from you.
If you have any DMCA issues on this post, please contact us!