Solo businesses are now slowly becoming a thing of the past. Nowadays, companies would typically want to become involved in collaborating projects with other companies, usually ones that operate within the same industry. they basically accumulate all of their resources together and pool them to come up with a new product, a new venture, gain the ability to operate in new markets, increase operational capabilities, and even exchange financial and promotional support with each other. This is typically very beneficial for large organizations like hospitals, as they often operate with a lot of components within, and they would need to have their budget covered by a partner or sister company, and third party sponsors. Partnerships essentially allow businesses and organizations to collaborate with one another and share their different expertise across multiple departments like technical skills or intellectual property that may be beyond their current capabilities if they operated on their own.
A good tool  to always use when you want to ensure that partnership that you've been looking for is a partnership proposal. Partnership proposals are documents that the head or the organization will submit to potential partners or sponsors with the intent of securing a joint venture between both companies. Regardless of how the document is drafted, it's main purpose is to show these prospective entities of your interest in being affiliated with them and their operations. The document describes what operations the potential partner is about to be a part of, and show them how this venture will benefit their own operations or projects. Before you actually write your partnership proposal, get to know the document first by checking out these hospital partnership proposal samples that we have listed for you down below. Once you've gotten yourself acquainted with the document, feel free to use these samples as guides or maybe even as templates to draft your own partnership proposal.
10+ Hospital Partnership Proposal Samples
1. Hospital Partnership Proposal Template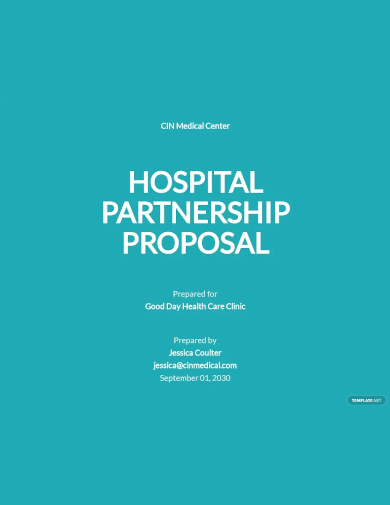 2. Hospital Campus Partnership Proposal
3. Hospital Partnership Project Proposal
4. Hospital Partnership Program Proposal
5. Hospital Consultancy Partnership Proposal
6. Hospital Development Partnership Proposal
7. Public Hospital Partnership Proposal
8. Hospital Maintenance Partnership Proposal
9. Hospital Recommendation Partnership Proposal
10. Hospital Partnership Administration Proposal
11. Hospital Construction Partnership Proposal
What Is a Hospital Partnership Proposal?
A partnership proposal is a document closely related to a grant proposal because of their larger similarities of purpose and format. It's essentially a document that an organization might submit to companies, businesses, or organizations, with the intent of securing a partnership or a joint venture with them. It outlines that needs of your organization, your activities, projected outcomes, and provide much needed information on how the partnership will be beneficial to both parties in terms of operations, retention of human resources, materials, peripherals, access to a wider demographic, and align with each other's strategic priorities.
Writing a partnership proposal often involves a long circular process with much needed accuracy and attention to detail. Unlike grant proposals, the selling point of a partnership proposal  is how it's able to translate raw data and information into a narrative that has a genuine human connection. That's why it is vital that you have a clear idea of what you want to achieve with this partnership and how the joint venture can help fulfill those goals. How this partnership will not only be good for both organizations, but how these influences within radiate to the larger community around you that you aim to serve.
How to Write a Hospital Partnership Proposal
An effective partnership proposal is one that is able to address the common concerns of the potential partner. It should be able to highlight the benefits, the alignment of values, goals, and the questions regarding the possible dissolution of this partnership. The document is usually drafted with different sections dedicated to different guidelines that an organization might choose to focus on. But regardless of how you choose to draft your document, it should be able to cover the elements and concerns that we have listed down below.
Do your research
Before you begin the writing process, make sure that you have a perfect understanding of your potential partner. Get a perfect grasp of their company, their brand, their products and operations, and what their organization stands for. Doing so will give you a better idea of how this partnership will benefit them in turn. It would also be able to provide you the context that you need in order to write a persuasive partnership proposal. You need to take your time in looking up your potential partner because they will certainly notice if you did your research or not.
Demonstrate how your values align
Even if your organizations operate within the same spectrum, it doesn't immediately mean that you are the best partners for each other. Your proposal must show how your values and business cultures align with each other. How compatible they are.
Clarify benefits
A lot partnership proposals make the mistake of talking too much about themselves, or even worse, only talk about their potential partners. Although it is important that you should be able to highlight the aspects that you want to get outright, you also have to remember that in business partnerships, operations and benefits should flow both ways. Whether that means additional resources for you, co-branding, or just an increase in customer interaction. You have to be able to explain the benefits that they can expect from you, and the other way around. If you fail to bring these elements up, then your prospective partner might just have no incentive to lean on in this proposal.
Outline goals
Outline and highlight the goals of this partnership. Specify which organizational department handles which task and how much money will be invested between the both of you. You also have to set out broad terms on what kind of return on investment each entity can expect from this partnership, and be able to cover a method to resolve disagreements between the management of the two parties.
Dissolving the partnership
Partnerships can only ever go two ways. Either the partnership will work out in the long term, or draw down to an inevitable end. Businesses often want to pull away from partnerships as soon as they realize that the venture is going downhill. This is to mitigate further loss of revenue if the venture fails to deliver a profitable return on investment. That is why your proposal should suggest a framework to possibly dissolve the partnership and introduce peaceful alternatives that protect both organizations.
FAQs
What is the main purpose of a partnership agreement?
A partnership agreement is an internal business contract that aim to outline specific business practices for the partners of the company or the organization. The document helps establish the rules for how the partners will manage responsibilities within the business, ownership, and investments.
What are the four types of partnership?
General partnership
Limited partnership
Limited liability partnership
Limited liability limited partnership
What are the disadvantages of a partnership?
Liabilities
Loss of autonomy
Emotional issues
Business complications
Lack of stability
Drafting a well written partnership proposal is much harder than it really is. Aside from requiring much analyzation and attention to detail for the components that you will be placing within. The document just basically dictates how your proposal will go and if the partnership will be implemented. However, with the tips that we've given and the templates that we've provided above, you should already be quite ready to write a winning partnership proposal yourself.