Companies often provide different training programs to their employees. This can be conducted in large groups or individually. Employee trainings are normally aimed to enhance their work performance, develop teamwork and camaraderie amongst team members and to boost employee morale. Company trainings shows how the management cares for the well-being of its employees. So, how are training programs organized? The first step to this is to create an organizational training plan. What are these plans and what are its benefits to companies? Read more about this in our article and don't forget to check out our free organizational training plan samples below:
10+ Organizational Training Plan Samples
1. Organizational Training Plan Template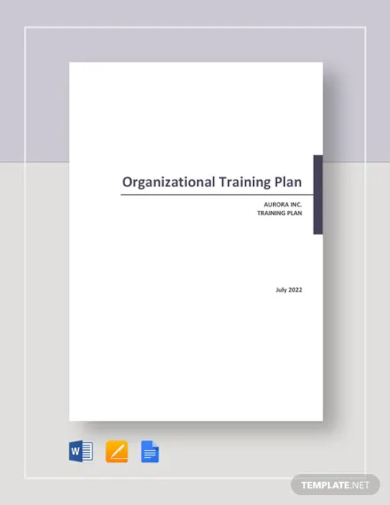 2. Organizational Training Plan
3. Organizational Behavior Training Plan
4. Organizational Training and Development Plan
5. Organizational Implementation Training Plan
6. Organizational Training Strategy Plan
7. Organizational Training Program Plan
8. Organizational Training Internship Plan
9. Organizational Training Plan Data Sheet
10. Organizational Five Year Training Plan
11. Organizational Individual Training Plan
What Is an Organizational Training Plan?
Trainings is an effective way to teaching, developing and nurturing individual skills and knowledge. It always helps enhance other physical and mental traits. More so in a business environment where a lot of factors affect employees from work, to colleagues, vendors and customers. Training and development programs, when thoughtfully implemented, are the cornerstone of a company's success. This why companies come up with organizational training plan which identifies the training requirements to support the development and maintenance of employee's capabilities and skills within the organization. An organization training plan should not only enhance the skills of employees but should also be equipped with strategies to manage unexpected situations.
How To Create An Organizational Training Plan?
When developing your organizational training plan, there are several different types of options you can consider such as:
Trainings conducted internally or within the company.
Outsourced training programs which are conducted by professional companies and experienced instructors.
Work shop and classroom style trainings
In house seminars or attending paid conferences
Group or individual trainings
On the job training programs
With this in mind, it is also important to research your company's situation thoroughly. By gathering information in several key areas, you better prepare yourself to create a relevant and customized training plan for your company. Here are several components to consider for your to be able to draft an effective organizational training plan for your company:
1. Establish Training Needs
Every training plan needs to understand what particular types of training employees need. Management need to carefully assess which area to focus. It is well known that employee training needs is a must but there are other things that needs to be considered. So it is imperative that management assess on other things and to do so, by conducting research, interviews, and internal surveys. Information and data collection can help you evaluate what needs to be improved or looked upon.
2. Aligning Training and Business Goals
Make sure to align your training plan goals to the company's own goal  in such a way that when the workforce meets your objectives, they will also be meeting the company's goals. Training objectives are crucial in order for you to know the pace of your training plan and what needs to be accomplished along the way.
3. Employees
As you are able to identify the training needs and establish training goals and objectives it is time to  figure out which employees need which training. In order to do so you can check on the following components in order to identify who would be chosen and what type of training should be conducted:
Performance data: analyze this information to identify weaknesses in performance that may require refresher training in how to use equipment and machines more efficiently or in how to use more productive procedures.  For performance reviews that indicate employees may need—or may have requested—more skills training.
Employee records:  determine if employees may need more safety training; for harassment or discrimination complaints, which may indicate the need for more sensitivity training or should they need to upgrade or add any skills that may benefit their work performance.
Interviews, discussion and questionnaires: by assessing information from these sources you are able to narrow down who should be eligible.
4. Training Action Plan
Outline your training action plan which includes learning theories, instructional design, content, materials and other training elements. Providing relevant training content is key to a good training program, to ensure your learners are engaged and continue to come back for more. Resources and training delivery methods should also be detailed. While developing the program, the level of training and participants' learning styles need to also be considered. Normally right after trainings, companies often asked for feedback in order to identify if anything needs to be changed or improved.
5. Implementation
During the implementation stage, management must consider the different factors such as the delivery of the training program as mentioned earlier there are several options to consider that should fit your program. Program implementation should consider employee engagement and learning KPI goals, as well as thoroughly planning the scheduling of training activities and any related resources.
6. Assess and Revise the Training Plan
No training plan is complete until you measure its results. Review and redesign your organizational training plan if they don't meet your intended objectives. Analyzing feedback will give you an idea if it was successful and met training objectives. This will also enable to determine any negative or gap within the training plan. At this point, the training program or action plan can be revised if objectives or expectations are not being met.
FAQs
What Is a Development Plan?
This is a process for helping individuals improve skills for their current job and acquire knowledge and skills for new roles and responsibilities in an organization.
What Are the Four Stages of Training?
The four stages of training are assessment, development, delivery and evaluation.
Who Is Responsible for the Training Program?
It is well established that the Human Resources department initiates training programs with approval from top management. Operational managers can also propose trainings for their employee in regards to upgrading their skills and work performance.
An effective organizational training plan delivers on its worth when it is based on the right kind of feedback and recorded employee experiences that permit the training to be aligned to your true business goals. To be able to implement these plan reaps a lot of solid benefits not only for employees but the entire company as a whole.