Processes and routines are part of any business operations. While it takes some getting used to before you master its every twist and turn and the ways how to handle discrepancies, you need to learn how to work on them first. It is why company flowcharts are a useful tool in any workplace. It simplifies a lengthy and complex flow of procedure into a visual presentation where it's easy to interpret and follow the step by step instructions.
FREE 15+ Company Flowchart Samples
1. Company Flowchart Template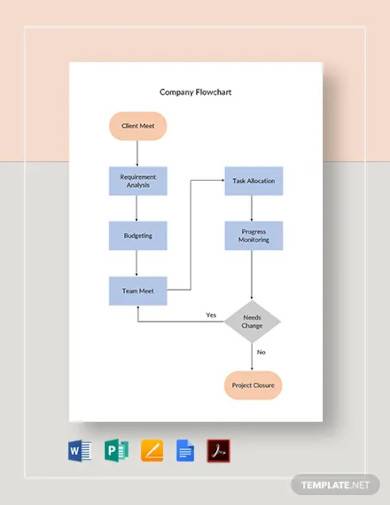 2. Trading Company Flowchart Template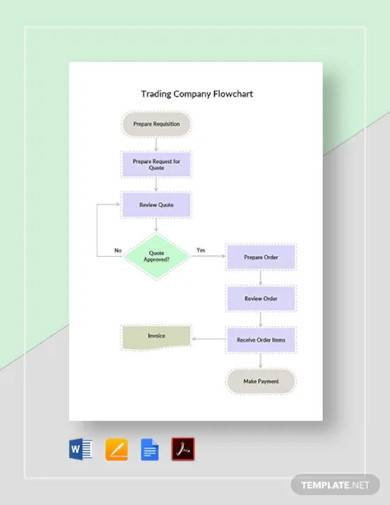 3. Food Company Flowchart Template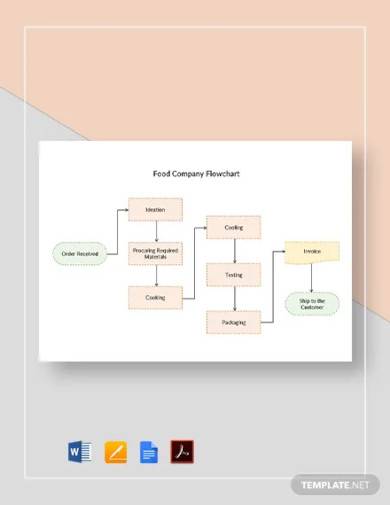 4. Holding Company Flowchart Template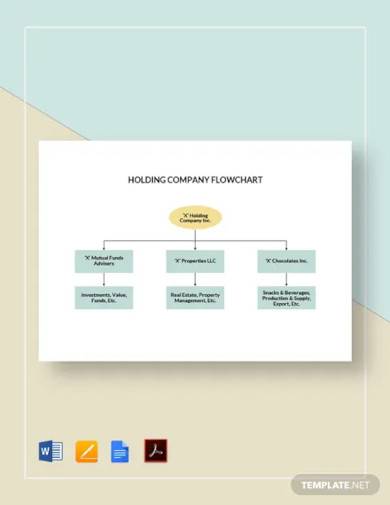 5. Car Company Flowchart Template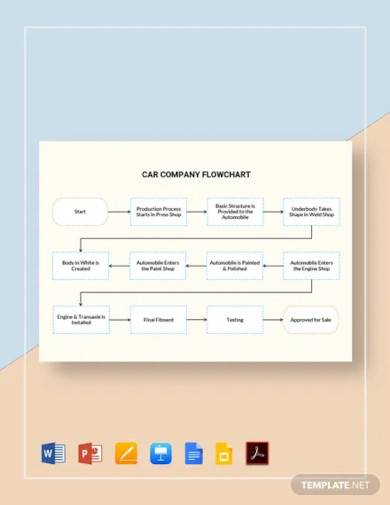 6. Real Estate Company Flowchart Template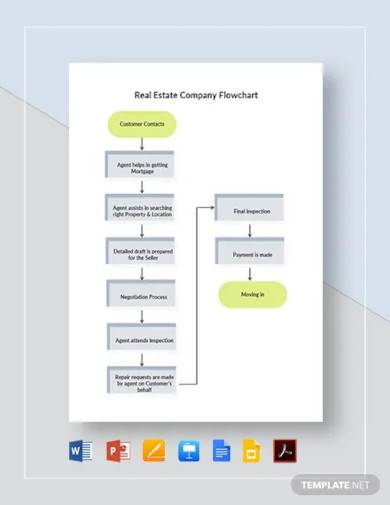 7. Aerospace Company Flowchart Template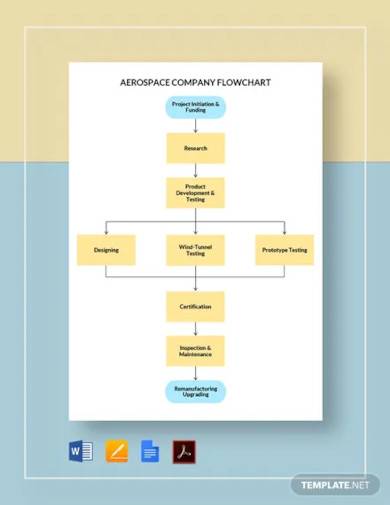 8. Gaming Company Flowchart Template
9. Logistics Company Flowchart Template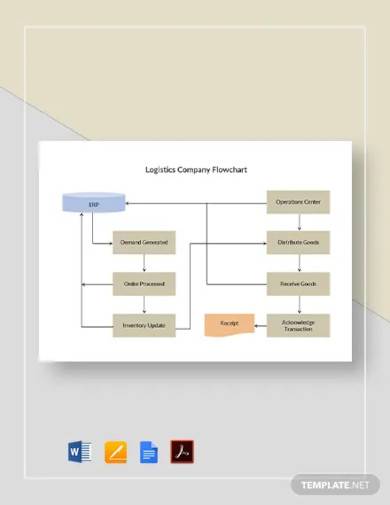 10. Free Simple Company Flowchart Template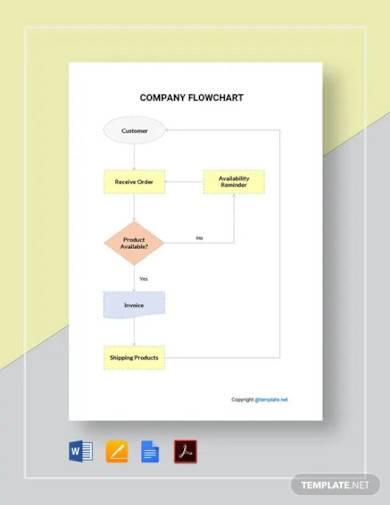 11. Free Editable Company Flowchart Template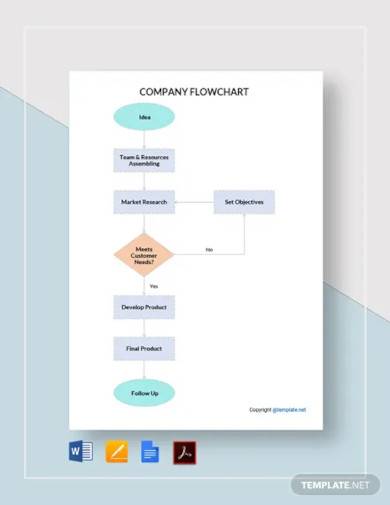 12. Free Company Flowchart Template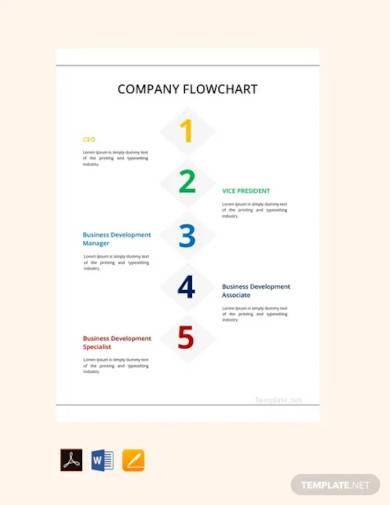 13. Construction Management Flow Chart
14. Construction Process Flow Chart
15. Statutory Research Company Flow Chart
16. Flowchart for Renovation and Construction Company
What Is a Company Flowchart?
A company flowchart is a diagram that illustrates a business's process flow to achieve its goal plans. It accommodates various parts of a company's daily operation, including managing IT programs, troubleshooting minor system glitches, performing routine tasks, dealing with customer complaints, and other valuable processes. It provides the company with a step by step account of every task through a virtual presentation so they can follow through the guidelines and work on them independently.
Advantages of Using a Flowchart
It's challenging when you have to demonstrate procedures and relay the same information over and over again. Why go through a synonymous process when you can have the means to lay down all instructions all at once through a clear and understandable presentation. 
According to Bizfluent, among the benefits of having a flowchart is that it supports communication efficiently. It helps an organization design training plans and materials because it proves to be an effective way to showcase how to do certain tasks, especially those with complicated patterns. Therefore, it's an effective tool to use when setting up training for new hires. It also helps the management oversee the processes, especially those that need to comply with certain policies and regulations. 
On the other hand, Azcentral includes its contribution to process improvement as among the advantages of flowcharts. Because it allows you to document your processes, you can easily assess its layout and determine which areas need an upgrade to improve your operation's overall performance. It's a useful source of information when reviewing your process flow for an operational plan that your company wants to present. 
However, just like any other tool, a business flowchart also has its limitations. Because it simplifies a process into a step-by-step presentation format, it might be hard to include the details behind each step. The dangers to this include the staff knowing how to manage the flow but is clueless when it comes to understanding how each step works. Flowcharts are also easy to misinterpret. That's why there's a need to explain its content thoroughly to avoid complications.
How to Create a Company Flowchart
Without prior knowledge of how flowcharts work, they can be intimidating to look at when it can be easy to create. Here are some basic steps that you can follow for a beginner flowchart:
1. Know the Process' Details
You can never know how to start making the flowchart until you know what the process is all about. Gather details on the flow of the procedures so you can have an idea of what details to include. Start by knowing the start and the end step. Next, proceed to fill in the in-between information. You can refer to training manuals or ask those who know the process well. Arrange the steps in a rough outline, so it's easy for you to format them in a flowchart later on. Don't forget to take note of the important underlying details related to every step of the process as they can be helpful when interpreting what the flowchart means.
2. Be Knowledgeable About the Symbols
Its collection of symbols makes the flowchart unique from all other diagrams. It's what sets it apart. Therefore, it's imperative that you should know about them when arranging your flowchart. Start by knowing the basic list of flowchart symbols. Understand their various uses and determine how you can use them to connect your steps. As an example, if you're merely stringing different steps together, you'll mainly use the rectangle. If you need to diverge the path with a decision, use the diamond. Use arrows to transition from one shape to another. Those symbols are easy to remember, but it can get harder when you progress to symbols that deal with digital processes.
3. Include Participating Roles
Besides emphasizing the different steps when making a flowchart, include the different roles who will be performing them. It is to help the member of an organization know who's responsible for the different tasks indicated on the chart. Label the steps with roles. You can get creative and use color codes to indicate a certain role. For example, you can fill in a shape with red to indicate that the task is the management's role and green for the staff's responsibilities. It helps avoid confusion and clear up any questions about their assignment along the process.
4. Prioritize Easy Comprehension
When you begin to work on your flowchart's aesthetic or visual appearance, make it understandable. Avoid striking colors that might distract your audience from figuring out what the flow is all about. Use fonts that are convenient to read on your document. Make your design elements functional such as dividing the different phases of your process into different fill colors. When you connect one arrow to another, make sure to make it legible and easy to trace.
FAQs
What some don'ts when making a flowchart?
Here are some things you should never do when making a flowchart:
Using different color varieties
Inconsistent shape sizes
Inconsistent or lack of spacing
Inconsistent step flow
Using multiple pages for a single process
What are the most commonly used types of flowcharts?
The most commonly used types of flowcharts are process flowchart, data flowchart, and business process diagram.
What are the basic symbols used in flowcharts?
The basic symbols used in flowcharts are:
Rectangle – step involved in the process
Oval – beginning or end
Arrow – indicate a direction
Diamond – indicate a decision
Document symbols
Data symbols
Input and output symbols
Connecting symbols
When you need to ease up your burden on making instructions and presenting complex processes, count on the flowchart's functions to help you. It allows visual clarity that will help you relay instructions and rules without the struggle of going through a lengthy manual. Get yours from our collection of company flowcharts now!