The food industry is a constant big hit in businesses and it is currently booming wherever we go. Staying and striving in this kind of businesses is tough because of the tight competition. For a food business to stay in the game, it is necessary that they come up with or propose new food products to offer to their customers. Food product proposals can be created by the businesses themselves or they can request for proposals from aspiring and interested individuals. Food product proposals are written documents about new or current food products that either needs to be introduced to the market or those that need to be improved. Here we have several food product proposal samples that will help you out with writing your own.
Food Product Proposal Samples
1. New Food Product Proposal Template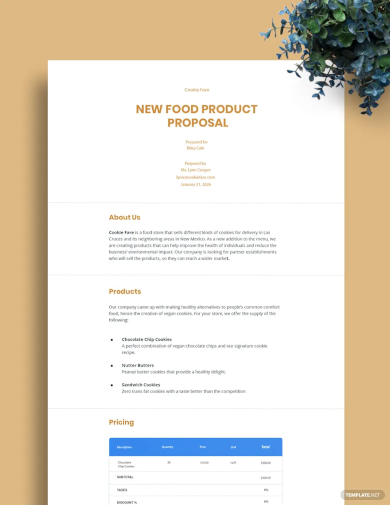 2. Food Product Proposal Letter Template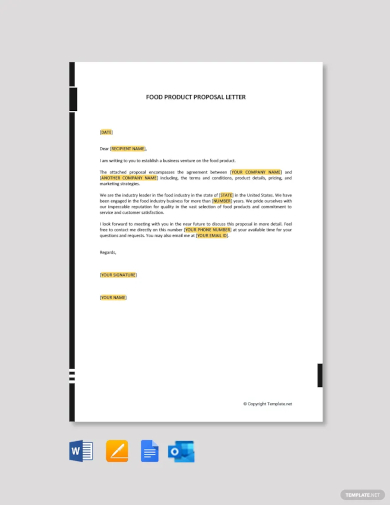 3. Food Product Proposal Template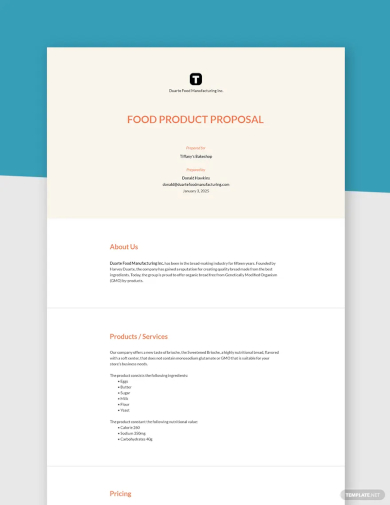 4. Sample New Food Product Proposal Template
Introducing a new food product to your business can be made easier and convenient with the use of this new food product proposal sample. This one-page sample has everything that you need and will surely help you get the job done in no time. The design and layout is very simple, which makes it a tool that is sure to be easy to use. What is in this sample? The sample includes a table that consists of the necessary details you will need to supply to complete your proposal. You will be asked to supply the name and brief description of new food product, rationale and target group, ingredients/materials required, stages in production process, marketing strategies, etc.
5. Food Product Innovation Proposal Template
When in need of a good reference material for writing a detailed and comprehensive food product proposal, you can definitely turn to the pages of this food product innovation proposal sample. This proposal sample not just talks about new products, but it discusses ways on how to innovate or make food products better. It is one of those professional business proposals that you can rely on. You will surely learn a lot from this sample.
6. Sample Custom Food Product Service Proposal Template
Proposals doesn't have to be generic or basic at all time. Custom-made proposals often make good proposals that clients or investors love, just like some business investment proposal. That is why there are a lot of businesses seeking customized or unique proposal templates that they can use as their own. The sample above is a custom proposal for food products and services. Get inspiration and ideas in this sample to help you better customize your proposal.
7. Food Innovation Full Proposal Template
This full proposal template is made up of a total of 10 pages. With just the number of pages it has, you can easily tell that this template will help you make a detailed proposal. What makes this template easy to use is that there are help boxes throughout the document that gives instructions or serve as guide on what you should write in each part or section of your proposal. You can also use it as a template for your research proposal.
8. New Product Project/Proposal Template
Here's another product proposal sample that you can rely on. It is intended for use to propose new products and new projects as well. You will find the new product/project proposal template easy to use because it is made with Word and has only two pages in total. The first page is all about learning the what, why, and how of your proposal, and the second page is dedicated for the template. This is perfect for writing a simple project proposal.
9. New Product Development Proposal Example
If you have a newly developed product that you want to introduce to your business, then you can use this new product development proposal sample either as your sample reference in making a proposal or as your very own proposal. This sample proposal also includes an evaluation criteria to be used by the funding committee. It's a simple yet great sample you actually would want to try using. Use it like you would any business proposal template.
10. Editable New Product Proposal Template
There are many product proposal samples and templates that you can actually check out online, just like the sample above. With this editable new product proposal template, you can create your own original sample proposal for a new product you want to market or introduce. The sample can also be provided by teachers as a guide to students to help them write a full product proposal. The sample template is simple and consist only of two parts. Anyone who will try to use this sample template will definitely find it convenient.
11. Food Product Proposal Letter Template
Proposal letters are usually a part of a proposal and are mostly found in the first few pages of a proposal. It is important to have a well-written and persuasive proposal letter to get readers interested with your proposal and proceed with reading the entire proposal itself. The food product proposal letter sample is a perfect guide if you need to write a reliable proposal letter of your own. Checking out proposal letter format will also be of great help to you.
12. Complete Food Business Proposal Template
Create a complete proposal with only five pages by using the complete food business proposal sample template provided above. The template cane be used for writing proposals other than food business proposals or product proposals. It is available in Word, so you will definitely love using it.
13. Food Catering Agreement and Proposal Template
This proposal sample includes a proposal letter, a product pricing or quotation, and an sample agreement. It's like a complete package if you ask me. The proposal is not too lengthy, which is ideal for businesses who want to avoid beating around the bush when providing details to their customers. If this is the proposal you're looking for, then don't hesitate to try and use it!