Quality control is essential in every business that ensures a product quality is either maintained or improved. If you run a business, it is important that before fully launching it, products need to go a number of test, inspection and evaluation. This is to make sure that these has passed the standards set by the company itself or requirements needed by a client. In order to meet the standards or requirements for a specific product or project, it is imperative that companies come up basic or simple quality control plan. This serve as a guide and roadmap to ensure that all aspects needed for the products pre and post production passed quality standards. Read more about this in our article below and if you want to get started with your quality planning do check out our free simple quality control plan samples.
10+ Simple Quality Control Plan Samples
1. Free Simple Quality Control Plan Template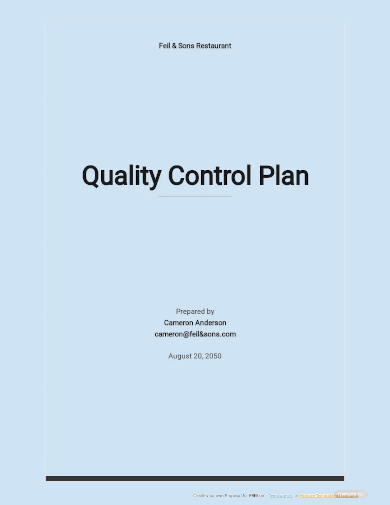 2. Free Sample Quality Control Plan Template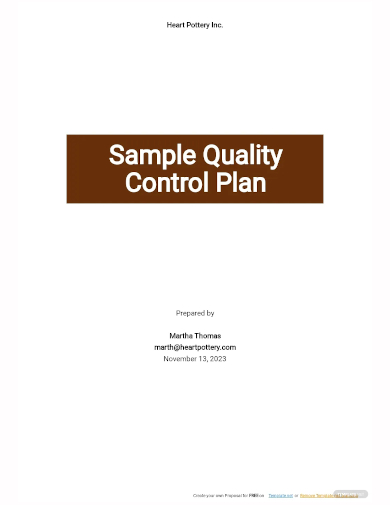 3. Quality Control Plan Checklist
4. Quality Assurance Control Plan
5. Contractor Quality Control Plan
6. Quality Management Control Plan
7. Inventory Data Quality Control Plan
8. Sample Quality Control Plan
9. Project Quality Control Plan
10. Standard Quality Control Plan
11. Agency Quality Control Plan
What Is a Simple Quality Control Plan?
Developing a product, depending on how intricate the design and its functionality would take a lot of careful planning and decision making. Quality control in the product development process is vital to the final quality of a product as required by the requirements set by a customer. Without meticulous quality planning this would affect productivity and profitability to customer satisfaction and public perception. A simple quality control plan is a document that specifies and describes the list of actions such as quality standards, practices, resources, specifications, and the sequence of activities relevant to a particular product, service, project, or contract. These would supply the inspector with the right information needed to properly control the process and produce quality parts. In short this plan serves as a guide to see if everything meets the clients needs and your own standards.
How To Develop a Simple Quality Control Plan?
With quality control plan, you will be able to save on a lot of things aside from the time and effort invested in product development, you will be able to reduce or eliminate waste in a process. Businesses today must reduce waste everywhere possible. The this plan improves product quality by identifying the sources of variation in a process and establishing controls to monitor them. Now that we have identified the importance of a quality control plan, it is time to start working on your plan. Take note that each quality control plan would differ and is unique as this would depend on the project, procedure and the organization's needs. Yet, quality control plans should always have a structure that permits  improvements to the plan. To start here are the general components that would make up a simple quality control plan:
I. Product or Project Overview
You will need to start with outlining what kind of project or product your company is working on. This will give the reader a clear understanding of what they will be working on. This should include details about the project/product background, need, scope, activities, and important dates or deadlines.
II. Team Members
Identify and indicate each team members role, responsibilities and qualifications needed for the project.
III. Suppliers and Vendors
Developing a product requires a variety of qualified suppliers and vendors, so it is imperative to include a list of who they are and specify the standards the prospective suppliers must meet before they can bid on a contract.
IV. Performance Standards, Testing Parameters And Criteria
Set a specific level of performance for each process, and how each performance will be documented. As well as the testing parameters once test are performed and executed. Also determine the acceptable criteria that is required to regulate the standards of the product, with a with a clear pass/fail result.
V. Quality Control Procedures/Activities
Outline the proper procedures to be followed as per project requirement. This should include a step by step process that involves inspection, deliverable peer reviews and the software testing process.
VI. Action Plans
You need to designate different corrective and preventive action plans in case something would go wrong with the procedures. It is always a good thing to be assume in advance as during the development stage, there is always a possibility of a hit or miss.
VII. Other Relevant Details
You may want to include timeline of your deliverables, any training or review for your staff, a feedback mechanism for internal and/or external customer feedback, and related materials, such as performance ratings or performance reports.
FAQs
What Is Product Development?
Product development is the processes required to bring a product from being a concept through to reaching the market. It involves several intricate process depending on the type of product being developed.
What Is Product Quality Performance?
Product quality performance is determining how well the product functions when put to use.
What Is the Difference between a Quality Assurance and Quality Control?
Quality assurance refers to the actions taken to design and produce a product ensuring it is safe to use and release to the public. Whereas quality control is are the various test procedures used to verify that a product is safe and effective after manufacturing is done.
Although it may seem as an complex process, a simple quality control plan is an important document that every company must come up with. This would help avert any bigger damages, help identify what needs to be improved and simply improving the quality of the products you develop.