The success of a business relies on its ability to attract customers and making sure that they are constantly keeping business with you. It doesn't matter if you are a startup venture or a huge company with multiple branches across the country. It's a well known fact that marketing is what drives sales, and ultimately, makes the business successful. Your company won't be around for too long if you are unable to sell the products and the services that you are offering. That is why it is imperative for business owners such as yourself to come up with a comprehensive and effective marketing plan. Though despite the document's massive importance, a lot business owners and company executives just don't devote enough time and resources into drafting a marketing plan. So I hope you're here reading this article because you realize that great leaders with successful businesses take the time to properly develop a marketing plan, or just about any business plan, that enables you to be always one step ahead of the curve.
A marketing plan is essentially a document that highlights how you want your products and services to be sold to your consumers. The document is massively important because they tend to make the sales process a whole lot easier. Targeting your clientele in a smart calculated way will significantly reduce the costs of marketing, and increase your overall chances of being able to convert leads into actual sales.
A good example of marketing is when a business puts up an ad in the local newspaper. The only issue with this strategy is that the company will be unable to control or accurately target who sees the paper and the advertisement in a given day. This is because most newspapers and magazine ads are only effective in promoting general branding, not targeted marketing. And consumers don't really typically jump into general ads most of the time. It just goes over their heads, which is something that you don't want as a business owner. Given that, what you need is a strategy that puts focus into creating an ad that puts forward an issue that consumers might currently have, and then frame your company and your products and services as solutions to the issue that you have previously identified.  That's smart marketing in a nutshell.
Marketing plans can benefit your business in a lot of ways. It helps make sure that you have a constant stream of revenues from making good sales and business. With that, get to know the document more by checking out these 30-day marketing plan samples that we have listed for you down below. These samples should be jut enough to give you an idea of what the document looks like and how it works. After you've acquainted yourself with the document, feel free to use these samples as guides or even as templates for when you plan to write your own marketing plan.
9+ 30-Day Marketing Plan Samples
1. 30-Day Marketing Plan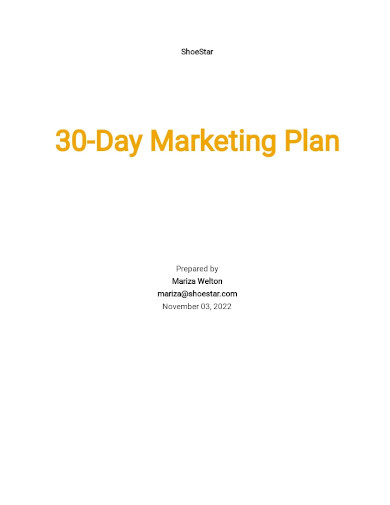 2. 30-Day Content Marketing Plan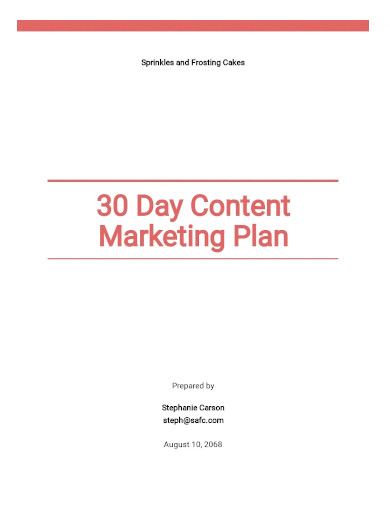 3. 30-Day Real Estate Marketing Plan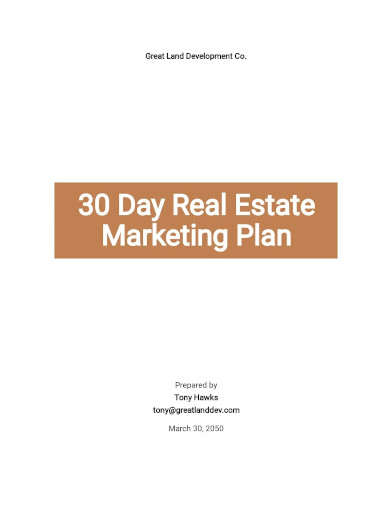 4. 30-Day Business for Marketing Plan
5. Sample 30-Day Marketing Plan
6. 30-Day Recruitment Marketing Plan
7. 30-Day Starter Plan for Email Marketing
8. 30- Day Content Marketing Plan
9. 30- Day Marketing Plan Example
10. Basic 30-Day Marketing Plan
What Is a 30-Day Marketing Plan?
A marketing plan is a document that works by highlighting the marketing strategies that a company has identified and will undertake in order to generate good sales and revenue from reaching out to its target market. The document essentially provides the details of the outreach and PR programs that the company might implement in a given period, such as in this case, where the marketing plan is set to work around a 30-day period. It outlines what methods the company will use to promote its products and services.
While the document can work on its own, it can also work as a part of a business plan, another corporate document that outlines the important aspects of the business, which includes marketing. A well written marketing plan is a document that is able to present the initial marketing research done to serve as the foundation for pricing decisions and new market entries. Tailors messaging and promotions to target a specific demographic or even geographic customer bases.
It should also provide a wide selection of mediums and platforms in which the marketing and promotional campaigns can be circulated including digital, radio, internet, trade magazines, and how these platforms can mix and match to provide a unique marketing experience each time. As well as  provide a comprehensive enough criteria of success that can measure the results of the efforts and strategies that have been put in place. Marketing plans are 'live' documents. Meaning that the plan should always be susceptible to adapt and change depending on how the business grows and evolves.
How to Write a 30-Day Marketing Plan
When writing a marketing plan, you should be able to recreate that specific moment in your customer's  mind where they realize that you and your business possess the necessary qualifications that they have been looking for to solve an issue that has been on their minds for a while. Failing to do so might lead to your customers not knowing exactly why they need you and why should they purchase from you. We have listed below some tips that you have to follow and remember during the whole writing process to make sure that your marketing plan is as effective as you planned it to be.
1. Analyze your market
Before you actually begin writing your marketing plan, you first have to make sure that you have done the appropriate research needed for the market. Understand your strengths, your weaknesses, and how your venture can take better advantage of the market. Market analysis should also give you an idea of where you currently stand in the industry. Use a SWOT analysis to determine where you currently are and what unique selling points does your business currently possess. Remember that not everyone will be interested to your products and your services, so you have to identify early on the population of those creating the demand in the market.
2. Set your goals and objectives
Once you've analyzed the market, try to get a better grasp of your goals and what you want to achieve. Yes we figured that your goals are for your business to succeed, but that can be a bit too general in the grand scheme of things. All business owners want their own ventures to succeed, you're no different What we're asking about your goal is to try to look internally in your business. Which aspect needs to be changed or upgraded, or what direction do you wish for your business to expand.
3. Outline market strategies
People are often confused with the difference between marketing plans and market strategies. It's quite simple really, a marketing strategy is the contents of your marketing plan. Sort of like an umbrella term for the actions that you will be doing for your business. Try to make these strategies fit your business and your target customer base. For example, products that are aimed for the younger generation may not work as well if you put the ad in a newspaper, compared to circulating them in different social media platforms.
4. Set your marketing budget
Marketing and promotion is not cheap. So you have to make sure that you are clear with the resources that are being pooled into this venture, and how vital these expenses are to the success of the project. Don't waste time and resources, and use your budget wisely.
5. Keep your plan up-to-date
The document should be 'live'. Being changed and updated as the business itself grows and evolves. Constantly evaluate the plan to keep track of the progress of the strategies that you have put in place.
FAQs
What are the six elements of a marketing plan?
Description of your products or services
Market analysis
Marketing objectives
Pricing details
Marketing budget
What is the most important part of a marketing plan?
The most important part of a marketing plan should be the Target Customers or the Market Analysis section. It's always vital to know your target customer.
What is the purpose of marketing?
Marketing aims to generate revenue for a brand, a company, or an organization.
Writing a marketing plan is no easy task.  The writing process alone requires massive input and insights from different sources like company personnel and key customers. The secret behind a good marketing plan is understanding your customer base, and how your business can provide for what they need.