All teachers should have a professional development plan in place and work hard to achieve the objectives they have set for themselves. You should gain the experience and develop the skills required to do so if you follow the steps you've put in place. If your goal is to become a department head or a pastoral care worker, for example, you'll need to include in your plan what you'll do to get there. One of the most difficult requirements for teachers is continuing education, which is aided by development plans. Educators must keep up with changing pedagogies, changing academic standards, shifting methods of teacher evaluation, and new student testing standards, in addition to the enormous challenges and responsibilities of teaching.
10+ Teacher Development Plan Samples
Any number of objectives, from maintaining certification and licensure to improving student engagement, can be included in a professional development plan. A sample plan for ongoing professional development and education can help teachers of all levels of experience. Teachers can explore a variety of programs of varying complexity and length to focus on areas such as skill development and instructional priorities. Developing new teaching methods or strategies, such as culturally responsive teaching or inquiry-based pedagogy, for example, may necessitate a much longer series of classes and activities.
1. Teacher Development Plan Template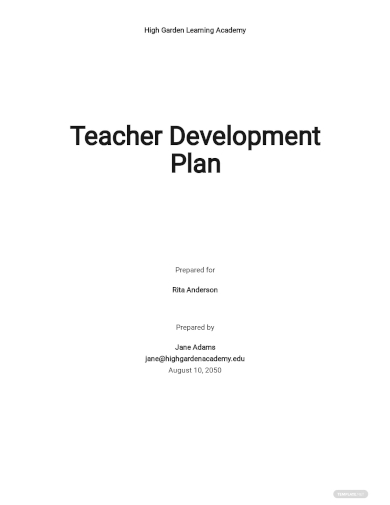 2. Teacher Development Student Plan
3. Individual Teacher Development Plan
4. Teacher Professional Development Plan
5. Teacher Cooperative Development Plan
6. School Teacher Development Plan
7. Sample Teacher Development Plan
8. Teacher Staff Development Plan
9. Teachers Professional Development Plan
10. Teacher Induction Development Plan
11. Teacher Beginning Development Plan
Achieving Development Goals
While your professional development goals are likely to differ from those listed above, the methods you use to improve your skills and achieve them are likely to be similar. There are a variety of ways to grow as a person. The most popular options are listed below, but you may be able to use other methods at your school.
Qualification courses – After completing online or face-to-face training, you can earn professional certifications. The practical information you need to take action and develop yourself in the areas you've addressed is provided by courses. Because they will differ greatly in terms of length and content, it's critical that you choose the one that's right for you.
Mentoring and peer observation – Shadowing your colleagues, whether they are of a higher level or not, is a surefire way to learn something new. You may be able to observe teaching methods that successfully engage students with a difficult topic, or you may be able to note a specific strategy for dealing with disruptive students. Peer observation is likely to benefit both the observer and the teacher being shadowed. As a result of being observed by a colleague and receiving constructive feedback, you may be able to grow as a person.
Observation visits to other schools – It will have a similar effect as shadowing your own colleagues, but it will most likely provide you with additional learning opportunities. A different school, for example, may encourage different teaching strategies and behaviors. You can then apply what you've learned in your own classroom and try out new teaching methods.
Workshops – Teachers can learn and discuss their own experiences as well as learn from workshops on a particular subject, method, or other education-related topics. They could be hosted by one of the teachers or led by an outside expert. Teachers can also benefit from internal reflection as a result of such discussions, and you may get a lot more out of it than you think.
Conferences and seminars – This type of education will allow you to grow in a particular area that you find challenging. They also give you the chance to meet other teachers and discuss their teaching methods as well as your own progress.
Research – It is entirely up to you to improve your professional abilities. You might find that doing your own research, such as reading online materials like reports, helps you grow. You might find that joining online teacher communities, such as those found on blogs, is a good way to grow as a professional.
FAQs
What are the elements of an effective development plan?
Collaborative. Teachers and administrators should not be solely responsible for developing plans; rather, they should work together to achieve both personal and institutional objectives.
Customized. Learning goals are more effective if teachers tailor them to their specific needs, disciplines, and grade levels, while some development goals are necessary and appropriate.
Limited. Even if it's tempting for teachers or administrators to list every goal they want to accomplish, a good plan will stick to one or two.
Realistic. For this criterion to be met, one must be realistic about the amount of time and effort required to implement a strategy as well as the personal and institutional costs.
Specific. The more specific a goal is, the easier it is to track its progress. This is crucial in order to make the objectives meaningful.
What are the challenges of development plans for teachers?
Making time to create, implement, and manage development plans is a key component of addressing this problem. Developing new skills in the classroom is much more difficult and time-consuming for teachers than learning them.
In some cases, such as funding for materials and training services, administrators can easily estimate the costs associated with teacher development. The cost of teachers' time is more difficult to assess. It may be necessary to hire additional staff or substitute teachers if professional development occurs during working hours and teachers devote time to working with peers or outside coaches.
If you want to see more samples and formats, check out some teacher development plan samples and templates provided in the article for your reference.