It is always advisable to have the quality of the deliverables checked especially when it is for a project or for a certain business. Checking the quality is the prime responsibility of a quality checker and the control quality process. It has to be monitored and recorded. Under this element is the quality checklist that involves structured tools to help in the verification process of the steps that has been performed. The checklist might either be simple or complex. It usually depends on the requirements set by a particular project. Most of the organizations follow a specific checklist that is made to ensure the consistency and efficiency of a task. Quality checklists were also used in commercial services to make it easier for every project management team to monitor their deliverables.
10+ Quality Control Checklist Samples
1. Quality Control Checklist Template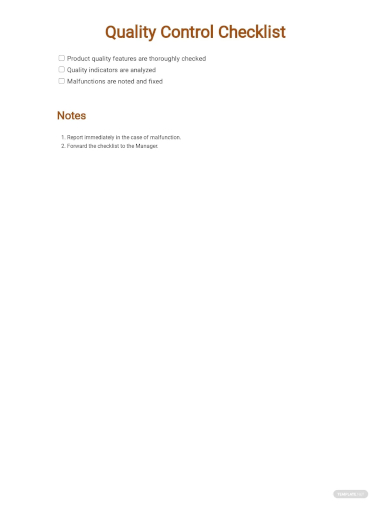 2. Quality Control Record Checklist
3. Quality Control Plan Checklist
4. Quality Control Checklist
5. Welding Quality Control Checklist
6. Quality Control Review Checklist
7. Quality Control Review Documentation Checklist
8. Contractor Quality Control Checklist
9. Sample Quality Control Checklist
10. Laboratory Inspection Quality Control Checklist
11. Internal Audit Quality Control Checklist
Benefits of a Quality Control Checklist
A quality control checklist has two main purpose. First, it allows you to have an outline of the quality standards and product requirements that every supplier has to meet. Second, it provides criteria for thorough inspection to make sure that the product meets the customer's needs and expectations. It is always a good time to have a detailed quality control checklist especially with your supplier. This gives every supplier the chance to assess and review their requirements and inform you if there are adjustments needed before having the mass production.
This type of checklist prevents dimensional issues since it usually specifies certain type of tolerances and measuring methods. The supplier can take a look back at this document together with a sample in order to make him or her understand the requirements that you have set all throughout the production process. In the case of checking a product before the date of shipment, quality control checklist must be able to provide a specific level of standard used for inspection. It is not only beneficial to the internal quality control staff when it comes to checking the product, but it could be also beneficial to you.
Key Elements of an Effective Quality Control Checklist
There are five key elements that are considered as important in making a quality control checklist effective. These include:
Product Requirements – this process involves spending more time specifying the requirements of a particular product. One of the most common reasons why a specific supplier cannot be able to meet the requirements of a product is because they do not fully understand anything about it. You might as well consider the material and construction, weight and dimensions, color requirements, and markings and labeling.
Packaging Requirements – you should be aware that you have to make clarifications on how you are going to secure a package for your product. Packaging does not only protect your product, but it also serves as a part of your product appearance. Take note that it can even influence your customer's perception. You should also consider the packaging weight and dimensions, carton labeling requirements, packaging materials and assortment, and retail packaging, graphics and labeling.
On-site Product Tests and Checks – ensuring that you are conducting the right product test, you can tell if your product can qualify and meet the standard requirements.
Defect Classification – the frequency of the issues found and the severity of manufacturer's tolerance usually determines if the product can pass o fail the inspection process. It should always be included in the list to know the issues and how would they be classified in the report.
Collaboration in Drafting the Quality Control Checklist – this is considered to be the most important process. The collaborate can lead you to have a mutual understanding of the product requirements, packaging requirements, on-site testing, and even in the defects.
FAQs
What are the three types of quality defects?
MINOR defects are usually found in small quantities that doesn't exactly affect the stability of a product. MAJOR defects do not match with the specifications of a particular product. CRITICAL defects present hazards to the user which may cause damage and harm.
Why is it important to outline the tolerances and procedures for testing results?
This is due to the reason that your supplier is quite unfamiliar with the test and the procedure or the tolerances is not consistent with any of the implemented standard.
Creating a quality control checklist should be one of your priority in developing an effective quality control program. Surely, having a quality control checklist template for all inspections can basically help you in ensuring the consistency of the reports and result.