Every institution, establishment or business always need to ensure quality reports to know whether the established branding or quality is still observed in the process of making the products and services for the customers. Quality is a central function to all construction and industrial projects. While many professional services and product companies in the world have version of quality control in the form of management and checks and balances, the industries (amongst other industries including manufacturing, aerospace etc.) really do stand alone when it comes to quality.
A large part of maintaining quality control and building quality into your every day processes is the quality report.  A quality report is a report which documents a specific quality process or outcome (or both), such as and inspection test plan, quality communications plan or non-conformance report. With this, monthly quality reports are implemented by companies to continue monitoring the progress of their products, department performance, and even employee attendance. With this, making monthly quality report may be a little exhausting for you since you need to include a lot of scopes and sections. To help you with this, our site is offering you free, available and quality made templates for your needs.
Browse among these templates and choose the one that suits your needs the most. Customize it according to your preferences. For other report template needs, our website is also offering other report templates namely: Product Feasibility Report, Business Travel Report, Project Implementation Report, Vehicle Incident Report, Incident Violation Report, Insurance Incident Report, Teacher Incident Report, HR Incident Report etc. This article will not only give you your template needs, but also gives you more details about the report that you are doing. So come, explore these with me!
10+ Monthly Quality Report Samples
1. Monthly Quality Management Report Template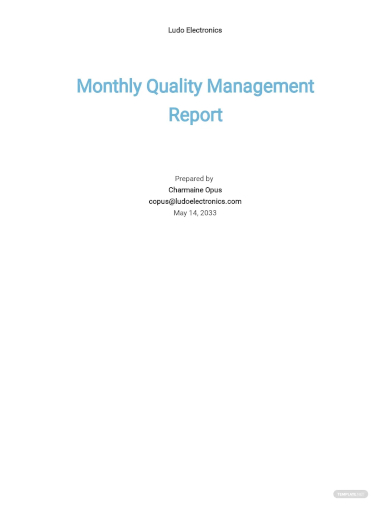 2. Monthly Quality Assurance Report
3. Monthly Safety Quality Report
4. Monthly Water Quality Report
5. Water Plant Monthly Quality Report
6. Monthly Lake Water Quality Report
7. Monthly Data Quality Report
8. Sample Monthly Water Quality Report
9. Monthly Gas Quality Report
10. Monthly Situation Quality Report
11. Monthly Quality Construction Report
Tips In Making Your Quality Report Attractive and Easy To Understand
To attract and hold users' attention, your quality report needs to be designed in a way that these looks appealing and approachable at first glance, helps readers notice what information is available and important, makes it easy for them to skim and find topics of personal interest. The items below are tips that you might want to consider in making your monthly quality report:
Use Design That Highlights The Purpose of the Report
Format the title so that it stands out and is easy to read. Consider adding a tag line or several short sentences so that users know what the report is about, why they should care, and how they can use the information. Use design features such as color accents, photos, or other images to draw attention to and emphasize the title and tag line.
Be Mindful and Particular With The Font style and Font size
Make the text large enough for easy reading and choose highly readable fonts. Serif fonts have little strokes at the ends of letters; sans serif fonts do not.
For Web reports, experts usually recommend using a sans serif font for easy on-screen reading.
For printed reports, experts tend to recommend using a serif font for the main text and a sans serif font for headings, subheadings, and labels. Choose serif and sans serif fonts that are both easy to read and contrast well with each other. Use boldface type to highlight important words and phrases. But use it sparingly, because large blocks of text in bold are hard to read.
Use Visuals To Enhance Report Appearance
Photos, illustrations, or other design elements can add warmth and visual interest to your report. Choose visuals that are clear, uncluttered, and culturally appropriate for your intended audience. Visuals should reflect the subject matter of your report. Use images to reinforce main content or messages, not just to decorate the report. For example, if you are showing performance measures related to surgery, you could show a picture of a surgical team doing an operation.
FAQs
What are the qualities of a good report?
A good report is straight forward, honest description. It contains no lies, no deception, no fluff. It is neat, readable and to-the-point. It is well spaced, has titles and subtitles and is free of language errors.
What are the main parts of the report?
Formal reports contain three major components. The front matter of a formal report includes a title page, cover letter, table of contents, table of illustrations, and an abstract or executive summary. The text of the report is its core and contains an introduction, discussion and recommendations, and conclusion.
What is the importance of report?
Reports will provide important detail that can be used to help develop future forecasts, marketing plans, guide budget planning and improve decision-making. Managers also use business reports to track progress and growth, identify trends or any irregularities that may need further investigation
It may not be an easy job to make reports for monitoring or feedback, but doing this for the betterment of the products and services that you are offering is a great thing. With this, we highly encourage you to utilize the available templates and information you get from the net to ease your burden of doing bombarded reports.