A sales intern is an intern who is hired to assist the sales associate and sales manager in the performance of their tasks. For more reference regarding this position, refer to our collection of sales intern Job Description Samples on this page by scrolling down below and downloading the ones that corresponds to the type of sales intern your company needs.
Intern Job Description Template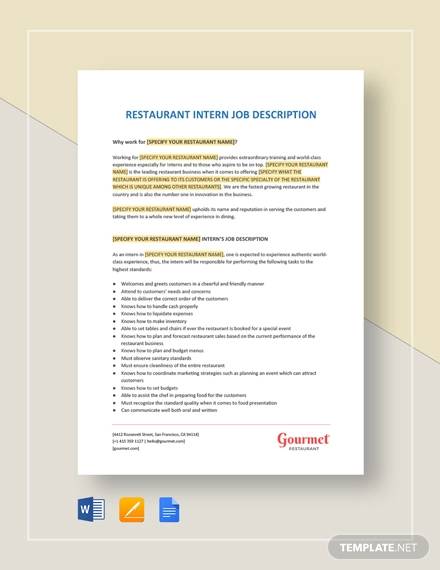 Marketing and Sales Intern Job Description to Download
Sales Suport Internship Job Description Sample
Sales Development Representative Intern Job Description
Sales and Business Intern Job Description in PDF
Sales Co-Op Intern Job Description Responsibilities
What Are the Responsibilities of a Sales Intern
Provide timely feedback to senior manager regarding sales
Maintains accurate records of all pricing, transactions, deliveries, and other sales activity reports
Creates and conducts proposal presentations to dealers, customers, executive officers, and other internal staff
Controls the expenses to meet budget deadlines set out by sales manager or the finance manager
Provide the marketing analysts or sales managers with enough input relevant to the process of creating or improving marketing programs/plans
Adheres to all company policies, procedures, and business ethics
Ensures that these policies and rules are communicated and implemented within the team or among fellow interns
Assists in commercial processes such as the preparation of quotations, receipt of order, order entry, shipment and delivery order, and resolution of return requests and quality issues
Assist marketers/marketing analysts in assessing the market trends and buying trends of consumers/customers
Aids in developing marketing strategies in maximizing sales revenue and reducing sales expense
Speaking of sales, you can also check out our Sales Job Description Samples. Simply click on the link provided.
Basic Sales Operations Intern Job Description
Group Sales Intern Job Description Format
Junior Sales Support Intern Job Description Example
Printable Ticket Sales Intern Job Description
Free Sales Engineer Intern Job Description
Requirements of a Sales Intern
Must at least be a junior/senior student of a major coursework that leans toward business, marketing, management, or sales studies
Capable of communicating effectively both orally and in writing
Highly proficient in Microsoft Word, Microsoft Excel, Microsoft PowerPoint
Excellent organizational skills
Good at time-management and performs efficiently in fast-paced environment
Possesses the ability to work successfully with all levels of sales management
Possesses a high level of professionalism in dealing with sales associates, managers, and customers
Sharp critical thinking skills mixed with business acumen in assessing the trends in sales
Good interpersonal skills
Benefits of Hiring a Sales Intern
Businesses that rely highly on making sales on a daily basis in order for it to subsist/flourish will benefit the most by hiring as many efficient sales associate or staff in their business operations. In relation to that, a sales intern will be of great help in making sure that the customers' needs will be satisfied promptly and efficiently.
Customer satisfaction is the very blood that runs through any prosperous businesses. Indeed, a customer would feel the a more positive affinity for a certain company if their memory of their business dealings with it is filled with customer service and attentive sales staff.
While it is the primary job of the sales associate to entertain customers and answer their inquiries, having a sales intern around will help lighten their load; not to mention, more staff means more customers can be entertained simultaneously.
For more reference on job descriptions for job positions related to sales, refer to our collection of Sales Assistant Job Description Samples. Or if you wish, you can use the search bar on our homepage and search for similar job descriptions.