In the field of education, the selection process of who will become participants or students of a program depends on the applicant's interests, capabilities, and intellect. So, educational institutions conduct school applications to choose from a pool of applicants effectively. But, unfortunately, the selection process can still be time-consuming. That's why we are here to help you, we offer our free and downloadable school application samples and templates. Scroll below to see varieties of application forms and letters that you can use right now.
FREE 7+ School Application Samples & Templates
1. Free School Application Letter Template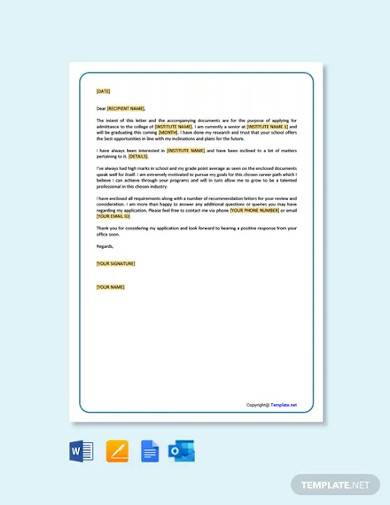 2. Free Application Letter Template For Student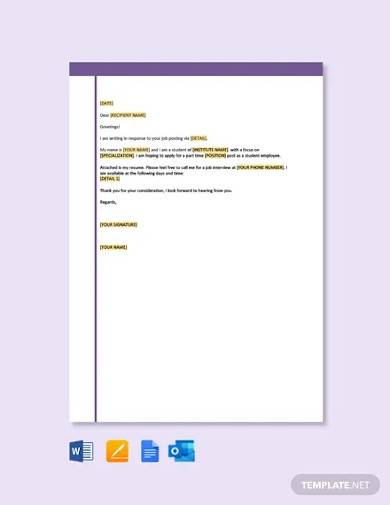 3. Diploma School Application for Admission
4. Sample School Application Form
5. Sample Application for School
6. Student School Application Form Template
7. Sample Education Admission Application
8. Sample School Application Form Template
What Is a School Application?
A school application is a type of document that one can use in an educational institution to gather general and personal information from an applicant. Often, prospective students who want to get an admission and enroll will send school application letters and fill out forms. Moreover, school organizations also use school application forms to have the details of those who wish to become participants and members of their org.
How to Write a School Application Letter for Admission
According to Nina Berler of Unigo.com, there's a lot to consider when determining how many schools a student should apply to. When applying, the student should focus on his interests, location, candidacy, strength, and other areas. Regardless of whether it's 10 or 15 schools, a good application letter will be one of the best bullets of the student applicant. So, keep the following tips in mind as you begin writing the letter for your school application:
1. Do Your Research
Applying for school admission is like applying to get a job; you must apply to the one that fits your qualifications. So, how can you know if you are fit and qualified to be a student at your chosen school? Well, by doing your research and identifying what the school is looking for. List the descriptions and criteria that they base on in selecting their students, along with the application requirements such as a recommendation letter and other documents.
2. Highlight the Criteria
After you do your research and making a list of the criteria, you should focus on determining which among these qualifications describes you. And then, you can proceed to make the content of your application letter that focuses on highlighting the criteria that you met. However, don't make it sound like you are boastful or tacky; instead, humbly write the letter.
3. Support Your Claims
Everything that you claim you are should be fully supported. You can state your experiences, grades, and organizational involvement in your previous school. Also, you can add dates to present an accurate and detailed timeline. For instance, if you plan to get into an organization and leadership program, then disclose your role and position in the school organizations you participated in, such as helping establish the organization's student SWOT analysis report and other projects.
4. Be Formal and Straightforward
It may be tempting to add flowery words to your statements but avoid it. Instead, focus on presenting yourself in a professional and straightforward manner. Nonetheless, keep it respectful, mainly since you aim to please and get the interest of the school administration.
5. Check Your Format, Grammar, and Spelling
There are various application letter formats that you can use in writing your school application, but make sure to utilize the one that the school required. Also, you should proofread your letter and check for grammar and spelling errors.
FAQs
Do I have to complete a school application form even if I have sent a formal letter of application?
It depends on the school that you are applying to. Some will accept the letter as-is, and as an application form, while others prefer to require the completion of the school application form. However, the reason why schools may require you to fill up the school application form is the same to companies requiring applicants to complete a job application form even if a resume had already been submitted: to clarify and see the accuracy of the claims in the letter.
What are the acceptable methods of sending my school application?
There are a varying number of methods. But, just like the answer to the first question: it depends on what the school accepts and prefers. You can opt to use a school application form in PDF and print it out to mail it to the school. On the one hand, you can also send it via email to the school's email address.
How can I use your sample school applications and templates?
Just choose which among the list of sample forms and templates above you want to use for your school application. Make sure to consider the file format, layout, and the file size of your form. Then, click the download button to begin downloading the form. After that, you must extract the form from the zip file folder and then edit it using the suitable editing software. Now, you're done!
Recording the information of an applicant becomes easier with the complete and accurate data written or disclosed in a school application form and letter. If you are hurrying up for the opening of classes, or you want to participate in a school program, then use our free school application samples and templates now! It's all editable, cost-efficient, and compatible with any device that you prefer to use. You'll surely have your school application anytime and anywhere!