High schools, universities, and all academic institutions provide their students the necessary academic education they need. Their mentoring doesn't stop with teaching specific subjects but also in ensuring that students are being guided in regard to the kinds of courses they should take that matches their future career goals. Other than that, the student's mental, emotional, and behavioral well-being are taken cared of as well. The person who performs the more holistic type of mentoring is called the academic advisor.
If you are thinking of applying to become an academic advisor, then you will increase your chances of getting hired by submitting an effective cover letter together with your resume. We are providing you with academic advisor Sample Cover Letters that can serve as your reference.
Assistant Athletic Academic Advisor Cover Letter
University Academic Advisor Cover Letter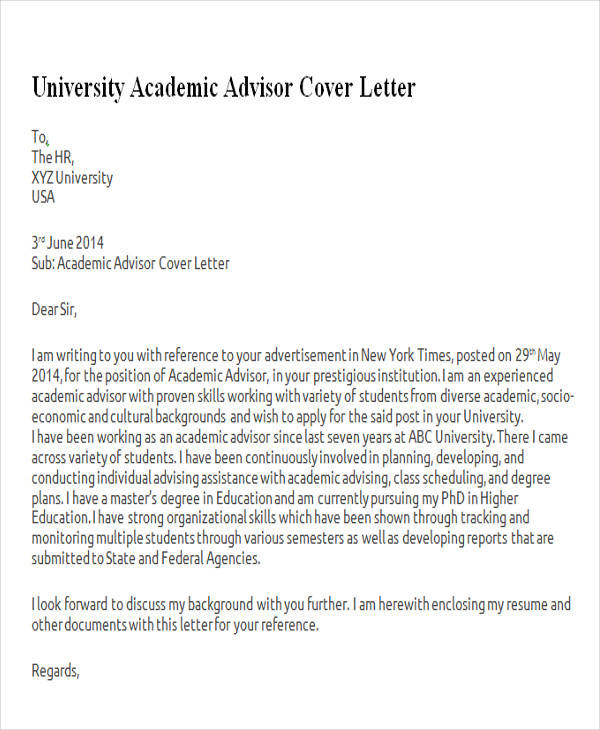 High School Academic Counselor Cover Letter
International Student Advisor Cover Letter
Duties and Responsibilities of an Academic Advisor
Becoming an academic advisor entails a myriad of responsibilities. This is a job position that requires a lot of intuitive sensitivity, knowledge of various career fields, and good interpersonal skills in dealing with students and in helping them figure out which academic courses to take in order to help them set their direction toward the career path they want.
Indeed, it is not an easy task, that's why if you are planning to apply for this position, you need to examine yourself first if you are indeed fit for the job. To help guide you, here are some of the basic responsibilities of an academic advisor:
assist students in planning an academic program and future career goals that are consistent with their abilities and interests;
discuss with students the possible instructional or educational programs that are related to their future occupations or careers.
maintain an up-to-date advising portfolio that contains each student's summary record of school performance, absences, extracurricular activities, awards, assessment results, and etc.;
provide intervention or refer students to other institutions when academic, attitudinal, attendance, or other personal problems require intervention by other professionals (e.g. behavioral psychologists, psychiatrists, psychotherapists, life coach);
proactively communicate and be available for students and their advising needs on a regular basis; and
aid students in creating realistic and pragmatic educational career plans through the creation of a scheduled plan on which courses, programs, or internships to take during each semester and summer breaks.
If you have decided that this job position is the perfect fit for your capabilities, then it is time for you to prepare a cover letter that indicates your salient qualifications and background. For your reference, download from our various templates on this page.
See also Cover Letters for Customer Service to check on the cover letter format.
Academic Advisor Cover Letter Example
Cover Letter for Academic Advisor Position
Customer Service Advisor Cover Letter
Why Must You Submit a Cover Letter?
There are several reasons why you should submit a cover letter and some of the most notable ones are the following:
it allows you to add information that are difficult to inculcate in your resume;
it provides you with a more creative platform form for highlighting your skills and salient experiences;
it can serve as a backup plan in case your initial interview didn't go well; and
it sets you apart from other job applicants because your cover letter is personalized, thus you have the liberty to attract the recruiter/hiring manager with the distinct method of narrating your qualifications.
Now that you know how a important a compelling cover letter is, you may start writing your cover letter. For more reference, check out our collection of Sample Academic Cover Letters.