The sole objective of a business establishment is to sell their products to their prospective customers. This is what determines the success of a business—the ability to generate constant customer service and transactions.You may also see sales proposal letters.
New Product Proposal Letter Template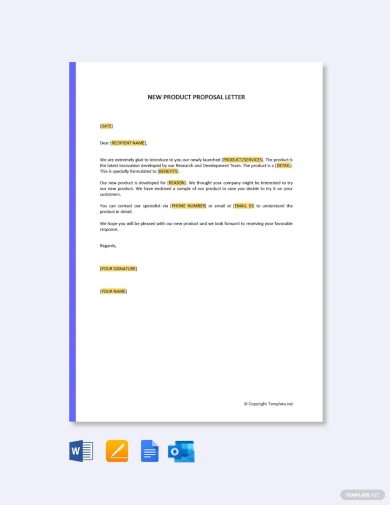 Free Product Proposal Letter Template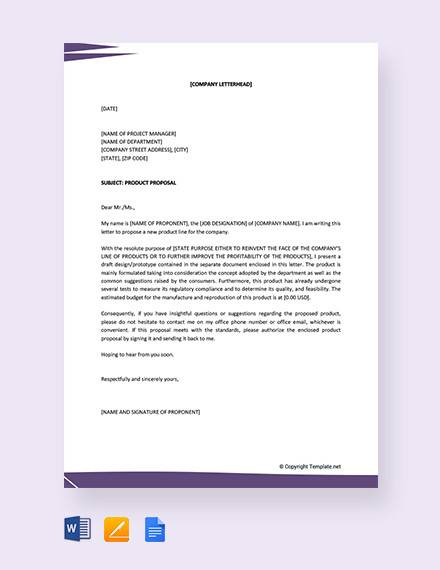 Sample Product Sales Proposal Letter Template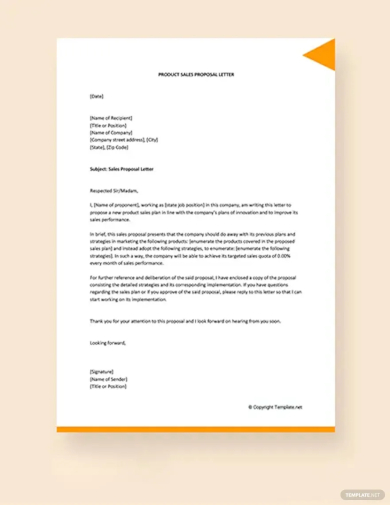 Proposal Letter to Supply Products Template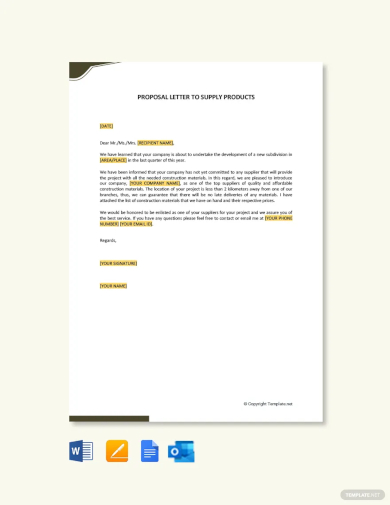 Sample Proposal Letter to Sell Products Template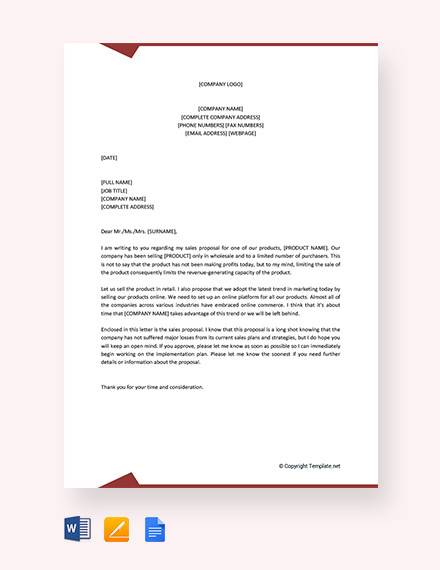 Product Business Proposal Letter Template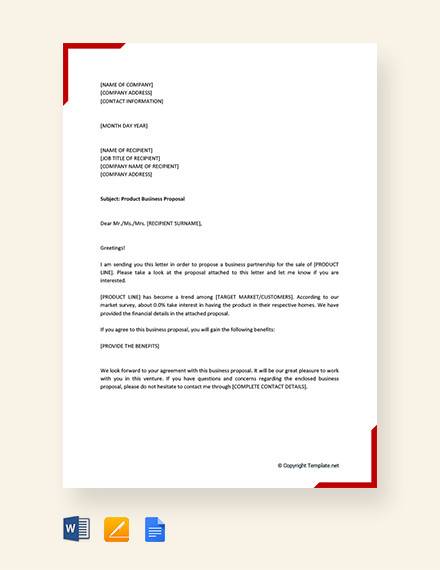 It is natural for an establishment to create a vision and instill standards in producing and selling. That is why one of the factors that affect its success is the ability to propose products. With the help of our sample letters on product proposals, selling and winning customers should be a breeze.
Sample Food Product Proposal Letter Template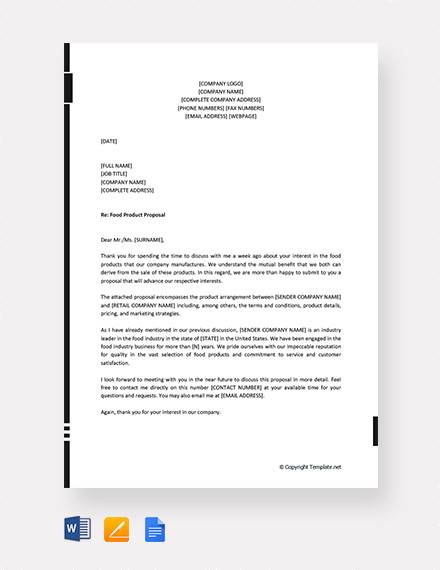 Product Proposal Letter Example
Sample Sales Product Proposal Letter Template
Basic Business Product Proposal Letter Template
Formal Food Product Proposal Letter Template
A product proposal is a
business letter
that launches a commodity that is currently in the market and is up for grabs. It is a letter that contains important information about the product including its characteristics to answer to the needs of consumerism. The letter also states an assurance regarding the product's quality.You may also see
marketing proposal letters
.
Like any other business letters, it takes certain skills and styles in writing a product proposal. I have enumerated a number of dos and don'ts in formulating a letter of this kind:
1. Avoid sounding casual. The point of business letters is that you have to sound as formal and confident as you can be. Remember that the product will probably be assessed by some of the company's marketing teams, you might want to be taken seriously.You may also see
formal proposal letters
.
2. You have to be formal, granting that you are at it, please avoid using highfalutin words that are hardly understandable. Avoid wordiness too. Your letter should be short, simple, and clear-cut, without of course compromising the necessary contents.You may also see endorsement letters
3. Know your product well. You have to list all the relevant information about the product. The proposal relies upon it.
4. The letter should put the product under a good light thus, you say nice things about it. You don't want it to get denied, do you?
5. Please double-check before sending the letter. You have to make sure that all the parts of the letter are there, you have to make sure the names of your prospective customers are present and precise. The name of your company should be stated alongside the product of course, and other relevant details. The grammar and spelling should be checked as well.You may also see purchase proposals.
6. And last but certainly not the least, please be tactful. You have to treat your future customers with respect.
Good letters or write-ups always get you somewhere. I suggest you take a look at our sample business cover letters if you are a bit dubious about the content.
Company Product Proposal Letter Outline
Product Sponsorship Proposal Letter Template
Product Proposal Letter in Doc
Communication is one of the keys toward a successful business. Letters are forms of communication. It is the company's take on interacting with its staff, investors, and customers. This
sample letter
is important in clinching business deals.You may also see
partner proposal letters
.
But the endorser of the product, who is basically you, should sound and look more convincing than the letter. This is, after all, your job. Remember that you are a reflection of your company and the reason why you are given such a task is that they trust and rely on you. Be confident—because it's always the key—works for letters too!And if you need any help, you can always check out our website's
Job Proposal Sample
, just in case you want a friend to take on the job with you.