If you are a newly registered nurse or even an experienced one, you would increase your chances of getting hired by attaching an appealing cover letter together with your resume. If you are currently writing your cover letter, you can refer to our nursing Sample Cover Letters as your guides. Scroll down below to select and download from our collection.
Sample Nursing Cover Letter
Nurse Manager Cover Letter Sample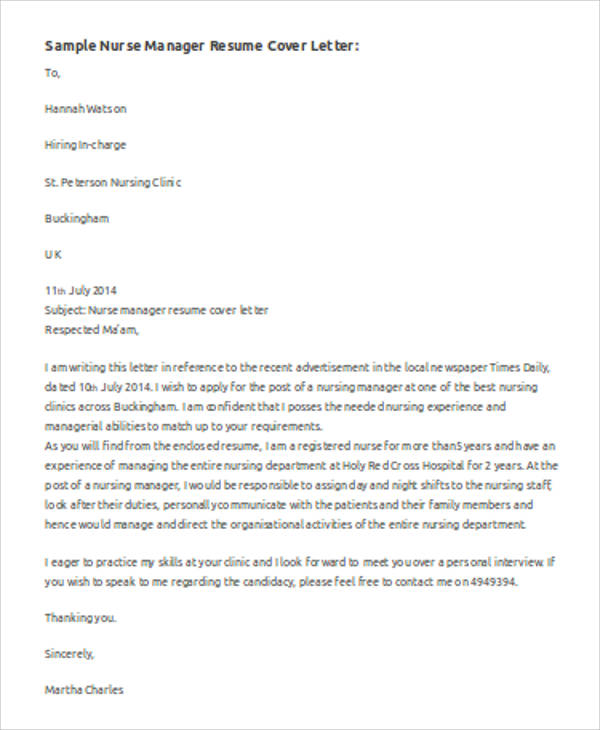 Nursing Assistant Cover Letter Sample
Graduate Nursing Entry Level Cover Letter Sample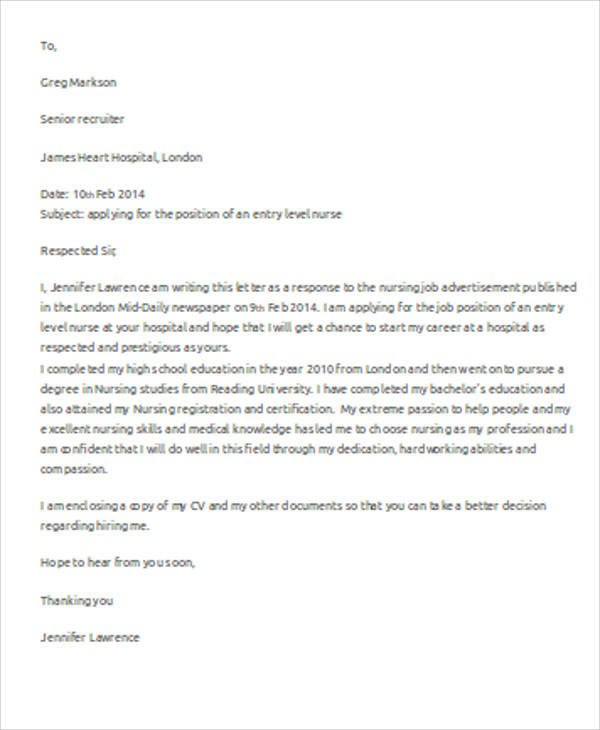 Nursing Cover Letter Format Example
Cover Letter: What Is It?
A cover letter is a letter that is sent by a job applicant or job seeker to the hiring manager, recruiter, or prospective employer. The purpose of this letter to convince the letter-recipient that the job applicant is the best candidate for the job position he/she is applying for.
What Are the Important Parts of a Cover Letter?
There are the staple parts or types of information that a cover letter must have and those are the following:
recipient's information (name of the hiring manager, name of company, address of company, contact details);
job applicant's basic information (complete name, address);
formal greeting (Dear Sir/Ma'am);
statement of intent to apply for a specific job position (in this case, you are applying for the medical assistant job position);
statement of the relevant skills, educational attainment, previous work experience (if any), and other qualifications that matches the qualifications stated in the job posting of position applied for;
brief narration of specific circumstances in the past when the job applicant has applied and exhibited the enumerated qualities and skills;
applicant's contact details; and
formal closing.
For more information about the contents of a cover letter, download from our collection of Sample Format for Cover Letters. Simply click on the link provided!
Nursing Student Cover Letter Example
Sample Cover Letter Experienced Nurse
What to Include in Your Nursing Cover Letters?
Nursing is a very honorable and difficult job, just like all health-care professions. An applicant must possess a license to practice nursing. In order to do that, you must be a graduate of nursing and you must have taken all the nursing licensure exams and screenings that are mandated by the state laws.
If you are already a registered nurse, then mention such a fact on your cover letters. After that, you can mention where you did your nursing internship and who your supervisors were. State your nursing job experience if any and emphasize how your previous internship or job experiences have proved to you that you are indeed befitting for a nursing position. It will also benefit you if you mention the fact that you find the act of helping people a meaningful thing to do.
Things to Remember in Making Your Cover Letter
First of all, a cover letter must only be one to two pages long and should not exceed two. Otherwise, it will defeat its purpose, which is to become a brief overview of your resume or CV. Also, to ensure that you are writing the most effective cover letter, it is always best to scour the Internet or other resources to read cover letter samples. You may also refer to our cover letters on this page that are specifically made for nursing applicants. These are available in PDF and Doc formats, thus making it easy to access or read on your computers, phones, or tables. For more cover letters, browse through our collections using the search bar. You can also check out this page: Cover Letters for Teacher.