Delegates should know their tasks to be performed and done. Thus, in order to get informed on the delegation to get aware on the decision-making authority that needs to be completed or done. Getting work done and completed by others can truly be difficult without cooperation. Indeed, an authority letter should be delivered or even emailed for the body of the organization to get informed about the tasks. Now, you can have the active procedure of guiding, influencing and guiding the upshot of the performance of the workers. Any responsibility to be assigned to someone else should be accomplished as you have the responsibility to comply with it. You may also see disapproval letters
Free Delegation Letter for Bank Template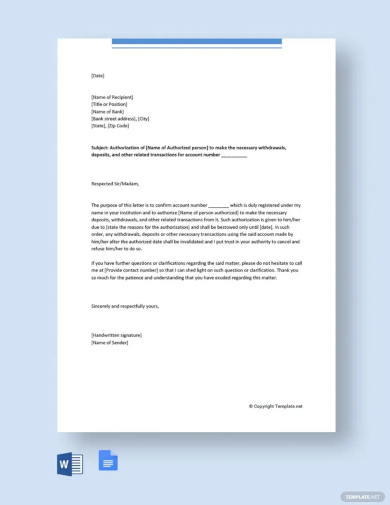 Delegation Letter Template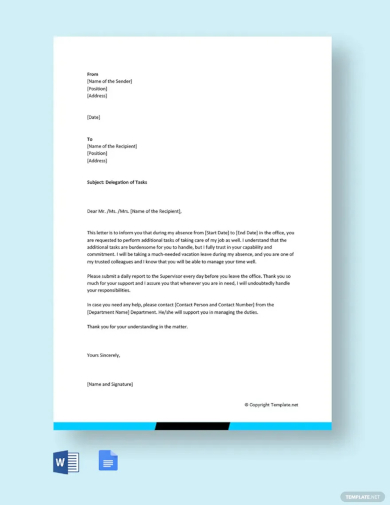 Free Job Delegation Letter Template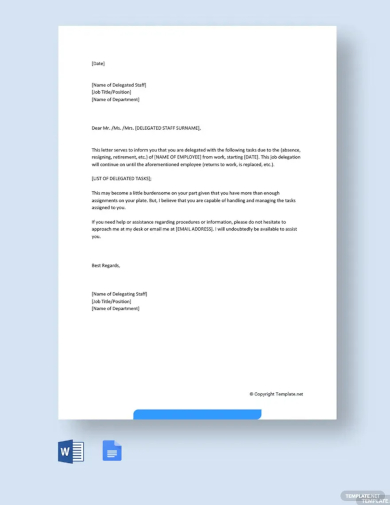 Free Authority Delegation Letter Template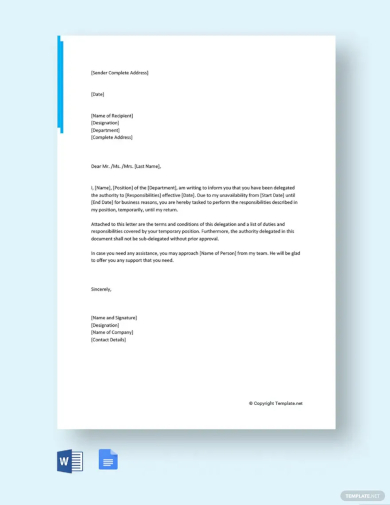 Delegation of Authority Letter Template
This template is authorized letter released by the delegating official and the delegate. The letter states to hand over the authority with the following terms and conditions. It mentioned about the expenses for the research grant. It also mentioned the effective date of handling the research grant accounts.You may also see bank authorization letters
Sample Delegation Letter Template
This template is a plain and clean format. It contains a readable and clear statement signed by both the delegating official and delegate. It mentioned the terms and conditions with the following: review and execute, describing the nature of the contracts, the delegations' effective date and lastly about the authority that is no sub-delegated.You may also see disapproval letters
Delegation Letter For Bank Template
This template is a legal document from the bank. It contains the delegating official with the account number. This will be a note (special note) that stating that the only delegate/s mentioned in the letter are authorized. This is definitely an imperative letter which has validation period.You may also see letter of authorization
Uses & Purposes of Delegation Letters
This letter of delegation is applicable for businesses. It contains the written procedures, statement of conditions, and the terms that the delegate should follow in performing the assigned task. This is to verify that an assigned delegate has the responsibility and authority to act as what the position being assigned to him/her.You may also see denial letters.
Sample Delegate Authorization Letter Template
Signing the authority letter involves the delegating official and the appointed delegate. The letter covers about the delegating official to assign an authorized representative to sign documents on behalf of the company. The letter mentioned about the applicant being acknowledged to have the right of using the company name in line with business matters. This will be signed with the full name, job title, signature and the date.You may also see assignment letters.
National Delegation Request Letter Template
Sample Nurse Delegation Letter Template
Sub Delegation Letter Template
When do I need Delegation Letters Template?
You will basically need the template once you are a delegating official assigning a delegate to have the authority and responsibility to perform the assigned task on your behalf. It is very significant that you need to have the delegation letter template to have a legal document in a provision of the delegating official for the company. This template will serve as your badge as being assigned to the position of the authority. This is an authorized letter you hold for performing the tasks given or assigned to you with the validation date. You may also see application cover letters
Formal Delegation Letter Template
Health Plan Delegation Letter Template
Letter for Delegation of Signatory Authority Template
Delegation Letter in MS Word
How to create/write Delegation Letters
Easy and simple, delegation letters are a sample brief legal document with the signature of the involved persons (delegating official and delegate). This is to certify that you are able to perform the tasks assigned to you on behalf of the delegating official. But, this should be in connection with the business and nothing else. It is a simple letter format but legal – signed by both parties. You may also see professional letters
The template is available and accessible. It is offered downloadable and printed ready. Users can make use of this letter of delegation for business.You may also see company policy