Applying for a software engineer position might sound intimidating even if you think you have what it takes. Companies who look for software engineers are usually stringent with their hiring process. To fully equip your resume/CV, send a Cover Letter with it as this might be the key to increasing the chances of getting hired by the company.
There are a ton of things that you should consider should you decide to write a cover letter. Cover Letter Format, content, design, and outlines should be put to mind. Our samples will help you achieve a completely outstanding cover letter. Keep scrolling to check out our samples.
Free Resume Cover Letter Template for Software Engineer Fresher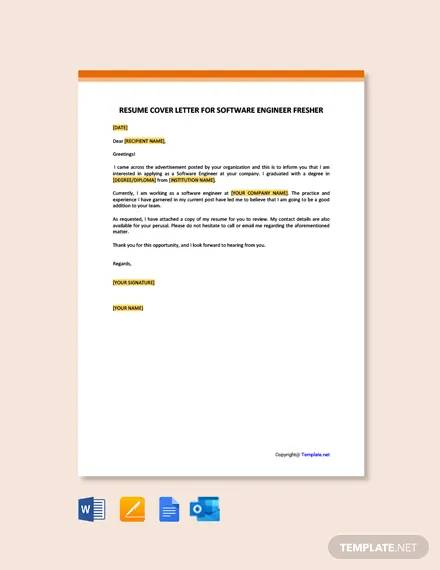 Free Fresher Engineer Resume Cover Letter Template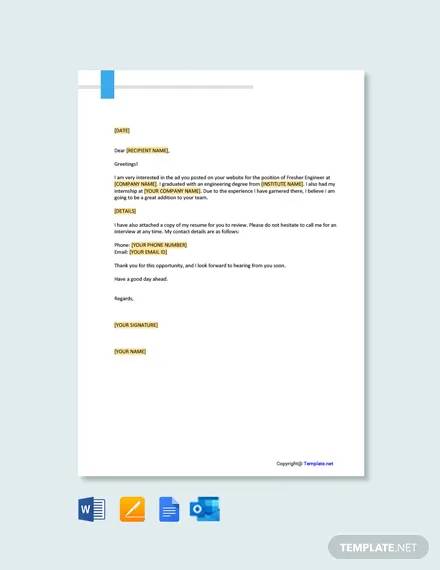 Free Information Technology Operations Manager Cover Letter Template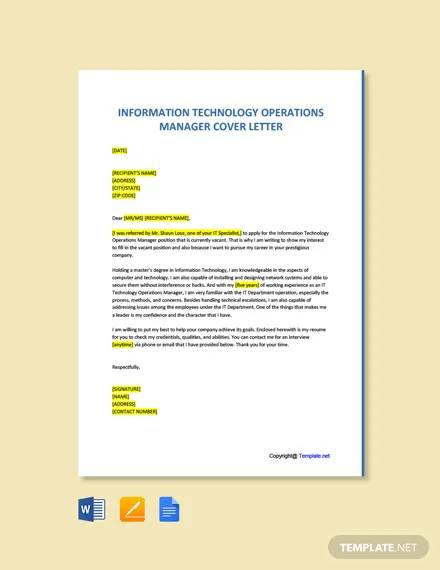 Sample Cover Letter for Software Engineer Fresher
Software Engineer Internship
Software Engineering Job
How to Start a Cover Letter for Software Engineer
When you start writing your cover letter, you might find yourself at a loss for words. With the help of the Cover Letters for Job examples that we have, you will now have a good idea about how to start writing your own, especially since the samples we have are dedicated for aspiring software engineers. To start writing your cover letter, here are a few tips:
Just like any cover letter, your first few lines should express your interest in becoming a software engineer in the company you applied for.
Give them a brief overview of your education in terms of software development, if any and relative experience you have. For example: "My hands-on experience with using C++ language has helped me develop multiple software programs for the health-care methods used in Switzerland."
Highlight the strengths you have. Bullets will be helpful as it will be easier to read.
Leave your important contact details such as phone numbers and email address. If you are applying as a freelance software engineer, it might also be a good idea to leave a link to your professional profiles and Skype ID.
You can head on to our Software Engineer Cover Letters to check out more tips and tricks for writing a software engineer cover letter.
Entry-Level Software Engineering Job
Is It Important to Provide a Cover Letter While Applying for a Software Engineering Position?
The answer to this question depends on the company you are applying for. If they did give instructions that it's not necessary, then there's no need to make one. However, it will always be a good idea to have one ready in case the next company you apply for asks for one.
The Software Engineering Cover Letters we have featured for you in this article will be of great help for people who want to apply for a software engineering position as well as other positions in other industries. They are well-written to ensure that you have all the necessary details incorporated in your own letter. It's great that these samples are downloadable in two file formats—PDF and Word Document. This makes it easy to edit the samples for when you want to use the current outline of the sample. What's the most amazing thing about these high-quality samples? You can download these at absolutely no charge! So why hesitate to click that DOWNLOAD button? Click it NOW!