Whether or not you are applying for a job, you would need to know how to write a cover letter. Who knows, it might come in handy in he future, right? The main purpose of a cover letter sample, according to Youth Central Australia, is to introduce you, motivate your potential employer to read your resume, mention the job that you want or the job that you're looking for, match the skills that you have with the skills that's required by the job that you want, and finally, you can request for an job interview or ask them for a job interview meeting.
You can also find some Sample Cover Letters on this page to help and guide you for free.
Business Plan Cover Letter to Bank Template
Business Plan Cover Letter Template
Sample Business Plan Cover Letter to Bank Template
Cover Letter for Bakery Business Plan Template
Before writing for your killer business cover letter, you need to have everything ready. From the format to the business letter salutations, every detail is a pressing issue. Here are some ways in which it might be helpful to ace your business cover letter to get you that awesome dream job, and along with it are Sample Entry Level Cover Letters that you can use as a guide and download for free.
Know who you're sending it to and do your research – ideally, it is preferable to know who you're sending your business cover letters to and address them with formality (for example, using the salutations Mr. and Miss or Mrs.).
Know more about what you're getting into – find out more about the job analysis that you wanted and find out how the process works with the people who has that certain job position.
Find some important details about the company – it is very important to ask around some information about the potential company that you wanted to work with in the future and which you have chances of working with in the future.
Basic information – always keep in mind to provide them where and how to reach you (phone and telephone numbers, e-mail address, house address).
Business Plan Cover Letter for Investor Template
Business Plan Loan Cover Letter Example
Sample Business Plan Cover Letter Template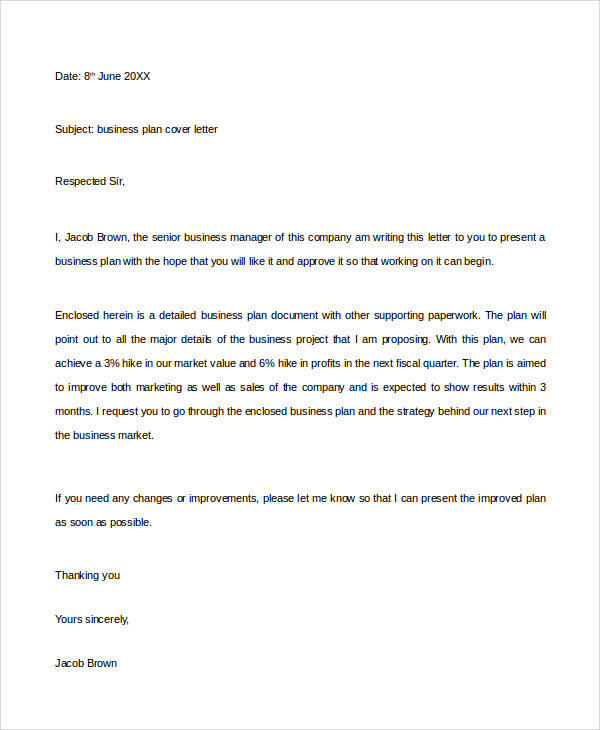 Along with those business writing tips and guidelines, we also have here our Best Business Proposal Samples, in case you'll need to propose either a grand or a simple business idea. It's quite handy. You might also find the sample useful and convenient. Not only that, but it also gives you some insights on how to go about on writing a business proposal, which can be very useful when the time comes. Other than that, as you go along the way, you will eventually get used to business writing. Moreover, practice makes perfect. And one way or another, you would have to practice, see which writing technique would suit you, and you can go from there.
Another reminder to also consider, just like when writing a business cover letter, it is also essential to provide and indicate your contact details on your letter so that it isn't so hard to reach and get in touch with you. Your e-mail address, house address, and a professional sample website portfolio are usually necessary to incorporate with the cover letter so that your potential employer wouldn't find it difficult to look for something if they're curious or if they would want to ask you about something and see your work output and the services that you offer.