When The Times interviewed Elizabeth Taylor in 1981, her most notable quote was, "Some of my best leading men have been dogs and horses." Never mind that she paired with great actors such as James Dean and Paul Newman, her experience with animals stuck to her the best. Indeed, animals amazing possess amazing loyalty, empathy, and joy that makes them a worthy lifetime companion, if only they live as long as humans do. Make your pet ownership official by treating your furry best friend with a pet birth certificate. This is valuable information to keep about your pets, especially if you have lots of them. Refer to our article below for more details.
FREE 10+ Pet Birth Certificate Samples
1. Pet Birth Certificate Template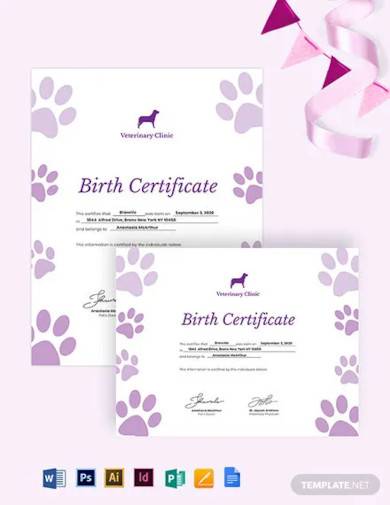 2. Simple Pet Birth Certificate Template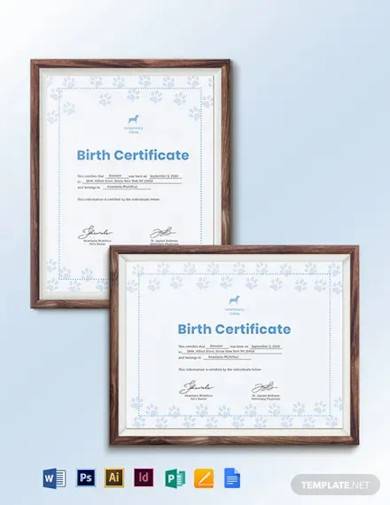 3. Puppy Birth Certificate Template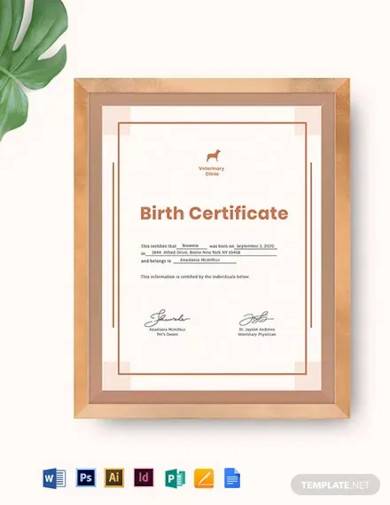 4. Creative Pet Birth Certificate Template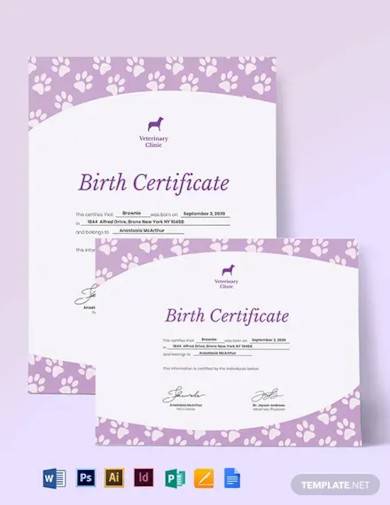 5. Free Pet Birth Certificate Template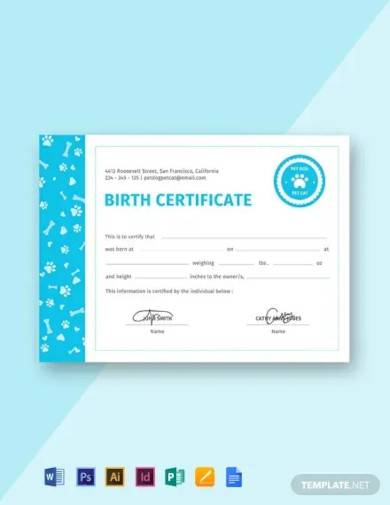 6. Free Dog Birth Certificate Template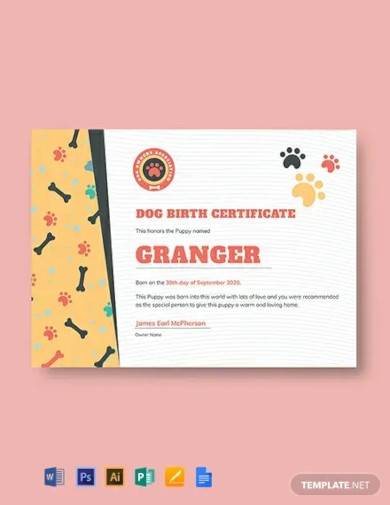 7. Free Animal Birth Certificate Template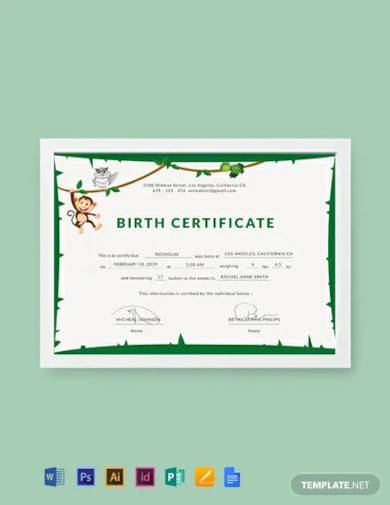 8. Sample Airline Certificate Template
9. Sample Dog Birth Certificate
10. Pet Gift Certificate Template
11. Veterinary Certificate Template
What Is a Pet Birth Certificate?
A birth certificate functions as an official record or document of a person's birth. A pet birth certificate also works the same way, only that it's dedicated to your beloved pets. It formalizes a person's pet ownership. Although pet birth certificates are more of memorabilia than official identification papers, it's a nice gesture to extend towards the furry members of your household. 
Why Every Household Needs a Furry Member
According to Statista, 67% or 63 million households in the United States own a pet in 2019. Correlatively, the pet industry expenditure forecast will rise to $99 billion in 2020. This is a clear image of how much people are invested in animals just as they would for a human family member. Well, who can resist their adorable charm and their proven ability to make you feel better at all times (even when they chew your cables or hide your sock)? Pets have a significant space in every people's hearts.
If you don't have any adorable creatures lurking under your roof, here's why your home needs a pet:
1. Pets teach kids valuable lessons. When you have children at home, giving them a pet helps them learn important life lessons such as loyalty, trust, and patience. It's also a good addition to their task list to give them responsibility at an early age.
2. Pets are trusted protectors. They are more than just the adorable member of the family. They have proven to be great at preventing break-ins and fighting off another dangerous animal around the home.
3. Pets provide great common interest. It's no surprise that pets bring the family together. If there's one thing you and the rest of your household agree, it's how each of you enjoys the company of pets.
Tips on How to Design a Pet Birth Certificate
Here are some tips you can follow when designing your beloved pet's birth certificate:
1. Start With a Theme
When you begin to make your loving pet's birth certificate, your first thought might be on how to put the details and the design together. This is why you should start by determining what your certificate's theme is going to be. There are various layout designs that you can go for. If you want to make it minimal yet stylish, you can make an elegant printable certificate. If you want to add more color and create a lively appearance to mirror your pet's perky personality, you can design a creative sample certificate. Since it's a document dedicated to your precious pet's birth and identity, you can arrange the format according to its breed. For example, depending on the kind of animal you have, you can make a puppy birth certificate or a cat birth certificate, among others.
2. Use Creative Typography
When you begin to make your content, don't hesitate to make your typography creative. Unlike legal birth papers that require a formal arrangement with fewer design elements, pet birth certificates are a free canvass. This means that you can use creative fonts and text fills. However, it should go along your chosen theme. If your certificate's theme is classic and elegant, use fonts that match that style, such as cursive calligraphy. If you want your texts to stand out from a colorful background and playful designs, find a photo that fits the mood and create a contrast by changing your font's colors. How you present your fonts matters to how the results are going to look like after the process.
3. Never Crowd Your Layout
Allow the content of your certificate to breathe. Do not crowd your certificate with too much content. Remember that your pet birth certificate might eventually end up on a frame and will soon graze your empty walls. A certificate is visual material. Your priority should be on how people can read and understand its content without squinting their eyes and coming closer than necessary. Include only the details you need. In the same manner, you shouldn't fill your layout with too many designs. You can look for printable certificate designs as a reference for your texts.
4. Print on a High-Quality Paper
Even when you have the most admirable layout with all the right design, content, and structure, a poor paper quality can ruin all of that. It won't be able to present your output at its best. Use a premium and thick stationery when printing your pet birth certificate. This is not only to ensure that you get a great result. Good paper quality is also durable. It keeps your certificate in excellent condition for a long, long time.
FAQs
Why do pets need a license?
Pet licensing ensures that your animals received vaccinations and is free from rabies or diseases.
Do you need a pet birth certificate to avail of a license?
Not always. Be sure to check with your local animal control office to check the list of requirements.
What is a dog microchip?
A dog microchip is your dog's permanent identification. It aids in helping you find a lost dog's owner through a scanner.
Pet animals play a great role in every person's life, whether you're alone in an apartment or raising your own family. They're warm and sweet, and it keeps loneliness at bay. It's undoubtedly more devoted, loving, and trustworthy than any human company you can have. Giving them your name and putting up their record along with the rest of the family is nothing but a minor gesture in return for their love towards you. Get your furry friend a well-designed pet birth certificate from our premium collection. Download now!