What is a puppy sales contract? A puppy sales contract is a document that is signed by both a puppy seller and puppy buyer as a proof that the buyer agrees to pay the owner the price that the puppy is sold for. It's a legal contract about the sale so that any other claims cannot be made after the contract is sealed.
A puppy sales contract is a contract between two individuals, that is the seller and the buyer. If you need a contract for your puppy sales business, then you can download any of our sample contracts. They are sure to be of great help. Download now!
Puppy Sales Contract Template Sample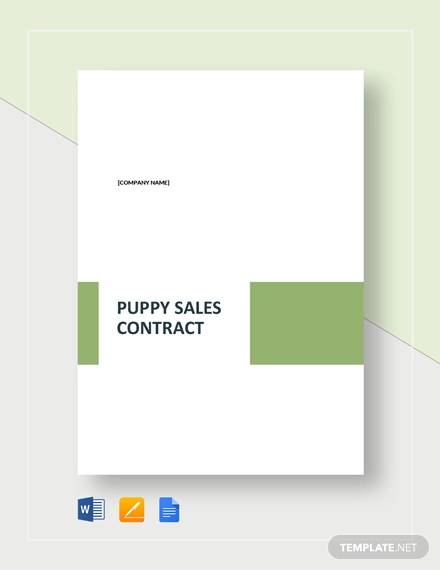 Generic Puppy Sales Contract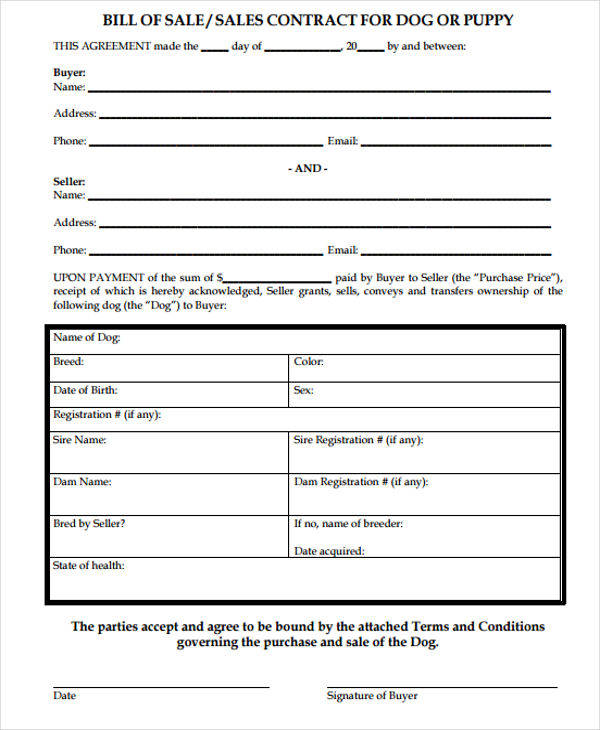 Dog Puppy Sales
Puppy Sales Contract Examples
How to Write a Puppy Sales Contract
You can download one of our puppy sales contract in PDF in our website. If you prefer to make your own, you can use it as reference. To help you further, here are steps to write a puppy contract.
Since this will be a legal contract, make sure that you have clean sheet of paper with the appropriate layout, like the margin, indention, and sentence and paragraph spacing.
Put a heading on top of the sheet.
Write in detail the specifics about the puppy being sold, like the gender, color, age, eye color, etc.
Use simple words and avoid technical words.
Write your contract using a clear and readable font.
Put a signature area.
Proofread and spell-check your contract.
Inclusions of a Puppy Sales Contract
Here are some of the basic things that you need to include when writing a puppy sales contract. You may also want to check our rent contracts.
Breed of the puppy and name if it already has one
Date of birth
Gender of the puppy
Specific fur color, eye color, nose color
Age in months
Medical history or vaccination history
The puppy's sire and dam
Vitamins taken
Other legal papers or documents
Pet Puppy Sales
Puppy Sales Agreement Contract
Puppy Sales Contract Form
Sample Puppy Sales Contract
Importance of Having a Puppy Sales Contract
It will serve as a proof that you legally acquired the puppy from the owner or the seller. This can be used in cases where the seller claims that you didn't pay for it.
The contract includes all the specific information about the puppy, like medical an vaccination history, its dam and sire, and so on. For some, these are important to guarantee that they have the best breed. These specifications are also useful as part of the medical records of a puppy in case you bring them to a vet.
If it is not the puppy you choose from the pet shop or from the seller's place, you can bring it back and show proof that the contract says this is not the one described in it.
Puppies have feelings too. Although you bought them, they feel like they're getting a new family. The contract also includes their date of birth so you can always celebrate on their birthdays.
You may also find our contract sample and lease contract useful.