In business, you will need to scout for clients who need your services in order to do business with them. Of course, finding clients is just the start. There are a couple more steps that you need to do before you actually get the job and that includes persuading the client to do business with you. You need to do this in a very convincing and nice way. Well, you shouldn't follow them around and beg them to accept your business agenda. You simply need to a well-written proposal by following the standards and wait for their response. You do need to make a follow-up at a certain time but definitely not all the time.
Now if you are running a cleaning business, then you will still need a proposal specifically a cleaning service proposal. The sample proposals we have gathered below will help you make your own proposal.
Cleaning Service Proposal Samples
1. Cleaning Service Proposal Template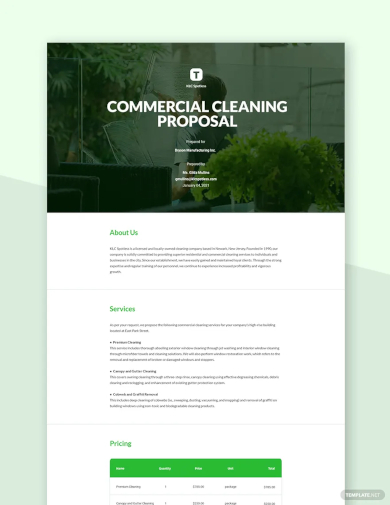 2. Cleaning Service Proposal Letter Template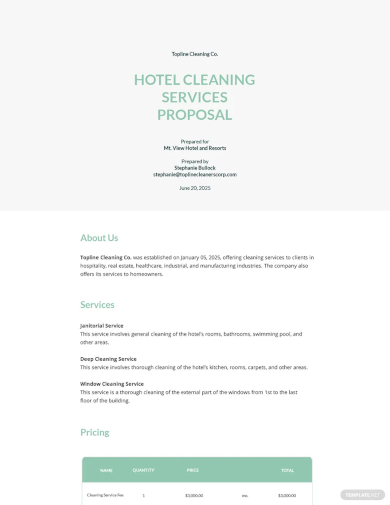 3. Office Cleaning Service Proposal Template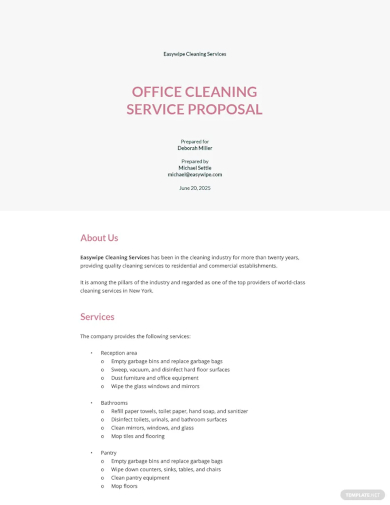 4. Commercial Cleaning Service Proposal Template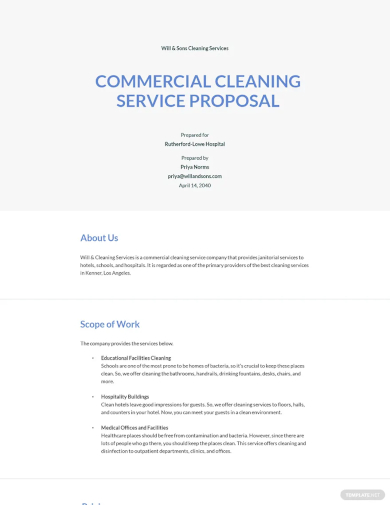 5. Free Cleaning Service Proposal Cover Letter Template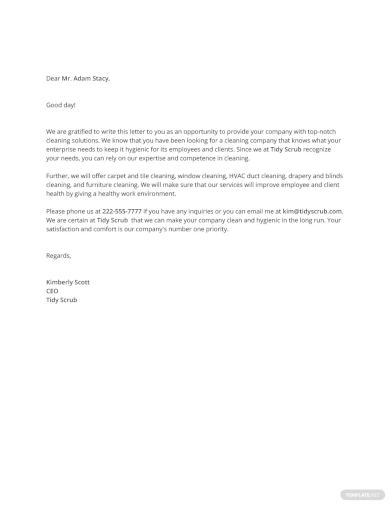 6. Cleaning Service Bid Proposal Template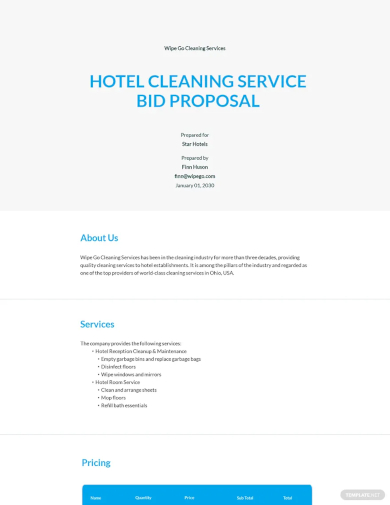 7. Free Cleaning Service Marketing Proposal Template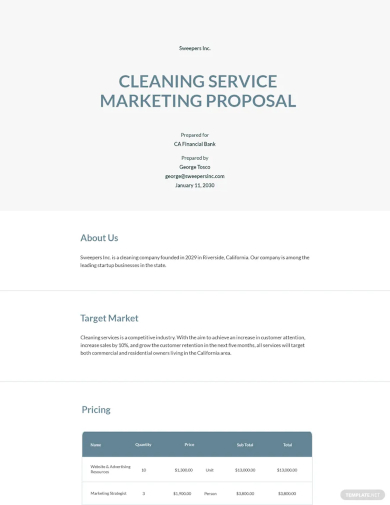 8. Sample Business Proposal Cleaning Service Template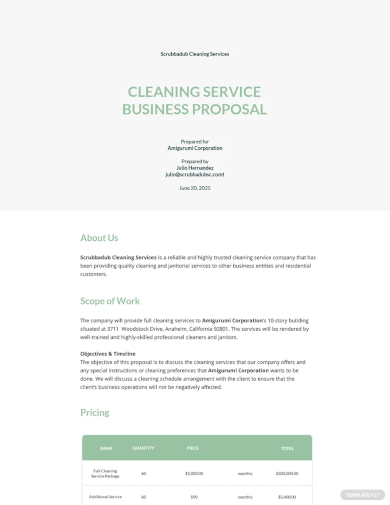 9. Free Cleaning Service Request Proposal Template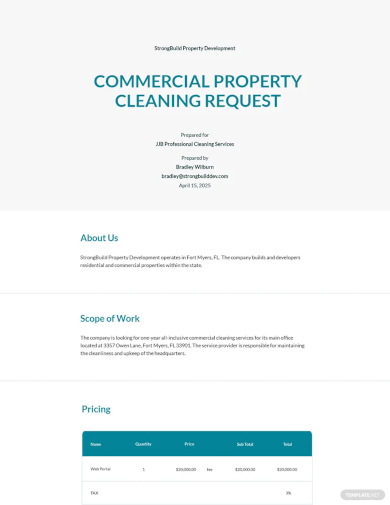 10. Free Cleaning Service Business Proposal Template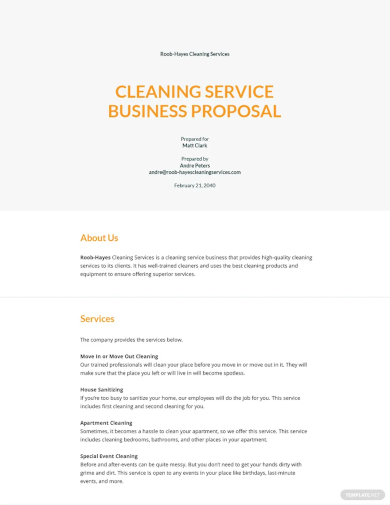 11. Free Proposal Letter for Cleaning Service Template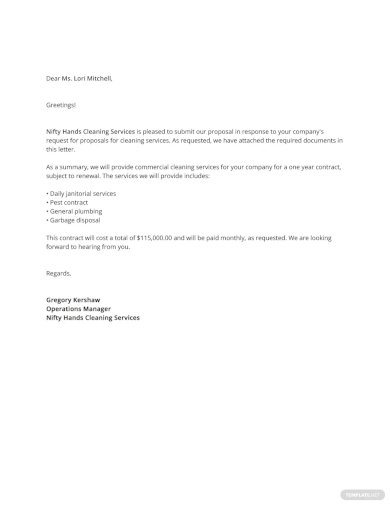 12. Commercial Cleaning Services Proposal Template
A cleaning services proposal is a formal document written by a business offering cleaning services detailing what they have to offer to their clients and why clients should do business with them. It is similar to a sales pitch in a way because you will need to sell your business to get a done deal with the client. This commercial cleaning services proposal sample does just that. You may use it as reference to help you create a reliable proposal that will surely help you get the job.
13. Printable Cleaning Services Proposal Template
This printable cleaning services proposal is a three-page proposal for an office cleaning job for a particular town. The proposal is organized and neatly written, and covers all the details of the cleaning services in just a matter of two pages. This is great because it won't bore your potential clients from reading a bunch of pages. It comes with a cover page, sample list and details of the services offered, breakdown of the cost of the services, and other service inclusions. This sample makes a good reference if you are looking for one.
14. Provision of Cleaning Services Request for Proposal Template
A request for proposal is a document containing guidelines or instructions on how a proposal should be done. These guidelines or instructions are produced by the company or organization that are in need of proposals from other companies or entities. It is important that the guidelines be followed if one is available because it is critical to the acceptance or rejection of the proposal being submitted. Checking out this sample will give you an idea on what a bid for proposal includes and looks like.
15. Stacks Cleaning Services Proposal Template
If you are making a cleaning proposal in response to a request for proposal, then you will be needing help from this stacks cleaning services proposal sample. This proposal is customizable and print-ready so if you want to make use of it as your own, then you can simply make the required changes and have copies printed. The sample is specifically created for stacks cleaning in a particular library, is eight pages long, and includes a bibliography at the last part.
16. Window Cleaning Services Proposal Contract Template
Who doesn't want clean windows? Window cleaning services are needed in residential building and commercial establishments alike, especially in building that are all made up of glass. Before you get to cleaning those windows and sign a cleaning service contract, you will first need to make a window cleaning proposal. The window cleaning services proposal contract sample we have here works both as a proposal and contract at the same time. This is a great and convenient way for you to do business with your clients.
17. Sample Office Cleaning Services Bid Proposal Template
Companies or organizations don't just hire office cleaners that they found somewhere. These cleaners go through a selection process that is decided based on the cleaning proposal or bid proposal that they have submitted. Often, the contractor with the best bid gets the job. If you want your bid proposal to get counted, then you should use a short yet detailed office cleaning bid proposal, just like the sample above. With just a single page, you can be sure that your bid will have a chance.
18. Professional Cleaning Services Proposal Template
This proposal sample ca be exclusively used by companies that offer cleaning services. An entire page is dedicated for notes and instructions on how the proposal can be completed to assist the user. If a detailed proposal is what you are after, then this sample is a good choice. With this sample, you not only provide professionally rendered cleaning services but also provide a professionally written proposal of your own. Similar proposals that you may take advantage of are professional business proposal and service business proposal 
19. Cleaning and Gardening Services Request for Proposal Template
Have a request for a cleaning and gardening job? We know just the right proposal that you can use. Check out this cleaning and gardening services proposal sample. It is a detailed and comprehensive proposal that you can use to guide or assist you with writing your own proposal. The sections that you will find covered in this proposal includes an executive summary, scope of work, project requirements, criteria of company, compliance, vendor's company information, references, etc.
20. Library Cleaning Service Bid Proposal Template
Use this sample to help you easily and conveniently create a bid proposal for a library cleaning service. This is a one-page proposal that will surely make your life easy. It uses a simple layout and includes details like the proposal number, service description, terms and conditions, etc.
21. Sample Bus Cleaning Services Proposal Template
Offering bus cleaning services? Let your clients know what you do through a well-written and persuasive formal proposal. Don't know how? Get all the help that you need by checking out this bus cleaning services proposal sample. You can count on it to be of great help to you!