Derived from an ancient Indian philosophy, yoga remains to be one of the famous physical exercises having foundation in different kinds of poses to promote enhanced mind and body control, as well as to renew one's well-being. If you want to become a professional yoga instructor, you need to gain a yoga certificate. In this article, we provide our unique downloadable templates for you to get started. Please read the article!
FREE 10+ Yoga Certificate Samples
1. Yoga Certificate Template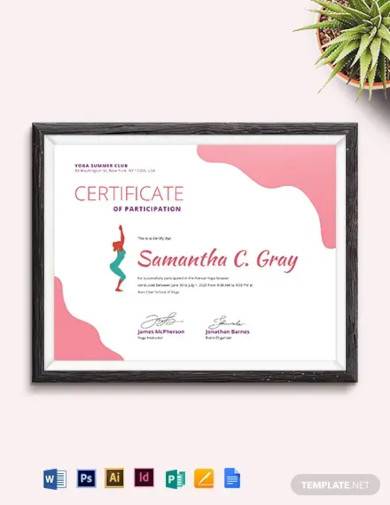 2. Modern Yoga Certificate Template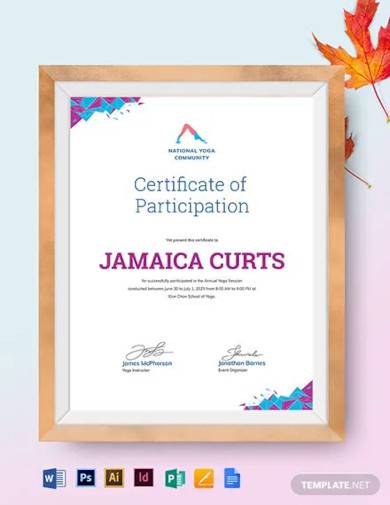 3. Creative Yoga Certificate Template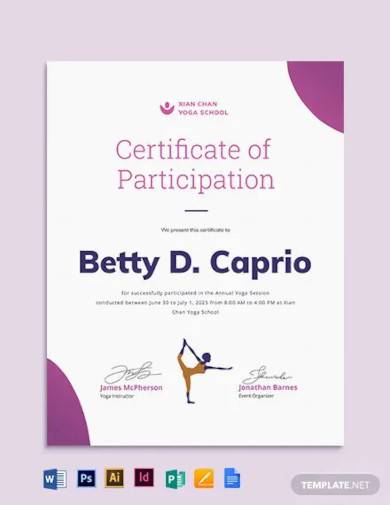 4. Yoga Participation Certificate Template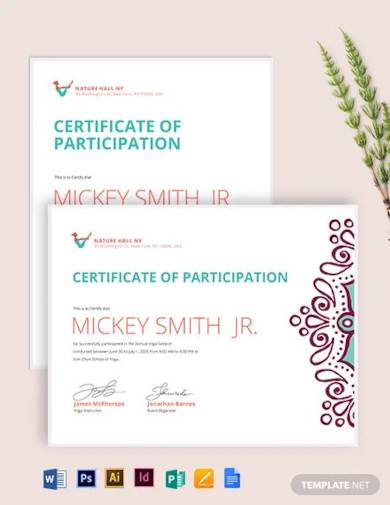 5. Yoga Teacher Certificate Template
6. Sample Yoga Trainer Certificate
7. Yoga Therapy Certificate Template
8. Yoga Certificate Format Template
9. Medical Fitness Certificate Template
11. Sample Yoga Gift Certificate
What is Yoga?
Yoga is a popular South Asian art of exercise and meditation. It is well-known for its unique postures and positions. Actually, the earliest forms of yoga practices are mainly focused on widening spiritual energy with the use of breathing methods and mental focus, not for fitness goals. 
But as it continues to thrive in Western countries, it becomes modern yoga that has been evolved in various ranges of styles and turns into an essential part of health and body fitness. 
How to Create a Yoga Certificate
Being a professional and certified yoga teacher is important so that you can help your students learn proper form for different kinds of positions and postures. Plus, you may provide them the right guidance in yogic philosophy that involves some aspects like meditation and nutrition. 
If you're running a yoga academy, you should have your own certificate. Here are some important guides and tips that we recommend you to follow:
1. Choose your preferred background 
The first step is choose what background you like for your yoga certificate. Search some mood boards and other design inspirations for your ideal certificate. It doesn't need to be fancy. Keep the elements simple and neat. You can also use our templates here to create your own certificate easily.
2. Select the image or logo
Next, select the image or logo for your certificate. It is very much recommended that you personally design your logo for your yoga academy or you can hire a professional graphic designer that can design the logo or visual brand that you want and based on your yoga style.
3. Modify the color and text to your personalized branded certificate
Then, consider what color palette your business needs. Look for warm, earthy tones that signify joy and renewal or cool colors that evoke peace and calmness. Colors play important roles in every form of business. 
4. Share or download your new certificate
After finalizing your design, you can now use the certificate for your students who will become future yoga instructors or trainers. Don't forget to include their full names, date of certification, and personal signatures. After finishing the yoga workshop, you can share or download and print their certificates.
FAQ
How do you become a certified yoga instructor? 
Know your personal style in yoga. But you need to accomplish a minimum of 200 hours of studying the course in the basics and guidelines of yoga. Then, apply for a RYT certification. You can also become a CPR certified as well. Have some training and start earning. 
How long does it take to get a yoga certification?
To obtain a yoga certification, you need to complete a 200-hour course in between three to five months. Also, to complete the 500-hour course level, you need to take six months to a year. 
Can you get Yoga certified online?
Yes. You can get exactly the same accredited Yoga Alliance Certificate online.
Is yoga a good career?
Yes. Yoga is an ancient art that significantly provides physical, psychological and emotional therapeutic effects. It is a famous method to keep one's body fit and healthy. 
Therefore, obtaining a yoga certificate is a significant part of being a professional yoga instructor. Without a certificate, you will not be able to show your credibility and professionalism to the people especially to your potential students. You can include this to your resume or CV as well. So, we hope that this article will assist you in creating your customized yoga certificate that will surely benefit your work. Download our templates right now!