Tracking the schedules of your tasks is a good way to prepare and accomplish many things. Whenever we have plans to do and places to go, we always rely on the calendar to follow up the days of the week. Having calendar of activities is useful for planning and tracking all future ventures. There are varied kinds of calendars such as assessment calendar template and business calendar template, which are helpful for every career-oriented individuals. These calendars are available on our website.
Holiday Event Calendar Template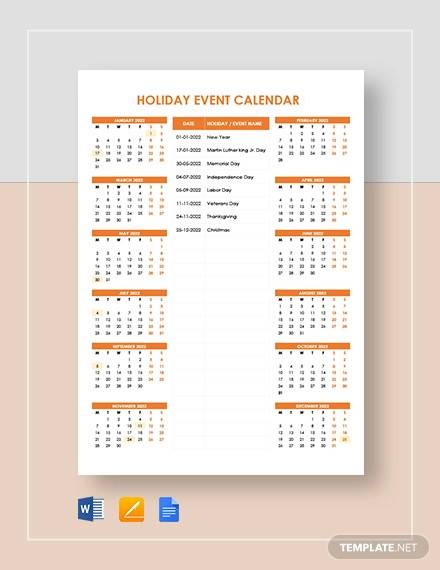 Free Holiday Event Desk Calendar Template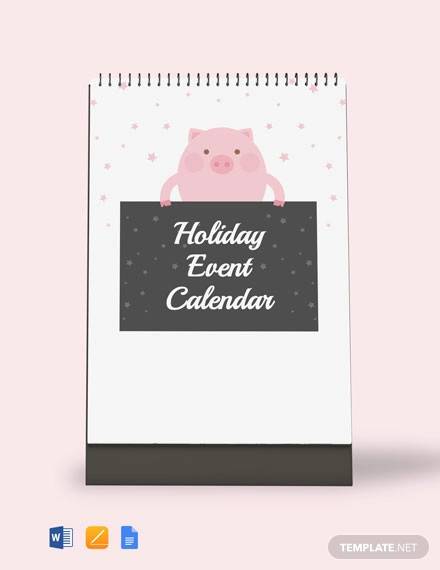 If you want to have your own calendar templates, we are offering them for free. Simply choose the template of your liking and click download. What are you waiting for? Download now!
School Holiday Vacation Calendar Template
Professional Calendar with Holiday Schedule
What Is a Calendar?
A calendar is a systematic order of time specifically dividing the days, weeks, and months in a year. Before the calendar, old civilizations heavily depend on the movements of the sun and moon to track the time of the day.
Uses of Calendar
Record: Sample activity calendar is needed in recording the tasks to be done. It's helpful in planning activities ahead of time. You can indicate in the calendar the time and place for important meetings or holidays. Necessary agendas can also be stated in the calendar to take note of the vital points of the activity.
Keep Track: Personal calendar templates helps everyone keep track of one's activities. You can evaluate the activities if they're already accomplished or pending. It can be used as a to-do list for every planned endeavor.
Reminder: Calendars are used as reminders, especially of work-related and medical matters. For instance, when you need to take certain medicine on the assigned time and day, you can easily take note of it on the calendar. For business meetings, you can jot down in the calendar templates the important things you need to discuss on the particular time and day, for your mind to be continually refreshed of your coming appointments.
Holiday Desk Calendar
Holiday Planner Calendar
School Holiday
Bank Holiday Calendar
Benefits of Using a Calendar
Well-Planned Activities: If you're planning to conduct an event or attend a meeting, surely the sample daily calendar can assists you well. You can easily track your activities since you only need to write down your future tasks ahead of time. It's good to be specific such as indicating the time and place of the planned event.
Avoid Cramming: You can avoid cramming when using calendars since you are frequently reminded of the activities and tasks you need to do and work on. By being reminded, you can prepare and plan well before the due date.
Helps on Deadlines: Using a sample calendar will help you be aware of the deadlines of your tasks. In this way, you know that you already need to work on pending activities and complete all necessary tasks before the agreed deadline.
Remembrance of Important Details: Remembering small details makes a great impact in your task. It only means that you are attentive to what you do. In all your activities, take note of the necessary details, may it be a major or minor one, for these details will add up to how your task will work and succeed.