We usually hang calendars on our walls or put them on our desks at home or in the office. We use calendars to tell what day, month, and year it is already. That is the most common type of calendar that we use in almost any household. There are also calendars that are used for other stuff , like for hourly payroll. You may also see some of our hourly calendar samples.
Hourly Calendar Template Sample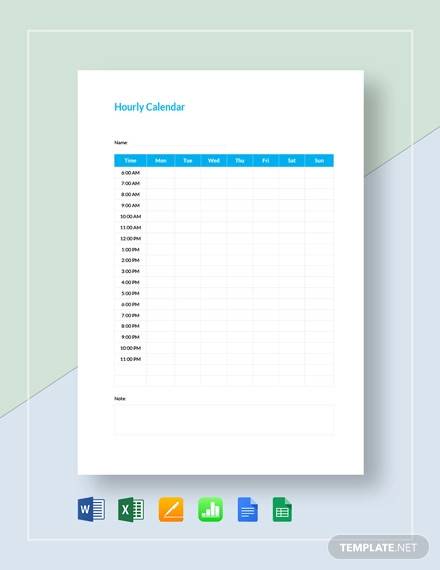 To help you with planning your hourly schedule template, we have here 9+ hourly calendar templates that you can download and use to make your work easier. These sample calendar templates are available online for free. You should download your copy now!
Weekly Hourly Calendar Template
Daily Hourly
Monthly Hourly
Blank Hourly
Hourly Schedule
How to Create a Calendar Table with Hourly Grain
An Hourly calendar sample with an hourly grain is usually created with a certain software or program to aid in its creation and execution. Here we will provide some steps on how you will be able to create calendar table with an hourly grain.
A calendar with hourly grain is made with a script. You need to create a script about what you are making.
You need to know or have a program on your computer where you enter the script.
The program will run or execute the script you have entered.
How to Make an Hourly Calendar
We have calendar templates that we have made available for free. You can download and use them however you want. But if you prefer making your own, we also have here a few steps.
Prepare your materials.
Determine what orientation you want it to be.
Measure your paper and make computation for your table measurements.
Draw the table in equal proportions, just like a calendar.
Put labels on it, as well as the other details that you want to include.
Once you're done, fill it in with the contents that you intent to put in.
Hourly Payroll Calendar
Hourly Time-Sheet Calendar
Hourly Pay Period Calendar
Hourly Work Calendar
Student Hourly Calendar
Advantages and Uses of Hourly Calendar
There are a lot of advantages and uses of an hourly calendar. And we are going to tell you about some of those advantages and uses. They are discussed below. You may also find wall calendar templates and sample weekly calendars useful.
If you are running a business, an hourly calendar can be used as a record keeper. It can help you keep track of your hourly business activities and determine your running sales.
Helps you calculate the number of work hours there is for that week. If used with a regular date calendar, you will also be able to determine how many work days there is in case there are holidays.
You can compare sales data in an hourly basis.
It can help you determine and remember product delivery and ship dates.
An hourly calendar can help with payroll for employees that are paid hourly or for jobs that are on an hourly basis.
Time-wise, it keeps you on track with a lot of things, like your schedule and other appointments. This is very useful, especially if you are working in a very fast-paced company or organization.
You can see all of your schedule samples for the day or for the whole shift in a glance.