Booking calendar and weekly calendar templates are helpful calendars to jot down important activities, however, it's always better to have a separate calendar for appointments. This is to ensure that all things written on an appointment calendar are the primary appointments that need to be attended immediately. In this way, no appointments are going to be missed again.
Business Appointment Calendar Template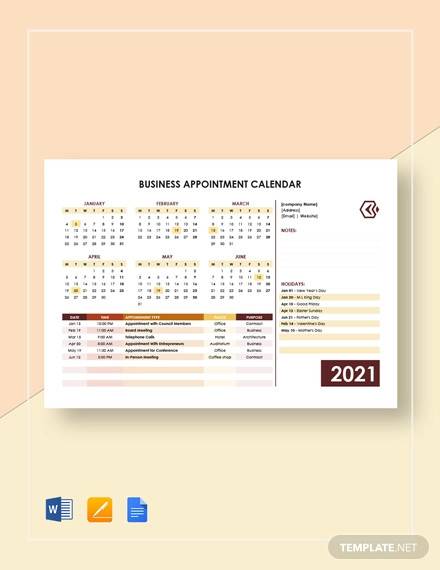 There are times when important appointments slip our minds and we forget about them. Commonly, the appointments we tend to overlook are the vital ones such as doctor's appointment, business meetings, project presentation, and the like. Unattended appointments can result in unwanted situations.
Appointment Calendar Template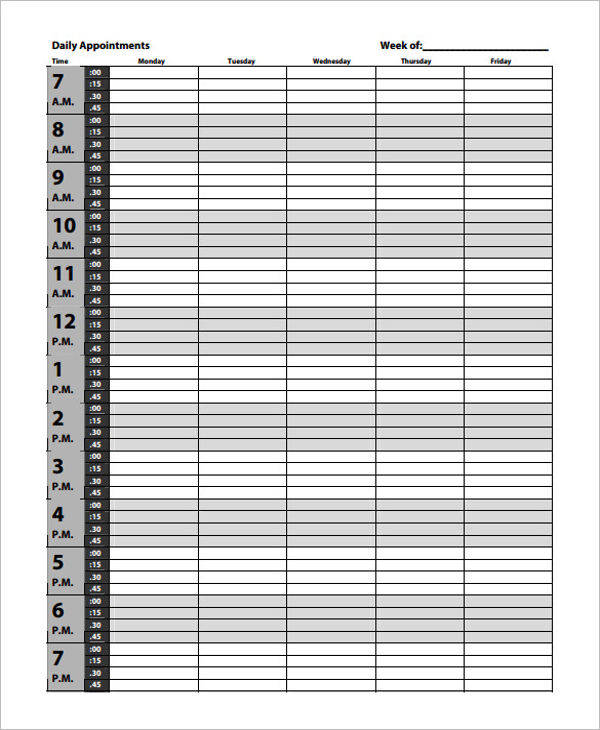 Appointment Booking Calendar
Daily Appointment
How to Make an Appointment Calendar
Making an appointment calendar is more convenient when sample calendar templates are used as guidelines for the template. Now, the good thing is you can create your own template depending on your desired specifications. The following are some steps you can follow in making your calendar.
Format: Select the kind of format you want your calendar to have. You may choose between a handmade or digital calendar. If you choose handmade, prepare the necessary materials needed for your calendar such as bond paper, coloring tools, pens, and other materials you would need. On the one hand, choosing a digital calendar means you're going to work your template on Excel or any software that has the ability to create a template.
Outline: Make an outline of your template depending on the format of your calendar. If it's handmade, draw some lines for boxes and headers. With digital, create your outline on Excel or your chosen software. Draw the necessary boxes needed on the template.
Labels: After creating your own calendar template, you may now indicate the labels on your calendar. Write down the date, time, and list of appointments you have to take care of.
Uses of Appointment Calendar
The uses of appointment calendar are to organized all appointments that should be prioritized, and like a daily calendar samples, it acts as a reminder for the individual to not forget any appointments again.
Appointment Monthly Calendar
Appointment Weekly Calendar
Printable Appointment Calendar
Types of Appointment Calendar
There are varied types of appointment calendars that are suitable for specific uses. If you only have a personal calendar samples, you will have a hard time checking your daily tasks and appointments. Information can be mixed up in one calendar. Other than that, an advantage of the appointment calendar is it can also be used as an appointment planner samples. Below are different types of appointment calendar.
Appointment Calendar Template: This is the primary template of an appointment calendar. It has all the general components such as the date, time, and daily appointments.
Appointment Booking Calendar: This calendar is suited for individuals who conduct appointments with clients. The calendar contains the time, appointment, client's name, client's contact number, and notes.
Daily Appointment Calendar: This is used for daily appointments on each day. You can input here the appointments of the day and the designated time it should be accomplished.
Appointment Monthly Calendar: This is more focused on monthly appointments. You can list down all appointments for a given month.
Appointment Weekly Calendar: This sample weekly calendar is centered on weekly appointments. It indicates the days of the week and all the corresponding activities on each day.