10+ Building Quotation Samples
When an organization wants to acquire a certain product or service, they will utilize a quotation as part of their usual business procedure. In the process of constructing buildings, vendors are given the option to bid on work after they get a quote. It's a type of communication in which project owners request cost information from vendors who can meet their unique requirements. A quote, therefore, is crucial. Need some help with this? We've got you covered! In this article, we provide you with free and ready-made samples of Building Quotations in PDF and DOC format that you could use for your benefit. Keep on reading to find out more!
1. Building Extension Quotation Template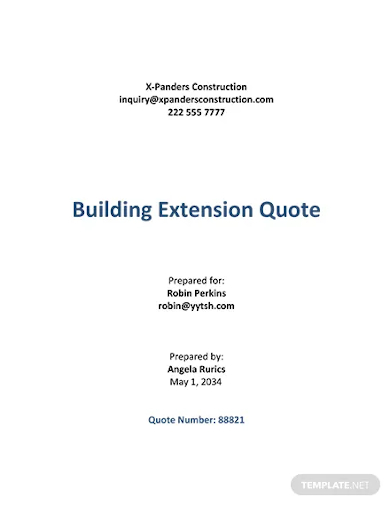 2. Building Construction Quotation Template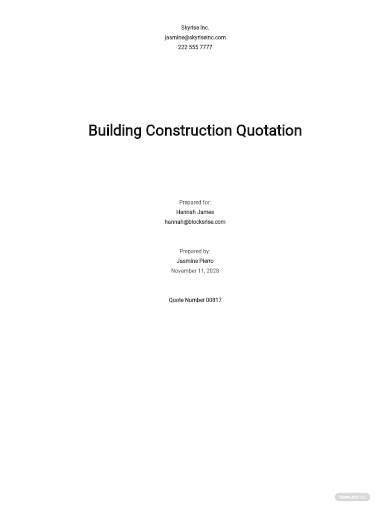 3. Building Repair Quotation Template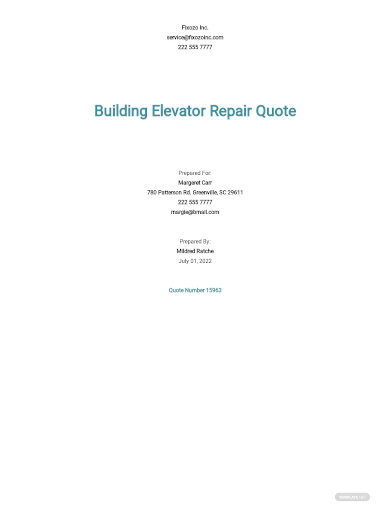 4. Building Works Quotation
5. Building Contract Review Program Quotation
6. Construction of Building Submitting Suppliers Quotation
7. Building Slab Civil Works Construction Quotation
8. Quotation for General Building Construction Services
9. Municipal Building Windows Quotation Form
10. Public Safety Building Stair Replacement Quotation
11. Building and Window Washing Quotation
What Is a Building Quotation?
The quote is a request form issued by the customer to the vendor or constructor in order for them to provide specifics about the items or services they guarantee to execute or deliver. It's used to estimate the cost of a certain quantity of materials. When a company knows exactly what it wants, it issues a quotation.
How to Make a Building Quotation
The primary characteristics that must be understood before submitting a quotation are derived from a thorough examination of the bid and the overall project estimate. A Building Quotation Template can help provide you with the framework you need to ensure that you have a well-prepared and robust quotation on hand. To do so, you can choose one of our excellent templates listed above. If you want to write it yourself, follow these steps below to guide you:
1. Prepare the details of the document.
This is the stage in which you explain all of your needs and conditions in detail; the document will most likely include payment terms, product quantities, project duration, and so on. This is an area where you should spend some time. Your RFQ will determine the quality of the bids you receive, and being specific about what you need will reduce the need for you to repeat certain parts of the process.
2. Make a list of vendors.
You'll probably have a few vendors or suppliers in mind, but it's also a good idea to look into additional organizations to submit your estimates to. Make a vendor list with all of the required contact information.
3. Make a note of the project's timetable.
If you're buying a service, be sure you know how long the contract will last and when it will expire. If you're seeking to buy anything, tell the firm when you want it delivered.
4. Don't forget to include the price information.
Regardless of the sort of service or items you're looking for, you'll want your bidders to be as specific as possible in their cost estimates. Request that bids break down labor and equipment costs, for example, so that you can target these expenditures during the evaluation process.
5. Add a set of vendor selection criteria.
Make it clear how you'll choose the winning bidder. Most of the time, the winning bidder will be picked based on price, but if you plan to use additional factors in the decision-making process, let the bidders know ahead of time.
FAQ
What is the difference between a request for proposal and a request for information?
When you know exactly what product or service you want and all you need to know is the pricing, you send an RFQ. An RFP is given when the situation is more difficult and you need to consider a number of criteria in addition to pricing before making a selection.
How do you get a building quote?
Meet with the tradesperson on your short list that you prefer. Make sure you and them are both willing to collaborate on this project.
What is the definition of a project quotation?
The project quote is a non-binding estimate of the work that has to be done. When the quotation's content is copied to a project that is linked to a project contract, the information becomes part of a legally enforceable agreement between two parties.
You may save time on administrative procedures and get down to business faster by making processes simple for both you and your bidders. To help you get started, download our easily customizable and comprehensive templates of Building Quotation.