10+ Work Quotation Samples
How do you manage your consumers' expectations? Quotes detail the cost of supplies, labor, and overhead that will be incurred throughout the course of the work. If clients understand the why behind a project's cost, they are more inclined to trust your expertise and expect modifications to the work quotation as the project continues. As a result, professional relationships improve. Need some help with this? We've got you covered! In this article, we provide you with free and ready-made templates of Work Quotations in PDF and DOC formats that you could use for your benefit. Keep on reading to find out more!
1. Work Quotation Template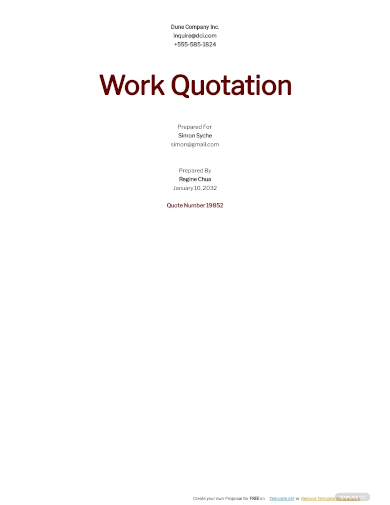 2. Plumbing Work Quotation Template
3. Remote Work Quotation Template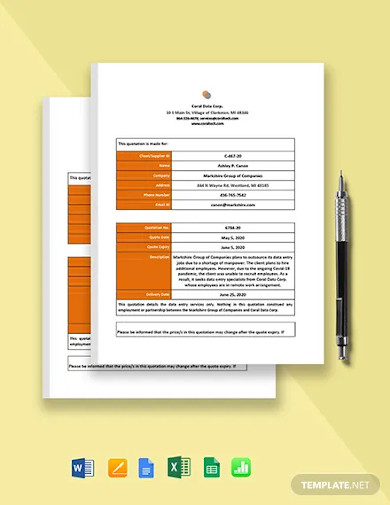 4. Quotation Work for Maintenance of Lawn
5. Public Works Project Request for Quotation
6. Automobile Quotation Work Sheet
7. Request for Quotations Scope of Work
8. Request for Small Works Quotation
9. Proposed Renovation Work Quotation
10. Quotation for Mechanical Work
11. Work Assignment Request for Quotation
What Is a Work Quotation?
A quotation is an offer to complete a task for a specific fee. If you accept an estimate, the contractor is unable to charge you more than the agreed-upon fee unless you consent to additional work or the scope of the task changes while it is being completed. This is referred to as a contract variation in legal terms. A provider sends a quotation to a possible buyer. Writing successful job quotations is critical since it creates new business and helps your firm expand.
How to Make a Work Quotation
It takes practice to come up with winning quotes. It's easier to develop professional-looking, thorough, and detailed quotations that your clients will like if you adopt a standard quote structure. A Work Quotation Template can help provide you with the framework you need to ensure that you have a well-prepared and robust quote on hand. To do so, you can choose one of our excellent templates listed above. If you want to write it yourself, follow these steps below to guide you:
1. Client information should be included.
The first and most important step is to provide the client's information. Details such as the company's name, address, phone number, and email address, among others. Don't forget to provide your contact information. If you use business letterhead, though, you might not need to add it.
2. Fill in the quotation amount.
Having an accounting software creates a quotation number for you automatically, incrementing by one for each new quote. You should, however, be able to change the quotation number if you want to. If you're submitting numerous pages in a single email, the accounting software will add individual page numbers on your quotation sheets to ensure accuracy.
3. Include an issue date.
This is the date on which you will submit the quote to the customer. Because quotations are frequently limited-time offers, the date of release is crucial.
4. Enlist your products or services in the quotation.
As line items, list the products and/or services you're quoting. Include a description of the products, as well as their quantities, product numbers, unit prices, and total prices. You may also categorize the products and services based on the stage of the project. You might wish to keep labor and material prices separate. You may structure your cost breakdown with the aid of a quotation template tailored to your industry.
FAQ
What is the distinction between a quote and an estimate?
The primary distinction between a quotation and an estimate is that a quotation is a definite price that has been agreed upon. An estimate is a price that is based on assumptions and is subject to change.
How long does a quotation last?
The majority of quotes are only valid for one month. This might vary depending on who provided the quotation and the regulations of that firm. If a quotation was given more than a month ago, double-check that it is still valid with the firm before proceeding.
Are quotations legally enforceable?
Quotes are legally enforceable and should only be utilized when you know exactly what you're getting into. Never call a written estimate a quote, since you'll be held accountable for the amount stated.
If a small firm has to employ a subcontractor or specialist for a work that is outside of their expertise, they may obtain a bid. Ensure that your next customer receives a fantastic quotation! To help you get started, download our easily customizable and comprehensive templates of Work Quotation today!